Best women's cycling shorts 2023 ridden and rated
A good pair of women's cycling shorts can make all the difference to your comfort on the bike - here's what to look for and some of our favourite pairs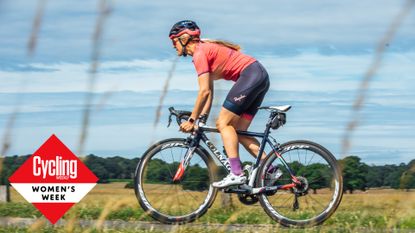 (Image credit: Future)
A good pair of women's cycling shorts can make all the difference to the comfort of your derrière.
While a large proportion of your comfort on the bike will come from finding a quality women's bike saddle that suits you, what sits between that and the most delicate part of your body is just as important.
With a plethora of cycling shorts on the market, finding the best women's cycling shorts for you can be a minefield. It's not just the chamois that matters when it comes to comfort – you'll want leg grippers that sit well and fabrics that provide ample, but not over, compression.
We're here to help you find that pair that allows you to freely ride your bike without the worry of sore bits or a builder's bum making an appearance. Below are all the favourite shorts we've ridden and rated. The first four pairs have been reviewed for summer 2022, so feature the latest innovations and fabrics from manufacturers.
If you're here just for advice on what makes a great pair of cycling shorts, you can jump straight to the bottom of the page for that.
Ridden and rated: the best women's cycling shorts
Premium fabrics, outstanding performance and easy bio-breaks
Specifications
Sizes: XS-XLG
Colours: Black
Chamois: Elastic Interface featuring GoldenGate, 3D Waffle Foam and 9mm Superair Microshock
Easy pee design: Yes (Bisclick)
Reasons to buy
+
Comfortable
+
Moderate compression
+
Endurance chamois
+
Well-made
Reasons to avoid
-
Clasps may irritate if you stop in a cafe
In its 2022 UMA GTV shorts, Assos has moved the easy-pee access from the front to the rear, and used two clasps rather than one. It all makes for a simpler comfort break and helps distribute any strain on fabrics more evenly. Our tester found it to be one of the easier-to-use designs she's experienced.
It's not surprising that the shorts feature Assos' classic X-frame and the chamois boasts Golden Gate; both are winning features and make for a supremely comfortable short.
The Elastic Interface chamois is exceptionally supportive - certainly suited to endurance riding.
Fabrics are robust while still remaining light and breathable, the medium pair only weighs 35g more than Velocio's Ultralights (opens in new tab). Odour control and active cooling are integrated into the fabric, rather than via any kind of treatment. The overall finish is a deep, dark black, and UPF 50 protection. We loved that the leg grippers anchor the shorts firmly in place without over-compressing the thighs.
While anyone who appreciates quality and comfort will enjoy using these shorts, we think that out of the four we've tested recently, these are the best choice for performance orientated endurance riders.
Read more: Assos Women's UMA GTV Bib Shorts C2 full review
Ideal for warm weather and indoor riding
Specifications
Sizes: XXS-XXXL
Colour: Black
Chamois: Proprietary Signature Chamois developed with Elastic Interface
Easy pee: Yes (FlyFree)
Reasons to buy
+
Lightweight
+
Breathable
+
Understated
+
FlyFree
Reasons to avoid
-
Might be prone to transparency
-
Not inline with Velocio's eco-credentials
Understated comfort jumps to mind when you pull on Velocio's Ultralight Bib Shorts. The medium we tested weighed just 150g, making them perfect for those who enjoy warm weather training on a regular basis, or who ride indoors a lot.
Velocio's FlyFree makes comfort breaks possible, though we'd advise sizing up to make things less of a wriggle affair.
The pad's breathability matches the fabric's, so it's ideal for intense workouts while still offering decent support for longer rides.
Unlike most of Velocio's range, the Ultralights don't use recycled fabrics. We thought the shorts felt rougher than the others we reviewed, though it wasn't noticeable once we were riding in them. Velocio claims that the fabric is only 140 grams per metre, yet totally opaque.
Our tester had a few issues at a side seam, thankfully none at the rear, so we'd definitely recommend sizing up if you think your hips are bigger than average - Velocio's chart only uses height and weight, no hip or waist metrics. If you are concerned about potential transparency Velocio's own Signature Bibs (opens in new tab) might be worth considering, though they won't be quite as breathable.
Read more: Velocio Women's Ultralight Bib Short full review
Comfortable farbics and chamois, plus bio-break convenience for a modest price
Specifications
Sizes: XXS-XL
Colours: Black, Kingfisher, Neon Pink
Chamois: 600 series: Italian 3D multi density stretch pad with Silver Dry® antibacterial technology
Easy pee: Yes (DropSeat™ (DS))
Reasons to buy
+
Modest pricing
+
Soft fabrics
+
DropSeat™ doesn't compromise shorts
+
Colour options
Reasons to avoid
-
No compression
-
Not as breathable as some
The FS260-Pro shorts really impressed, as when lined up with the other three shorts above, they are less than half the price of them and still have a lot to offer.
Our tester felt that there were very few compromises with chamois comfort; the pad (using gel inserts) might be marginally weightier, wider and less breathable, but its pressure relieving capabilities are just as good as the others.
The fabrics are exceptionally soft, with hardly any sign of compression. However, unlike Cafe du Cycliste's Adeline (opens in new tab) (which also offered very little compression), the FS260 Pros didn't budge thanks to some very effective leg grippers.
Endura's DropSeat™ function is one of the only zip/clasp-free systems that doesn't put excess strain through seams and fabrics. However, there's a trade-off in terms of breathability; you might well suffer from a sweaty lower back in warmer conditions due to the layered fabrics that make up DS. It's worth knowing that Endura also has a zip-verson (opens in new tab) of the FS260-Pros though.
We felt that these were the most inclusive pair of shorts in our test; ideal for newcomers to the sport with their modest price tag, three colour options, a decent chamois and an easy bio-break system. Only compression and breathability fell short, elements that aren't necessarily everyone's priorities.
Read more: Endura Women's FS260-Pro Bib Shorts DS full review
Unique styling, comfortable fabrics and a quality chamois, ideal for those who prioritise pleasure over performance
Specifications
Sizes: XS-XL
Colours: Denim Black, Denim Navy
Chamois: Elastic Interface
Easy pee design: No
:
:
Reasons to buy
+
Unique design
+
Quality chamois
+
Soft fabrics
+
Colour options
Reasons to avoid
-
Ineffective leg grippers
-
Mesh upper not so breathable
-
Potential fit issues with full bib
Out of the four pairs of shorts in the test, the Adelines proved to be a favourite for 'casual' riding. Their unique styling, super soft fabrics and quality chamois made them an ideal choice for gentle cafe rides and long, lazy days with friends. They certainly turn heads when lined up against conventional black shorts.
Our tester didn't find the fit of the full bib to her liking; the Adelines are better suited to those with a shorter than average body. Fabrics here are not overly breathable either, so these aren't the best shorts for deep, sweat-inducing efforts.
While leg length is about average, you'll likely end up with a short-short - the grippers aren't so effective. Due to the fabrics being silky soft, gliding over the body, you won't notice this is happening.
We felt that these shorts were ideal for those not so keen on donning traditional, compressive lycra but who refused to compromise on comfort in the saddle, or style. Unfortunately, the price isn't as inclusive as the design.
Read more: Cafe du Cycliste Adeline Fade Women's Bib Shorts full review
Here are more short that we've tried in recent years and think highly of...
Best women's cycling shorts for performance on a budget
Specifications
Sizes: UK 8-16
Colours : Black, black/pink, black/white, navy
Chamois : Elastic interface Paris HP
Easy pee design : No
Reasons to buy
+
Comfortable fit
+
Great chamois
+
Bib strap design
+
Ideal for performance focused riding
+
Wallet friendly price
+
Fabric ethical certification
In a world where bib shorts costing eyewatering figures are commonplace, it's refreshing to see a top quality pair retailing for significantly less. Dhb makes its Aeron shorts from Italian M.I.T.I. fabric designed to shrug off abrasion and maintain its elasticity over a hard life, and best of all it's made from recycled yarns. It doesn't quite match the Alé Green Road Lady pair standards, but it's great to see environmental considerations becoming a high priority for big brands.
Inside is a Paris HP Elastic Interface chamois, it's a highly regarded option and crosses over several cycling disciplines, which gives the shorts great versatility from short races, to all day in the saddle rides.
We found there was very little to fail with the dhb Aeron shorts, with our tester saying they were the best shorts she'd worn in a long time. Available in male and female fits.
Read more: dhb Aeron women's bib shorts full review (opens in new tab)
Best women's cycling shorts for padding in a no-bib design
Specifications
Sizes : XS - XLG
Colours: Black only
Chamois: Assos' UMA GT
Easy pee design: Yes
Reasons to buy
+
Comfortable but compressive fabric
+
Excellent chamois
Reasons to avoid
-
Waist band dips down at the front
Most of the comfort in these shorts comes thanks to the 8mm of memory foam chamois and S7 'waffle design' alongside the 'goldenGate' - which means the pad is attached at the front and rear, allowing for movement and 'float'. It's the same chamois that's used in the much loved Assos T.Laalalai bibshorts and Habu Laalalai S7 tights
The leg grippers are also really wide and graduate towards the centre, meaning they stay put without digging in around the thighs.
While the waist rises up at the back to ensure no bare skin is ever exposed, the front did dip a bit too low, and was slightly too compressing for optimal middle comfort.
Since we reviewed these, waist shorts have seen a bit of a renaissance, thanks to most of us spending at lot more time cycling inside, or shorter commutes, which make bib shorts seem a little OTT.
When compared to other waist short options these certainly share top spot with the Oldo Element shorts (below).
Read more: Assos UMA GT half shorts full review (opens in new tab)
Best women's cycling shorts for comfort breaks with bibs
Specifications
Sizes: XXS - XXXL
Colours: Black, navy blue
Chamois: Velocio proprietary Signature Chamois developed with Elastic Interface
Easy pee design: Yes
Reasons to buy
+
Beautiful, understated design
+
Minimal branding
+
Close body hugging fit
+
Mesh bib for modesty
+
FlyFree design for easy comfort breaks
+
Chamois comfortable for long rides
With an understated design and minimal branding, the Signature shorts from the American brand Velocio are stylish in their subtly, yet highly functional.
The top notch performance is delivered thanks to a chamois pad that is designed to provide comfort on long rides and Lycra that is both figure hugging and breathable.
Practicality isn't overlooked with the FlyFree design allowing you to go to the loo without having to take all your layers off, and the mesh front panel which is an additional highly breathable layer, ideal for added support when un-zipping your jersey on a hot ride.
They aren't the cheapest on test, especially when compared to the likes of the dhb Aeron bib shorts, but we feel that the performance and practicality of the shorts easily justified the splurge.
Read more: Velocio Women's Signature Bib Short full review (opens in new tab)
Best women's cycling shorts for long rides
Specifications
Sizes : 0-2 (EU34) - 16-18 (EU24)
Colours: Black, blue
Chamois: Expert 3D Gore chamois
Easy pee design: No
Reasons to buy
+
Good fit, true to size
+
Comfortable chamois
Reasons to avoid
-
Expensive price tag
-
No comfort break solution
These top end race shorts are designed with the rigours of long distance riding at front of mind.
The cuffs are wide with silicone dots to hold them in place, and sit very flat against the skin with no pinching. With a 20cm inside leg measurement, they are on the longer side than most shorts, great for holding legs together and helping to battle fatigue, but if you're used to a more 'race' cut these will take some getting used to.
The pad plays a key part to these shorts' performance, with the chamois being designed first, and the rest of the shorts around it. It's what the brand calls 'Central Core Architecture', and a male version of the Gore C7 long distance bib shorts uses a men's specific version.
It's a dual density pad, so has volume where you need it most. Teaming with a panel of highly rated GORE Windstopper fabric to block cold wind slicing through means that the shorts significantly reduce their front bulk.
The shorts fabric is soft to the touch and we found these to be a joy to wear and the ideal women's cycling shorts for long distance performance seeking riders, but expect to pay for the privilege.
Read more: Gore C7 women's long distance bib shorts+ full review (opens in new tab)
Best women's cycling shorts for multi features
Specifications
Sizes: XS - 2XL
Colours: Black, navy
Chamois: Santini'sC3W chamois
Easy pee design: Yes (although the execution could be better)
Reasons to buy
+
UV protection
+
Muscle compression
+
Adjustable bib length
+
Secure leg gripper
+
Long distance comfort
+
Aerodynamic optimised fit
+
Wallet friendly price tag
Reasons to avoid
-
Over head strap design
-
Chamios won't suit all riders
The women's specific Santini Legend bib shorts are all about long days in the saddle for great value. The fabric, fit and padding are all geared this way, enabling the rider to crack on with cranking the pedals round. Perfect for long distance cycling - though some may find the eight hour ready chamois a bit too thick.
Like the Alé Green Road Lady bib shorts it's great to see the offering of UV protection and muscle compression. Although much like the Assos T laalalai shorts s7 bib shorts below, they are the reverse design of the Specialized SL R women's bib shorts, meaning that you have to not only remove your outer top layers to nip to the loo, but your helmet (and therefore sunglasses) too in order to get them off - making the comfort break kit juggle more of a handful.
The Legend bib shorts do however pack a lot into a fairly priced package making these a pair of great women's cycling shorts for lots of riders.
Read more: Santini Legend bib shorts full review (opens in new tab)
Turbo/ exercise bike specific women's cycling shorts
With the huge rise in the number of riders heading inside, some brands have dedicated ranges, and we've even selected our best indoor cycling clothing (opens in new tab)kit for indoor sessions in a separate buyers guide.
These generally come with slightly more padding, to counter more time in the saddle, are designed to be more breathable and sweat-wicking than standard shorts.
If you're wondering about the best home training set up then our guides on the best exercise bikes (opens in new tab) or best turbo trainers (opens in new tab) can help answer all your questions and recommend the ideal indoor riding experience for you.
Best women's cycling shorts for wicking sweat
Specifications
Sizes: 8 - 16 UK,
Colours: Black
Chamois: Elastic Interface NICE HD Super Air pad
Reasons to buy
+
Quick dry fabric is effective
+
Comfortable chamois
To avoid drowning in sweat when training indoors, the dhb Aeron turbo waist shorts are constructed from a lightweight, breathable fabric, with an even lighter fabric along the quads.
Its Elastic Interface Paris HP Super pad by Cytech is geared to deal with sweat – featuring perforations to allow for greater airflow. Our sweat test found that these shorts were true to their word and kept our tester drier than a pair of 'non-turbo' waist shorts from Assos. (opens in new tab) The firm but protective chamois was effective in providing comfort too.
As mentioned above, there's not lots on offer in terms of specific indoor cycling kit yet, and we do expect more on the market soon to offer a better comparison, but if you are a sweaty betty when training inside, these could be just the ticket for you.
Read more: dhb Aeron Turbo indoor women's shorts full review (opens in new tab)
Best women's cycling shorts for keeping cool
Specifications
Sizes : XS - XXL
Colours: Green, light grey, purple
Chamois: TBC
Reasons to buy
+
Breathable fabric of shorts
+
Moisture-managing chamois
Reasons to avoid
-
Gel ice packs require pre-planning
In a time that has seen us take to indoor cycling way more than we ever expected, the NoPinz SubZero shorts have come up with an innovative way to stay cool, thanks to frozen gel packs.
When administered with ideal timing, the gel packs that set the SubZero shorts apart are useful, and they do make tough sessions feel that tiny bit easier.
The pad is comfortable and, clearly, the fabric is breathable, though the near-naked appearance means you'd not be able to get additional use from these by wearing them outside.
A great option for anyone undertaking indoor racing and looking for every performance gain possible. There aren't really a lot of options for indoor specific kit on the market just yet, but with the huge popularity of on-line racing, we suspect that will grow.
In the meantime they are certainly a rival for the more expensive Wahoo X Le Col pair that was awarded near full marks, and defiantly beats popping some frozen peas down your shorts.
There are three colours available and both female and male fit options in sizes XS to XXL.
Read more: NoPinz SubZero shorts full review (opens in new tab)
Buyer's guide to women's cycling shorts and bib shorts
Why do women wear cycling shorts?
Women wear cycling shorts for the same reasons men do, that is: to provide additional cushioning for long duration riding. Cycling shorts also have the additional benefits of providing light compression to your muscles and quickly wicking away sweat from your skin.
Being skin tight has its aerodynamic benefits, with no material free to flap away in the wind, but it also makes for a more comfortable riding experience not having excess material getting in the way and potentially chafing.
What to look for in a set of women's cycling shorts
At the top of the checklist for any of the best women's cycling shorts is the padded insert, otherwise known as a chamois. There's a fine line between sufficient padding and too much bulk, and this also depends on the kind of riding you're going to be doing. Long days in the saddle will require more cushioning, but if you're on and off the bike a lot, for example a quick commute or a cyclocross style ride, you may prefer much less.
A quick squish test can give you a rough idea as to the level of padding, but also take into account construction: is it made from foam, gel or both? As a rule of thumb the more variety and densities of layers, the more cushioning you will receive, especially over a longer time period (both in terms of riding time and age of shorts) when padding can compress flat – offering little in terms of support.
On the whole, the addition of gel inserts may help reduce some shock absorption, but can add weight and bulk to the shorts. Foam may give you a little more road buzz feedback, but will create a lighter, more streamlined and less restrictive pair of shorts.
What's the best way to prevent saddle sores?
To add to the gel-versus-foam chamois conundrum is a myriad of construction fabrics, with a view to reducing the risk of saddle sores (of the infected hair follicle type). But try not to get too bogged down with this as most shorts' chamois now offer some kind of antibacterial properties, breathability, sweat wicking and quick drying capabilities.
To be honest, the best prevention of saddle sores is self help and chamois care by always wearing fresh shorts, using an antibacterial chamois cream, limiting chamois time when not on the bike and hopping into the shower asap post ride and of course knowing what's in your Chamois and how to look after it will help.
Areas of soft tissue need protection. This is often in the form of extra soft padding to help alleviate pressure points and the all-important avoidance of stitching in these regions. The design also needs to appreciate that women's sit bones are wider apart than men's and position the thickest padding accordingly.
This attention to padding placement will also help you decide your overall chamois size requirement – bigger is not always better. Bear in mind that when on a bike your legs aren't any wider than hip distance apart at the top, so too much padding overspill can create an unnatural leg position. While too much length at the rear may just be unsightly, too much at the front will potentially cause friction burns to the top of legs and groin when you start pedalling.
What's the difference between the chamois in women's and men's cycling shorts?
A women's specific chamois should be shorter and have sit bone padding wider apart and more central soft tissue support than a men's.
One of the biggest causes of short discomfort can be the chamois-to-short interface. Unfinished edges and badly positioned stitching can irritate legs, buttocks and groin. A niggle, when multiplied by several thousand pedal revolutions, can swiftly turn into full blown painful chaffing and skin loss. To protect yourself from this, the best women's cycling shorts will have flatlock sewing right at the edges of the padding and ensure that the unpadded fringes of the chamois flow a few centimetres below the groin to prevent irritation in creases.
Talking about other anatomical areas that need protection, you might find our guide on the best sports bras for cycling a helpful insight into how to find the best chest support for you.
Women's bibshorts versus waist cycling shorts
There are two kinds of cycling shorts: ones with bibs and ones without, and both have pros and cons. It's very much horses for courses as to what type will suit you and your riding needs best, and like chamois padding, this need may change depending on what riding you'll be doing on any given day.
The biggest benefit to plain and simple shorts is easy access, be it for the inevitable comfort break on long rides or just a bottom half change for quick rides to and from the office.
With no body upper, shorts can also be a cooler option on hot days or indoor training sessions. With less fabric, this generally makes them lighter weight and a cheaper option price-wise.
The downside is, unless you're a unicycle rider, all forms of bike riding require you to bend in the middle – the exact point where a waistband sits. This can create a 'digging in' sensation when on the bike, which can range from merely an 'awareness' to 'organ squeezing'!
Some shorts get round this issue with the creation of a low slung waistline, but that can give an unflattering pot belly illusion and create a gap between shorts and jersey at the back. The better option, and one that you'll find in the ideal women's cycling shorts, is a wider waistband with a high back to counter the stretching effect on the bike.
However, construction of waist shorts varies hugely, so when trying on, make sure you try with a bike specific jersey and adopt an on-the-bike position to see how the waistband fits and feels.
Brands and retailers agree that waist shorts are currently the biggest sellers for women. However, in terms of performance, bibshorts do tend to offer a better experience when on the bike.
So, are bibshorts actually better than traditional cycling shorts?
Bibshorts more or less overcome this waistband issue as the shorts' leg fabric continues much higher up the torso before eventually transitioning into the bibstraps. A good pair of women's specific bibshorts will take account of a female's increased hip to waist ratio compared to a man's and ensure they fit snugly around the waist, preventing crafty gaps and sweat channels.
Unlike shorts, some bibshorts offer an element of skin protection if you're unfortunate enough to end up sliding on tarmac - though the amount of coverage will vary depending upon the design.
This male/female fit difference also holds true for bibstrap design. Traditional up and over straps may work for some, but others find straps directly laying on breasts uncomfortable and/ or find the shorts no longer sit flush on the stomach, again creating drafts or sweat channels.
You may find the best women's cycling short bib straps for you take account of the female form by contouring either side of the chest, running directly down your middle or having another solution, such as the dhb halterneck design.
The other thing to look for on the straps is length: too short will become painful and sore on the shoulders, too long and shorts will sag and not hold the chamois in position. A good fit will feel slightly too short when standing, so again when trying on, adopt a riding position to get a better idea of how they'll feel on the bike.
Many women are put off bib shorts because taking a 'comfort' or 'nature' break is made a little bit more difficult. However, almost all reputable brands have now come up with a solution for this, and you can find most in our Comfort breaks for women: best bib shorts for an easier pee stop buyers guide.
Popular options include halterneck bibs, which can be pulled over the head and threaded under a jersey (Ale), or simply pulled down at the back (dhb and Giro), as well as zips around the waist (Gore) and clasps that clip at the waist or back with a similar function to the halter neck (Gore again and Assos).
Though some women prefer to go with the standard bib strap design featured on most men's bib shorts, unzipping a jersey and removing the straps when it's time to 'go', the assorted options offered by those catering for women in this way do make bib shorts more accessible for those who might otherwise have opted for waist shorts.
Bibshort designs without a quick pit stop drop will require you to remove your jersey first, so just watch out for dropping items from your pockets and if you're wearing a race number, make sure it's not pinned through your base layer too!
What leg design is best for women's cycling shorts?
While function is imperative, form isn't far behind, with the links between looking good and feeling good on a bike being well documented.
As women generally have a higher fat percentage than men, skin tight Lycra can be both friend and foe, with the ideal short legs being body contouring and muscle supporting, while avoiding over-compression.
Aim for a close, but not a restrictively tight fit on the legs, especially on the leg cuff. This is a particularly tricky area to get right, as they need to be snug enough to prevent the legs riding up when pedalling, without squeezing the thigh giving that 'sausage leg' look. Wide leg cuffs and raw edges often create the most flattering finish, and when teamed with silicone or other tacky fabrics on the leg gripper, will stay put when riding.
Until relatively recently only the use of multiple fabric panels would deliver a close fit, and even now it's a good way to ensure a simple lycra short contours the body.
With the advent of more technical materials that flow and cling to the skin, a snug fit can now be achieved using fewer panels. These fabrics often have multiple attributes, such as being incredibly lightweight and breathable, so expect a premium price tag on these shorts.
Trying on will allow you to see and feel the fit instantly, but unfortunately it'll be difficult to judge the shorts' legs' staying power until you get out on the bike, so look out for women's specific cycling shorts reviews to test that for you.
What are the most comfortable women's cycling shorts?
Personal preference will always be a factor, but of the women's cycling shorts we've tested here at Cycling Weekly, the Gore C7 women's long distance bib shorts+ (opens in new tab) more than lived up to their billing as long distance shorts, while the Specialized SL R women's bib shorts (opens in new tab) provided a particularly excellent combination of on-the-bike comfort and ease of comfort breaks with a well thought out easy-pee system.
The Assos T.laalalai shorts_s7 bib shorts (opens in new tab) are strong rival to both of those shorts and boast a build quality that has seen them last season after season after season. Those are three particular highlight, but you can check out our guide to all the best women's cycling shorts (opens in new tab) currently on the market over here.
How do you choose cycling shorts for women?
There are a few key areas to consider when choosing cycling shorts as a woman. Most important is the chamois, whether it's supportive enough – and in the right places – to be comfortable over long durations.
Next is the quality of the material and the fit. You should look for a set of shorts which is gently compressive to provide support for your muscles, whilst not feeling too tight or constrictive. Higher quality fabrics tend to give a nicer feel against the skin and are more breathable during hard efforts on hot days.
Wide leg grippers help to keep the shorts in place, whilst also distributing the pressure evenly so as not to dig in. Likewise, wide bib straps do a similar job at distributing the pressure there.
Finally, there is whether the short has an easy-pee system. The straps of a traditional set of bib shorts mean you typically have to remove your jersey to get the straps down when you take a nature break. Some shorts these days are designed so you can keep your jersey on – which is particularly useful when your pockets are full of spares.
Hannah is Cycling Weekly's longest-serving tech writer, having started with the magazine back in 2011. She has covered all things technical for both print and digital over multiple seasons representing CW at spring Classics, and Grand Tours and all races in between.
Hannah was a successful road and track racer herself, competing in UCI races all over Europe as well as in China, Pakistan and New Zealand.
For fun, she's ridden LEJOG unaided, a lap of Majorca in a day, won a 24-hour mountain bike race and tackled famous mountain passes in the French Alps, Pyrenees, Dolomites and Himalayas.
She lives just outside the Peak District National Park near Manchester UK with her partner, daughter and a small but beautifully formed bike collection.
With contributions from