The best chamois cream 2023 and how to use it
Why you need chamois cream, how to apply it, and where to buy it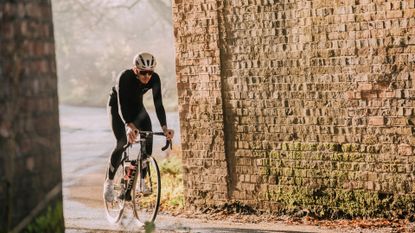 (Image credit: Future)
You've most likely heard of, if not used, chamois cream whether you are new to cycling or have been an avid rider for most of your life.
But if you haven't a clue what chamois cream is, or even how it's pronounced, fear not, as hopefully by the end of this article you'll have a clearer understanding of this useful, if a little intimate, product.
Your chamois, or seat pad, comes between you and your saddle. It helps to cushion you from the road, but on longer rides rubbing between your rear end or your groin and the saddle, particularly from pedalling, can become uncomfortable. At worst, it can cause saddle sores or abscesses and the only sure-fire way to sort these is time off the bike.
The best chamois cream helps avoid this by forming a barrier between your skin and your seat pad and acting as an anti-chafing agent where your skin rubs against itself as you pedal. It will often have anti-bacterial and moisturising properties too.
You can read all about the whys and wherefores in our buyer's guide to chamois cream at the - no pun intended - bottom of the page.
But first, here are our personal favourites, based on hours of testing. With chamois cream time spent in the saddle is the only way to ensure it's up to the task!
Best chamois creams recommended by CW testers
You can trust Cycling Weekly. Our team of experts put in hard miles testing cycling tech and will always share honest, unbiased advice to help you choose. Find out more about how we test.
Best for cooling sensation
Specifications
Container: Pot
Cooling effect?: Yes
Antibacterial properties?: Yes
Reasons to buy
+
Great for use on the chamois or on the skin
+
Soothing, cleansing and softening
+
A firm favourite among many cyclists
Reasons to avoid
-
The pot style container encourages double dipping
-
Cooling sensation not great before a chilly winter ride
-
More expensive than competitors
Assos chamois cream is renowned among cyclists as being one of the best formulas, and our testers agreed. The cream reduces friction and has antibacterial properties, which help to avoid the dreaded saddle sores.
It's worth noting that it's well known for the cooling effect that it gives to the skin - some riders like this, others don't. One of our testers found that it wasn't a welcome sensation in the early miles of a chilly ride, but they got on well with it the rest of the time.
The other downside is the pot style. This does encourage the 'double dip', but this isn't a big issue as long as you use one scoop at a time, and don't share it with your friends!
Read our full review of Assos Chamois Crème here
2. Muc Off Luxury Chamois Cream
Best for moisturising skin
Specifications
Container: Pot
Cooling effect?: Mild
Antibacterial properties?: Yes
Reasons to buy
+
Luxury moisurising additions keep skin in good condition
+
Mild cooling effect
Reasons to avoid
-
Clue is in the name: costs more than most
-
Another chamois cream which comes in a pot
Muc Off is better known for its bike cleaning formulas and tools, but some years ago it also entered the 'athlete care' market with a range of rather lovely lotions and potions. This chamois cream takes its "luxury" name from the addition of a range of extras - including Aloe Vera, Witch Hazel, Shea Butter and Sunflower Oil. These all condition skin, keeping you comfortable.
This chamois cream does provide a mild cooling function - but we found it's not in any way jarring and certainly didn't make our tester feel chilly, in the way the Assos cream did. It is antibacterial, to keep infections at bay.
Again, it comes in a tub - so it's best to dip once, and keep it to yourself - though, there are travel sachets available.
3. Udderly Smooth Chamois / Anti-Chaffing Cream
Best for no-fuss, no cooling comfort
Specifications
Container: Tube
Cooling effect?: No
Antibacterial?: Yes
Reasons to buy
+
Excellent value compared to competition
+
Comes in a tube
+
Very mild
Reasons to avoid
-
Doesn't come with fancy 'cooling' effect, but some might see this as a pro
The Udderly Smooth Chamois/Anti Chafing cream comes in much cheaper than competitors, and it still has antibacterial properties to keep saddle sores at bay, along with Shea Butter which moisturises the skin.
What it doesn't boast is any sort of menthol or cooling aid - but some of our testers found that this was a preference.
The cream is lightly scented, but not in any way overpowering and didn't irritate any of our uses. Finally, it comes in a tube, which is a big plus for us. We found it easy to get just the right amount of cream, without any waste. In the past, the Udderly Smooth formula has not been quite as thick as those from the likes of Assos and Muc-Off, but the brand has now increased its thickness, which makes it easier to apply.
4. Paceline Products Chamois Buttr
Best for different formulas
Specifications
Container: Tube or pot
Cooling effect?: No
Antibacterial properties?: Yes
Reasons to buy
+
Mild formula agrees with most cyclists
+
Comes in a tube
Reasons to avoid
-
No bells and whistles, but that might be considered a benefit
Chamois Butt'r from Paceline Products is a regular addition to sportive goody bags and from our experience, most riders seem to get on with it well. It softens and soothes skin and helps to avoid chafing, as promised.
We've recommended the 'standard' formula, which doesn't come with any promises of cooling. The brand does offer a 'Euro Style' formula, which adds in Witch Hazel and Menthol, thus giving that freshening effect which is so 'marmite' among riders.
There is also a women's specific version, which aims to cater for "women's more neutral skin pH" - however, neither of our two female testers have had issues with the unisex formulas, so whilst nice-to-have this isn't a product we feel is a 'must have' for women, based on our experience.
Buyer's guide to chamois cream
What is a Chamois?
First and foremost, let's start off with the basics. What actually is a chamois?
A chamois (often pronounced shammy and also called a seat pad) is a synthetic padded insert that is sewn into your bib shorts or bib tights; it is strategically placed to support and protect your delicate undercarriage while riding.
You may notice chamois come in all different shapes and sizes depending on the rider's individual needs. However, the original chamois within cycling shorts for men (and cycling shorts for women, once the industry saw fit to manufacture them) were actually made of leather from a chamois goat, not the antibacterial synthetics you see fitted today.
But, subsequent to the constant washing of the old school leather pad, the insert would become tough and uncomfortable after a while. Thus, chamois cream was created to help soften the pad and improve upon comfort. Now that the pads have moved on, people still use chamois cream as it carries many benefits.
What are the benefits of chamois cream?
Arguably the biggest benefit to using chamois cream is the anti-chafing support it offers. The cream works by creating a barrier between your skin and any areas that may chafe, therefore reducing friction.
This is important because chafing can lead to very sore and swollen skin. In some cases, this can even escalate into abscesses and saddle sores. Unfortunately, when it gets to this point, you will need time off of the bike and potential medical assistance.
Chamois cream will usually also have anti-bacterial properties which may help prevent saddle sores developing or getting severe.
Should you always use chamois cream?
Although chamois cream is a really great tool to prevent chafing while riding, not everyone uses chamois cream nor is it always needed.
For example, on shorter rides (anything around an hour or so) you most likely will be fine without dipping into a pot. Alternatively, if you are heading out for a day long exploration then it'd be recommended to apply some in any troublesome areas.
Similarly, if you are racing back-to-back days, such as during a stage race, chamois cream may be your best friend in keeping you comfortable in the saddle, or even just getting you to the startline.
How Much Chamois Cream Should You Use?
Knowing how much product to use can make a huge difference for your comfort levels and overall experience while cycling. Therefore, ensuring that you get this right based around your own personal needs is really important.
However, the amount needed will differ vastly depending on the individual. This being said, you may need to apply a little more product if you are planning a particularly long ride, whereas you may not need any at all on shorter rides.
The same can be said for those who race: if you are competing in a stage race, it's a good idea to protect yourself early doors against any friction that may occur. This is because, once the skin is damaged it's hard to recover and heal without taking a day off the bike.
In general however, roughly around one scoop using two fingers (a highly accurate measurement) should be enough to cover most friction prone areas. But this will largely be a trial and error process, as everyone's needs of course differ.
Where do you apply chamois cream?
It's safe to say that there are often misconceptions as well as confusion over where chamois cream should be applied. With the old school leather chamois, the cream was best applied directly to the chamois.
This method of application can still be a great one to try. However, many people opt for applying directly to the problem areas once they have their kit on.
But, please remember the golden rule when it comes to chamois cream application: don't lock eyes with anyone while you apply it. It's highly creepy and somewhat unnerving.
Therefore, you should ideally apply it before you leave your house. But if you absolutely must do it in a semi-public place, remember to just awkwardly stare at the ground to avoid any uncomfortable exchanges.
What should I look out for when buying chamois cream?
One of the biggest things to consider when selecting the best chamois cream for you is whether or not you want the product to include the ingredient menthol.
Menthol produces a bizarre cold sensation in your nether regions once applied. But nonetheless, it can be a great added ingredient for chamois cream thanks to its numbing properties, therefore helping to relieve any soreness and pain that you may be experiencing in the saddle.
On the other hand, this numbing feeling won't suit everybody. It also goes without saying, but if you are allergic to menthol, any chamois creams with this added ingredient will be a no go for you. The same can be said for any other ingredients used, so please make sure you read the label beforehand.
Another important thing to consider is the container your chamois cream comes in. This is mainly due to hygiene reasons: pots are a useful shape but bottled/tubed chamois cream that can be squeezed out rather than dipped into are better for preventing double dipping and therefore contamination.
Conveniently, some brands now also sell small sachets of chamois cream. These are a really brilliant size to pop into your bar bag or pocket for big days out when a top-up may be gratefully received. They also cannot be double dipped, which is great from a hygienic perspective.
Can you use Vaseline or Sudocream instead of chamois cream?
The aim of chamois cream is to reduce the friction or chaffing between your cycling shorts and your skin.
If you've come from a running background, you will probably be familiar with applying Vaseline or equivalent to areas prone to rubbing when in contact with fabric.
While this will create a great barrier and lubricant to reduce friction, it doesn't have any antibacterial properties to keep bacteria at bay and doesn't let your skin sweat, so it may cause more problems than it solves.
Sudocream will have some barrier protection, as many parents will testify when helping babies with diaper/ nappy rash, but it's not as lubricating to ward off chaffing that can occur with an endurance ride.
All of the best chamois creams will contain the perfect blend of both lubrication and anti-bacterial properties to help prevent chaffing and infections.
Meet the chamois cream test team
We asked the Cycling Weekly test team to recommend their favourite chamois creams. With each rider putting in hundreds of kilmetres a month, our experts are well placed to pick out the best - over the rest - and here's what they recommended...
Tech Editor Michelle Arthurs-Brennan races road, crits and track, adding in the occasional time trial and gravel ride/mountain bike ride when the occasion arises. She's been working in the cycling industry for a decade and finds chamois cream comes in handy the most during training camps, which consist of long days, back to back.
Stefan's cycling career began on a mountain bike, but he's moved over to the 'dark side' of the road thanks to the arrival of the handy hybrid, gravel. Off-road, he recently completed the 200 mile long 'South Downs Double' in under 20 hours, and sticking to the tarmac, he also Everested in under 12 hours in 2021. In 2019, he picked up the title of National Single-Speed Cross-Country Mountain Bike Championship.
Cycling Weekly's Senior Tech Writer, Simon Smythe, is primarily a time triallist, throughout his career he's claimed a national medal as well as a few open wins and his club's 30-mile record. He's not always racing the clock, spending most of his time aboard road bikes, as well as notching up miles using a tandem with his younger son on the school run.
How we test
We have a dedicated team of testers here at Cycling Weekly, whose job is to review a whole range of cycling products and to write objective reviews of their experience of using them day in day out in a whole range of conditions.
With huge experience, they're really well placed to compare products, identify their strengths and weaknesses and bring you an honest, unbiased assessment of how they perform.
When it comes to testing chamois cream, there's no substitute for time spent in the saddle. Our recommendations come from hours of riding, with our testers assessing the cream for lubrication and anti-bacterial properties as well as factors such as ease of use and value for money.
Get The Leadout Newsletter
The latest race content, interviews, features, reviews and expert buying guides, direct to your inbox!
Charlotte Broughton is a British rider, racing for the AWOL O'Shea UCI women's cycling team. An accomplished writer, she is a regular on the pages of Cycling Weekly magazine and also contributes to The British Continental.