Chamois cream: how to use it and some of the best formulas
Why you need chamois cream, how to apply it, and where to buy it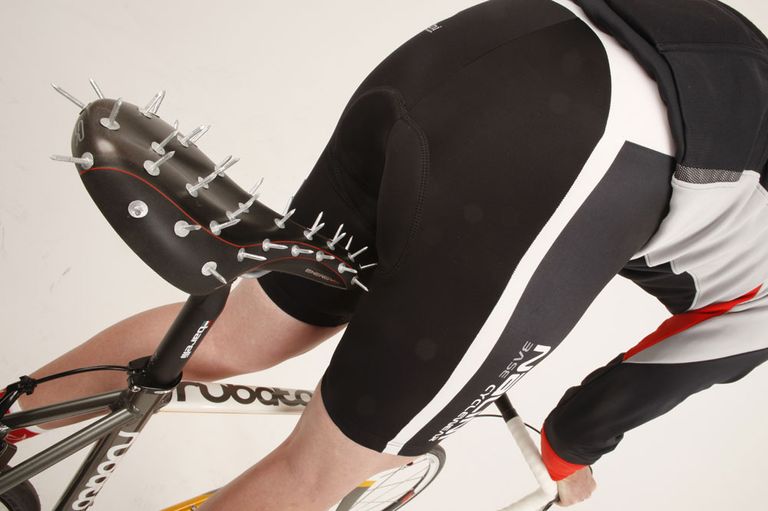 Chamois cream, and the application of, is something of a taboo subject. You don't even get many experienced racers talking about it in an open and honest way. But as you cycle more and more, you may find the need to use some. Question is, what the hell are you meant to do with it?
In your desire to find out more, you may have caught the eye of someone applying it. Before awkwardly averting your gaze. Do you apply it to the pad (which used to be made of chamois leather, hence the name) in your shorts? Your under-carriage? Both? What is it, and how does it help? Do you actually need it?
Watch: Nine beginner mistakes to avoid
According to legend, racers in the days before chamois would use steak to help prevent sores, then eat it that night after it had been tenderised during the ride. Thankfully, the birth of the padded 'chammy' insert meant that riders could leave the beef at home. Even so, riders quickly discovered that washing the shorts repeatedly would lead to a hardening of the pad, thus requiring a cream to soften the otherwise leathery chamois.
Happily, cycling short technology has come a long way since then and arguably could eliminate the need for any cream. Near-on perfect fabrics and fit limit friction, materials disperse moisture and chamois are washable without any stiffening. So why do we still buy it?
What is chamois cream?
Chamois cream is an anti-bacterial, viscous substance that helps eliminate friction between skin and clothing, and therefore the chafing that can occur during a ride. It comes in a number of forms including balms, creams and even powder.
Why use chamois cream?
Cyclists use chamois cream for prevention of saddle sores or, even worse, something that can leave you off the bike for several days and require medical attention: an abscess.
The idea is to minimise friction and keep bacterial build-up at bay, therefore prevent any nasties. If you'd forgotten to apply and get sore after your ride, some saddle sore creams act as a cure to help alleviate the pain, put a stop to any further problems and help prevent infection.
Is chamois cream for you?
In a word: yes. Riding every now and then shouldn't cause too much discomfort down below, but once you start riding everyday and taking on longer rides, you'll need to consider applying some cream.
First-time training campers usually fall foul of painful saddle sores, because cycling consistently over a week, especially in hot weather, is a big step up from what most riders are used to.
Simply apply chamois cream before each ride and you'll avoid having to miss a day on the bike!
Can I just use Sudocrem instead of chamois cream?
Sudocrem is a fairly inexpensive antiseptic healing cream. It's traditionally used to help clear up nappy rash, eczema, acne and other skin conditions. It can also be used on saddle sores. Some people do use Sudocrem instead of chamois cream, because it's cheaper and sometimes easier and quicker to come by. However, it's not created with a focus on lubricating the chamois/skin interface, and purpose designed chamois creams are generally better for this. Using Sudocrem after a ride to treat any sores is a great idea.
Recommended chamois creams
With each product is a 'Buy Now' or 'Best Deal' link. If you click on this then we may receive a small amount of money from the retailer when you purchase the item. This doesn't affect the amount you pay.
Assos Chamois Cream £13.99
Assos chamois cream is renowned among cyclists as being one of the best formulas. The cream reduces friction and has antibacterial properties. It's worth noting that it's well known for the cooling effect that it gives to the skin - some riders like this, others don't.
Paceline Chamois Butt'r Original
Comes in a tube, which is generally considered more hygienic (tubs encourage the double-dip) - a non-greasy skin lubricant that will help to reduce friction.
Dznuts Pro Chamois Cream and Bliss Women's Chamois Cream
Most chamois cream is gender neutral, and seems to do the job well. However, DZ Nuts wanted to provide a special formula for women that catered for sensitive skin and helped to reduce prickling and itching. Both anti-bacterial formulas have been tested by pros and amateurs alike.
Muc Off Luxury Chamois Cream
Most well know for their bike cleaning formulas and tools, Muc Off entered the athlete care market with a range of lotions and potions fairly recently. Their chamois cream contains Aloe Vera, Witch Hazel, Shea Butter and Sunflower Oil and Provitamins - a range of lovelies to help keep your skin tip top.
Morgan Blue Chamois Cream Soft
The 'soft' chamois cream from Morgan Blue contains Vitamin E to help protect skin, along with Saint John's Wort oil, olive oil, sunflower oil and rosemary oil. There's a women's specific version too, which uses a formula based on almonds.
How to apply chamois cream
Apply to yourself around the contact and chafe points of the saddle or, if you prefer, mirror these points on the chamois. If you find that one or the other isn't enough, don't be afraid to apply the chamois cream to both chamois and yourself. How much is up to you — the more you apply the less likely to get sore, but don't go mad!
Best bike saddles: a buyer's guide
Best women's bike saddles: a buyer's guide
Whatever you choose, ensure you wash your shorts post ride to avoid any build-up. The other key piece of advice to avoid sores is to change out of your shorts as soon as you have finished your ride. Even if you don't have access to a shower you should put clean, dry clothes on. Sitting around in a damp chamois is as bad for your skin as a long ride with no cream.
Don't get it wrong!
Finally ensure you don't mix your chamois cream up with your leg warm up rub. You may laugh, but it has happened to many a cyclist over the years and still does today. If you start to feel a fiery feeling downstairs, get home quick!
Got any more questions about chamois cream? Ask in the comments below — your embarrassing question might help other cyclists!
Symon Lewis joined Cycling Weekly as an Editorial Assistant in 2010, he went on to become a Tech Writer in 2014 before being promoted to Tech Editor in 2015 before taking on a role managing Video and Tech in 2019. Lewis discovered cycling via Herne Hill Velodrome, where he was renowned for his prolific performances, and spent two years as a coach at the South London velodrome.