360 kilometers is a long way and nine other lessons I learnt on my first long distance gravel ride
I raced The Traka 360 in Girona, Spain - a brutal introduction to long-distance gravel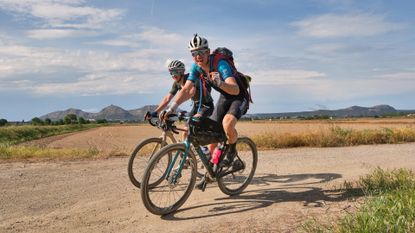 (Image credit: The Traka)
Ultra-endurance events have always fascinated me. Whether it's crossing continents or snaking through hills closer to home, the fact remains that a bike is a vehicle for adventure like no other.
My biggest adventure yet was The Traka 360: a 360 kilometer / 220 mile gravel ride around Girona. The route takes you past coastal coves (which are only accessible by foot or boat) and mile, after mile, after mile of dry and dusty trails..
360 kilometers is a long way - something I hadn't thought too hard about until the late morning on the day of the event, when my Garmin ticked over the 8 hour mark and there was still over 200 kilometres to go. At that point, the distance did start to feel daunting.
In an elapsed time of 18.31.20 hours, you can learn quite a lot about yourself. Personally, I felt some of the highest of highs I've had for a long time - it was almost like riding in a dream - but that feeling can flip in an instant, and the next minute I found myself at one of the lowest points I've ever felt.
Learning how to keep yourself above ground and not dig yourself into that metaphorical hole is something I had to learn the hard way. But let's not give too much away too soon! Here are my top nine lessons from The Traka 360 2023…
1. Pack a mix of sweet and savoury food
16.5 hours of cycling in one day and burning a reported 12,862 calories in that time means no matter what you do, you cannot eat enough. During training and racing sessions I have no problem with eating - every half an hour, I can easily consume 40 grams of carbohydrates without a problem.
With 11,075 calories packed into my frame bags, I had enough fuel to keep your average human being going for a working week. However, trying to eat all of that in one day is near impossible for most people.
In the first 10 hours, I had no trouble at all hitting my 80 grams of carbohydrate an hour. After that, things became more difficult. My stomach felt so full and bloated I thought I was about to explode and even the thought of eating something sweet made me want to vomit. The final six hours were gotten done purely on bottles of full-sugar Coca Cola - at least it wasn't solid.
Hindsight is a wonderful thing, but oh how I wish I had packed some savoury sandwiches…
2. Practise with your race-day bike setup
Practising your setup may seem pretty obvious, but sometimes it can be difficult to find the motivation to pack your bags full of cycling nutrition and take them all out for a ride at the weekend.
This, at least, is one lesson in which I was vindicated, rather than caught out. I had taken my setup out for many a recce ride beforehand and became quite confident with the change in the handling.
Not only was it significantly heavier, but the frame bags acted like something of a sail and would easily catch the wind with enough force to push me off line.
The coastal tracks of The Traka were pretty exposed, and I could have had a spill had I been riding the setup for the first time. I heard reports that there were some crashes at those sections, so I definitely won't get complacent on this.
3. Never too much cushion
Bigger is always better when it comes to the best gravel bike tire choice at The Traka. Luckily the gravel bike I was riding is able to fit 50mm tires and with some sections being questionably rough and better suited to a mountain bike the tubeless setup provided heaps of comfort as well as practicability.
4. Surfing the wheels is a crucial skill to master
Battling the wind solo for that amount of time has the ability to weaken you faster than you would realise - even on gravel. Luckily for me pretty much the whole way around I had some wheels to sit in with mini-pelotons scattered around the course.
5. Bring spare dry lube
Spare dry chain lube was the biggest saviour of the day. Dusty gravel can dry out your chain like nothing else and that sound of a squeaking drivetrain is enough to make you get off the bike and call it a day. That's not even mentioning the amount of friction and watts lost when something of this distance requires saving as much energy as possible.
6. Preparing for the conditions is vital
The day of the Traka the temperature was nearing 30 degrees at maximum. However, entering the late hours of Saturday the rain started to come down heavily and I was more than thankful for the waterproof and warm long-sleeved underlayer I packed and had been carrying around for the past 14 hours.
7. Don't neglect your electrolytes
Salt was one of the things that I really craved which was especially amplified by the heat. I packed a tube of hydro tabs in my frame bag, which contained a variety of flavours inside to help keep me on top of my drinking and prevent the dreaded cramps from setting in.
8. Power banks are your friend for ultras
Even if power banks do add extra weight, there is nothing worse than your cycling computer running out of battery and your precious ride not being uploaded to Strava for The World to see.
Trying to follow a route and all of the Bluetooth connections eats through batteries of your cycling computer and phone faster than you would realise so a power bank came in handy to top up both when needed.
9. Make sure to carry enough tools to build up a bike from scratch
Only an hour into the ride and my companion for the challenge, Joe, had already sliced his tire. Luckily for him I had some tire plugs to quickly solve the problem, but out on the route there were numerous times riders had their bikes flipped upside down trying to fix this or that. On one occasion a tube was passed over to a rider who had suffered his fifth puncture in a little under 100 kilometers.
It's a race, but also an adventure. With a time cut off around the 33 hours mark you do need to keep the chain tight, however there is still time to take in the stunning scenery and something I especially focused on by trying to enjoy the journey as much as possible in a bid to mask the pain I was in.
An adventure as great as The Traka helped me to appreciate how much of a beautiful thing a gravel bike is. As touched on earlier, the route traversed rocky hillsides that felt like mountains and descended down into coves miles away from the nearest town and with no phone signal you felt really out in the sticks.
A road bike is great, don't get me wrong, but there is something about the capabilities of a gravel bike that really has my heart after taking me on a journey just like this.
Thank you for reading 10 articles this month* Join now for unlimited access
Enjoy your first month for just £1 / $1 / €1
*Read 5 free articles per month without a subscription
Join now for unlimited access
Try first month for just £1 / $1 / €1
Tom Couzens is a racing cyclist currently representing The Ribble Collective on the road and the Montezumas cyclo-cross team off road. His most notable results include winning the Monmouth GP national series race as a junior; finishing sixth in the 2022 British National Cyclo-cross Championships; and he was selected to represent Great Britain at the European Cyclo-cross Championships in 2020/21. Tom draws on his high-level racing experience and knowledge to help Cycling Weekly readers maximise their potential and get as much as possible out of their riding.