Assos Women's UMA GTV Bib Shorts C2 review
Quality, comfort and convenience for demanding endurance riding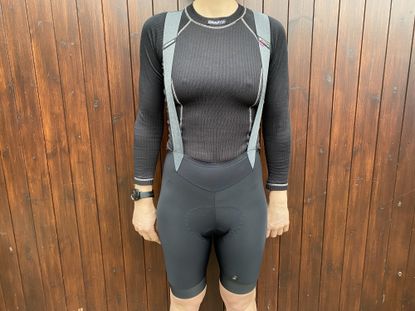 (Image credit: Emma Silversides)
The Assos UMA GTV Bib Shorts C2 are the ultimate short for performance orientated endurance riders. Innovative design, functional fabrics and flawless construction all deliver comfort, quality and convenience. Obviously, all of this comes with a high price tag.
Reasons to buy
+

Comfort

+

Moderate compression

+

Endurance chamois

+

Easy-pee system

+

Well-made
Reasons to avoid
-

Clasps may irritate if you happen to stop in a cafe
You can trust Cycling Weekly. Our team of experts put in hard miles testing cycling tech and will always share honest, unbiased advice to help you choose. Find out more about how we test.
Assos's LaalalaiShorts_s7 have undergone a re-vamp, the result: the UMA GTV C2 women's bib shorts. A revised fabric sheds grams but gains permanent odour-control and active cooling. It's a deeper, richer black and still offers UPF protection. The biggest change is the easy-pee system; the central, front magnet has been replaced with two clasps at the rear (exactly what we said needed to happen at last review of the Laalalai) to enable hassle free comfort breaks without compromising on-the-bike comfort and performance.
Construction and sizing
Assos' size chart is like its clothing - unique and considered. Enter your height, weight and age, it then suggests your hip and waist measurements (for shorts). You can edit these before Assos predicts your size. I've been testing a medium, as suggested by their guide, and it fits perfectly.
There's moderate compression around the legs with no pinching to note, even at the leg ends. The straps offer enough tension to hold the shorts firmly in place without pulling on the shoulders. They fall to the side nicely, so there's no irritation over the breasts.
Image 1 of 3
Assos claim that Ossidia, the main fabric, saves grams over previous materials. Just how much, they don't specify, maybe we'll have to take their word for it. If weight is of real interest, the medium UMA GTV C2 I tested is 35g heavier than Velocio's Ultralight Bib Shorts, which we tested alongside these as part of a grouptest.
Odour control and active cooling are integrated into the fabric, rather than via any kind of treatment. The overall finish is a deep, dark black, and UPF 50 protection (Ultraviolet Protection Factor indicates what fraction of the sun's UV rays can penetrate fabric. UPF, unlike SPF, measures both UVA and UVB penetration).
'Tech Sheen', a fine mesh panel stretching across the abdomen, is intended to remove all pressure and provide increased breathability. The overall cut here is quite low.
The leg grippers are made from a generous band of ultralight material. Overall leg length is, I'd say, slightly longer than average. It's in no way excessive, but if you like a short short, these might not be the best choice.
Assos has kept the X-frame bib suspension design, common across most of its shorts (such as the Dyora S9); it's pretty cool that the brand has managed to combine this system - designed to keep the chamois in place - with an easy-pee soloution. A suede panel holds the X-frame in place and, to do away with any kind of interior label, care instructions are embossed there.
Image 1 of 2
The chamois features Assos' famed GoldenGate technology, meaning there's no stitching on either side of the panel. A 3D waffle foam is intended to reduce weight and increase breathability, and a 9mm Superair Microshock Foam adds protection from road vibrations.
Image 1 of 4
Assos' previous frontal magnetic closure, designed to make pee-stops quick and easy, has been replaced with two quick-release magnetic clasps at the rear that anchor the X-frame to the shorts. Assos call this latest concept "Bisiclick". The clasps themselves are well-made and a hinged element provides some degree of protection from breakage. More on this later...
The Ride
Pulling on the shorts is a pleasure. There's a measured amount of compression; it's not a battle to get them on but, with the shorts in place, everything feels very secure and snug without being overbearing. On the bike, movement is completely unrestricted; the fabric, chamois included, moves unhindered with the body.
The leg grippers hold their position well against both bare skin and leg warmers. I personally didn't experience any squeezing or redness around the thigh post-ride.
Support from the pad is excellent, it's the kind of chamois that gets you thinking you've been compromising too much with some of your shorts; it makes riding on our increasingly rough roads a breeze in comparison to many.
Rides in-excess of 5 hours haven't posed a problem for the pad; there's been no chaffing, soreness or need for a saddle-shuffle to reduce pressure. This comfort doesn't compromise breathability. At the time of writing, we haven't had temperatures over 20 degrees, so I certainly can't comment on performance on hot, sunny days. I've used them on the turbo for intense riding and didn't note any discomfort working up a real sweat.
The straps and low cut minimise fabric covering the upper body, a preferable set-up to a full mesh upper for me personally; consistent layering is made easy with just two straps.
The Bisiclick is a certainly one of the better easy-pee concepts I've tested. There are so many choices for women now with regards to easy-pee systems, though some heavily afffect comfort and actually aren't so convenient or quick.
Assos seem to have come up with something that doesn't compromise comfort or fabrics, doesn't require any item of clothing to be unzipped and, thankfully, doesn't require a hip-wiggle to prise the shorts down. The clasps are easy to reach and use. Once the magnets have been released, the straps don't need to be passed over the head (as with Assos' previous system) or shoulders for you to pull the shorts down. Thankfully, the X-frame prevents them from going far; recovering them post-pee isn't too challenging.
The upper attachment is mounted on a pivoting hinge, allowing a degree of flex in the clasp as it sits plush to the back. The whole unit is surprisingly light given its strength and secure closure. Some jerseys cover the clasps, some sit just above it, in both cases I've not experienced interference, discomfort or, worst case scenario, it coming undo voluntarily. However, it is accessible to the outside world, so hopefully, you trust your ride pals.
So, are there down-sides to the magnetic quick-release set-up? I'd say yes, one or two. There's the possibility of irritation if you sit in a chair at cafe stop. However, if you are investing with performance in mind, cafe stop comfort might not be a priority.
Furthermore, there's potential for the fabric just below the clasp to deteriorate more rapidly than the rest (of the shorts' fabric). This would be my only real reservation about the durability of the system and shorts as a whole, and it would take much longer than the testing period for this to materialise. It's worth noting that the shorts are covered by Assos' 2 year warranty, as well as their crash policy.
Value
It's only fair to compare premium with premium, to that end, Rapha's £215 / $290 Women's Detachable Bib Shorts are an obvious rival for the UMA GTV's. They are just £5 /$20 more and have a very similar design, with a rear magnetic clasp, for easy pee-stops. On test, CW's tech editor Michelle loved the chamois on the Rapha shorts, but had a few fit issues. I'd say with a single clasp, strain on the fabric is more concentrated and might accelerate fabric deterioration. Velocio's Signature Bibs will save you £20 and boast recycled fabrics, something that Assos hasn't embraced with the UMA GTV C2. Katherine couldn't fault them when she tested them.
I'd say the price is pitched about right for the quality, performance and comfort. However, that's not to say that cheaper alternatives aren't available and ultimately, an easy-pee system that suits one person, won't necessarily suit another. It's great to see yet another option in this regard though, giving women more choice - after all, we can't see male riders putting up with being asked to strip off all their upper layers everytime they need a comfort break.
Specifications
Fabric composition: 80%PA 20%EA
Colour: Black
Sizes: XS-XLG
Warranty: 2 years
Thank you for reading 20 articles this month* Join now for unlimited access
Enjoy your first month for just £1 / $1 / €1
*Read 5 free articles per month without a subscription
Join now for unlimited access
Try first month for just £1 / $1 / €1