Garmin Edge 500 review
Five years ago it was the top of the category, nowadays a super good mid-range. It's still one of the best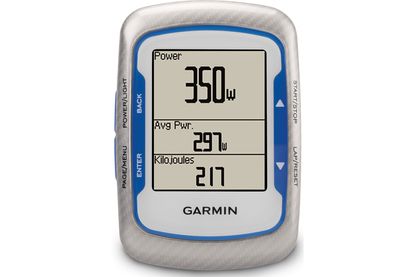 It might be old, but the Garmin Edge 500 remains one of the most simple and complete bike computers on the market. It is affordable and will display all the data you could ever need for your training rides.
Reasons to buy
+

Affordable

+

Simple to use

+

Wireless
Reasons to avoid
-

Not good for navigation

-

Display just black and white
I remember the day I bought my Garmin Edge 500 as if it was yesterday. It was 11 July 2011 and Thor Hushovd, the World Champion riding for Garmin-Cervelo, had just won stage 13 into Lourdes from a long breakaway over the Col d'Aubisque.
Buy now:
Having had the Garmin logo in front of my eyes the whole day I succumbed to the power of advertising and decided that I need a Garmin too, so right after the end of the stage I drove to the closest bike shop and bought a Garmin Edge 500, which I still use most days for training rides.
At that time, Hushovd was using a black and white one, but the shop just had the blue one, so I had no choice. What made the Garmin Edge 500 a success in 2011 - and still does today - was its simplicity and reliability.
>>> Cycle computers: a complete buyer's guide
The Garmin Edge 500 is very easy to mount on the handlebar and it requires no wires. Today having a bike computer without cables might be a given, but five years ago it certainly wasn't. There have also been significant improvements in the design of speed and cadence sensors. Back then you had to zip tie them to the chainstay and couldn't easily transfer between bikes, but now you can just fit a sensor to the hub of the rear wheel.
Even though it just requires few seconds to put it in and take it out the hub, I found the fitting of the sensor on the rear hub to not be that easy/ In fact, if you have a wheel with quite tight spokes near the hub, putting the sensor in the hub gets a bit more complicated.
>>> Garmin Edge: complete buyer's guide
The cadence sensor, on the other hand, has no down side: it fits on your crank easily and does not have any inconveniences of any sort. With the ANT+ technology, also the Garmin Edge 500 can alsobe paired with power meters, such as Garmin's own Vector pedals.
The Garmin Edge 500 has four buttons on the sides, each with different functions depending on how long you hold them. The first thing the computer does when you switch it on is to search for satellites. Make sure that you let it finish searching for satellites before setting off otherwise it won't map the start of your ride.
>>> 12 things you didn't know your Garmin could do
After the setting up the general and user-specific settings, you are able to decide which metrics you want displayed on the screen when you're riding. There are lots of different metrics to choose from which you can tailor to your needs and main interests.
The Garmin Edge 500 can have five different pages that you can scroll between, with each page being able to show a maximum of eight stats per page. But personally I prefer to have two (or at most three) different screens, as changing between screens (using the bottom left button) is not as easy as it could be.
It's also important not to get lost in the amount of data that the Garmin Edge 500 has to offer and therefore get distracted from the simple pleasure of a bike ride. For example you can choose from no fewer than 11 different heart rate measurements (ranging from your current heart rate, to a heart rate graph, to "the average percentage of heart rate reserve (maximum heart rate minus resting heart rate) for the lap".
The biggest downside (when compared to the latest GPS cycle computers) is the low quality navigation and mapping. You can create routes online then download them onto the Garmin Edge 500, which then gives you a black line to follow on the screen. This is ok in rural areas where there are fewer roads, but it falls short when riding in town and there are no alerts when you need to turn left or right.
>>> Review: Garmin Edge 20 (video)
One vital aspect of the Garmin Edge 500 is the Garmin Express software. This is available for both Mac and Windows as is the method by which you download software updates for the computer and upload your activities to Garmin Connect, and then onwards to Training Peaks, Strava, or wherever else you choose to send them.
Navigation aside, the Garmin Edge 500 offers everything you would want from a GPS cycle computer, and is a great upgrade if you're coming from a non-GPS computer and want a bit more data from your rides as well as being able to upload to Strava.. It's RRP is £170, which is pretty steep, but you can find it significantly discounted without too much trouble.
Thank you for reading 10 articles this month* Join now for unlimited access
Enjoy your first month for just £1 / $1 / €1
*Read 5 free articles per month without a subscription
Join now for unlimited access
Try first month for just £1 / $1 / €1
Nick Busca is a freelance cycling and triathlon journalist. He is also a certified triathlon coach and personal trainer.