Is heat build-up in disc brakes something to worry about?
Could the overuse of discs on long descents prove catastrophic? Cycling Weekly investigates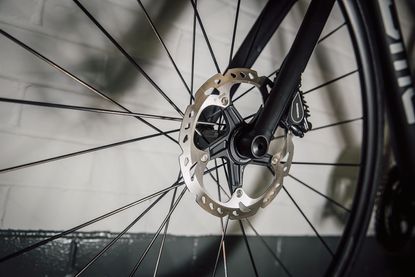 Despite being shunned by many, some pro riders included, disc brakes are increasingly featured on modern road bikes, particularly the popular endurance category.
On higher performance machines, hydraulic systems have largely replaced cable-operated brakes too, giving higher braking efficiency and better modulation. But along with that comes the increased potential for hard braking leading to heat build-up in the pads and rotors from the friction generated.
>>> Disc brakes now safe? Pro posts video to try and make you think again
So with more and more disc-brake bikes heading for the Alps and other big hill destinations offering long, fast descents, should riders be worried about disc brakes' safety under extreme braking?
"Dragging the brakes for a long period of time will in the worst case scenario lead to brake failure, or severe loss of braking efficiency" says Guillaume Léon, design engineer at Hope Technology.
"The pads would either fade — if using organic pads — or the considerable temperature rise would make the brake fluid boil — some fluids are better than others under certain conditions —and also probably damage the piston seals."
"Normally the disc brake system is designed with heat management in mind as it is the purpose of a brake to dissipate the kinetic energy by turning it into heat."
The science
Léon stresses the importance of rotor diameter. On downhill mountain bikes these can reach 205mm. Hope's view is that anything below 140mm is just too small to allow effective braking and rotor cooling.
Manufacturers build heat sinks and safeguards into their products to deal with heat build-up.
TRP tests its Hy/Rd cable actuated hydraulic brakes to the point where rotors get red hot. With a substantial metal body, the calipers act as an effective heat sink.
The company has also developed an insulating brake piston that helps to protect the brake fluid from heat transfer, a solution also used by SRAM in its brake calipers.
Single-piece rotors are also liable to warp as they expand with heat build-up, leading to that teeth-jarring squeal. To deal with this, higher quality rotors have a floating design where the braking surface is indirectly connected to the rotor arms, which allows expansion without deformation.
Shimano has gone one step further with its Icetech rotors, which incorporate cooling fins into the rotor and sandwich an aluminium core between the stainless steel braking surfaces to improve heat transfer. It also builds cooling fins into the brake pads on its higher-spec brakes and claims a 40-degree temperature decrease against a standard rotor in lab tests.
Other disc brake designs have cooling features built into the caliper body while Merida has a heat sink built into its frame to add extra cooling on its higher end Scultura Disc models.
The Union Cycliste Internationale analysed braking patterns in race situations last year, finding that the disc-brake systems on offer dissipated heat very quickly, resulting in negligible warming of the pads.
Watch: Eight things to know about disc brakes
Expert view
Michael Adomeit, Head engineer, Canyon Bikes
Heat dissipation is certainly an important issue in the development of disc brakes. It is actually the reason why we see technologies like Icetech or Freeza or ceramic pistons.
In the summertime we carried out some brake heat testing in the Black Forest, simulating an anxious, heavy rider.
With 120kg system weight and just using the front brake, we were going downhill for 8.6km on a nine per cent average slope.
Repeating this test several times we could not provoke any fading.
I am convinced that a rim brake would have troubles to pass this scenario, especially with carbon rims.
Regarding safety and braking performance, there is no doubt to me that disc brakes are superior to rim brakes in any situation.
Our take
Disc brakes have been around for long enough that manufacturers understand the problems that heat build-up can cause and how to deal with them. A well designed braking system and bike frame will have enough heat sinks and cooling built into them to mitigate this.
But the high speeds and intense braking that riders can exert on the road can still potentially lead to problems.
So anyone riding longer alpine descents this summer still needs to use their brakes judiciously, avoid dragging them for extended periods and give the system time to cool off between decelerations to make sure that they keep out of trouble — and that's true for rim brakes too.
Thank you for reading 20 articles this month* Join now for unlimited access
Enjoy your first month for just £1 / $1 / €1
*Read 5 free articles per month without a subscription
Join now for unlimited access
Try first month for just £1 / $1 / €1