Disc brakes now safe? Pro posts video to try and make you think again
A video on Twitter by Dutch rider Reinier Honig shows the result of what happens when water is poured onto disc brakes.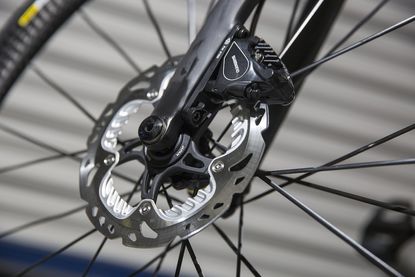 Disc brakes may now have rounded edges and used among the professional peloton once again, but a video on Twitter by a Dutch rider reveals that they can still pose a danger.
Reinier Honig, who rides for Austrian Continental team Vorarlberg after joining from Roompot-Oranje Peloton in the winter, tweeted a video showing what happens when water is squirted onto disc brakes that have been used recently.
>>> Disc brakes: everything you need to know
As the water hits the brakes, steam immediately rises, showing the intensity of the heat in the brakes. Team Sky's Wout Poels, a friend of Honig, quoted the tweet and asked the UCI for comment.
Fran Ventoso's injury at Paris-Roubaix last year, alleged to have been caused by disc brakes when the rotors weren't rounded, prompted the UCI to ban the braking mechanism with immediate effect.
But with safer designs now introduced, they are permitted once more in the peloton and have already been raced to victory, most notably by Marcel Kittel at the Dubai Tour.
However, if Honig's video is not just a rare example and is indeed a common occurrence, it heightens the possibility of another disc brake-related injury. Hot metal could burn a rider in the event of a crash or a pile-up.
It is worth noting, though, that after a sustained period of braking, such as on a long descent, rim brakes are also extremely hot.
Thank you for reading 20 articles this month* Join now for unlimited access
Enjoy your first month for just £1 / $1 / €1
*Read 5 free articles per month without a subscription
Join now for unlimited access
Try first month for just £1 / $1 / €1