Teams cast doubts on whether disc brakes caused Francisco Ventoso's Paris-Roubaix injury
Direct Energie and Lampre-Merida, the only teams using discs at Paris-Roubaix, say that their riders did not witness an incident with Ventoso - Both teams call for full investigation into incident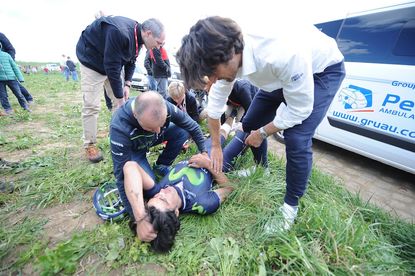 (Image credit: Yuzuru SUNADA)
The managers of two WorldTour teams have cast doubts on claims that a disc brake was responsible for a leg injury to Francisco Ventoso during this year's Paris-Roubaix on April 10.
Spaniard Ventoso (Movistar) said that a deep muscle cut in his left shin resulted from colliding into a rear disc rotor. However, Direct Energie and Lampre-Merida, the only two teams using disc brakes in Paris-Roubaix, say none of their riders reported seeing an incident with Ventoso.
The incident happened on the Quérénaing sector, at 115 kilometres to race when Fabian Cancellara (Trek-Segafredo) and Peter Sagan (Tinkoff) were distanced from the favourites. Ventoso continued, but abandoned shortly after.
Ventoso wrote an open letter three days later saying disc brakes "are giant knives, machetes when crashing against or crashed by them at a certain speed." The sport's governing body, the UCI, banned their use the same day, only four months after it allowed them into the professional peloton.
>>> Official: UCI suspends the use of disc brakes in professional racing
Critics questioned immediately whether Ventoso's cut came from a disc brake given the type of cut and how he explained it happened. Cycling Weekly spoke to both teams using discs, and each said that none of their eight cyclists reported an incident on that sector.
"I don't really want to go into this debate," said Jean-René Bernaudeau, general manager of French team Direct Energie. "But no, I had no report from my riders of an incident [on the same sector with Ventoso].
"I'm not convinced about the disc, I've seen many crashes and cuts in my years. This could be from a derailleur. Or a pedal. But, I'm not going to deny it was a disc brake. I'd prefer to have a doctor look first and have him give his opinion."
Brent Copeland, manager for Italian WorldTour team Lampre-Merida, said that he would be the first to apologise if he is wrong, but doubts the cuts are from a disc. The South African, alongside his rider Federico Zurlo, spent four hours with Ventoso in the hospital waiting room that Sunday.
"I'm not so convinced that a disc brake caused Ventoso's injury because it's on his left side," said Copeland, who wrote a guest column in this week's Cycling Weekly magazine.
>>> UCI failed to take into account rider fears about disc brakes, claims CPA
"The disc would've had to have been horizontal to make it possible, and Ventoso said that he didn't even fall, but rammed into the back of the rider. To do that sort of deep cut you would have to fall hard."
Watch: What do the pros really think of disc brakes?
Like Bernaudeau, Copeland wants that the incident is investigated so that cycling may learn from it and develop safer disc brakes. To date, however, representatives from the UCI have not contacted the teams for further details to add to Ventoso's.
There is little else to go by. That Sunday, YouTube clips showed Peter Sagan jumping over Fabian Cancellara and Sky's Luke Rowe trying to hop over his team-mate Gianni Moscon. However, television cameras were unable to capture the Quérénaing incident that Ventoso described in horrific detail.
Thank you for reading 20 articles this month* Join now for unlimited access
Enjoy your first month for just £1 / $1 / €1
*Read 5 free articles per month without a subscription
Join now for unlimited access
Try first month for just £1 / $1 / €1