Shimano Ultegra R8000 – here's how it differs to Shimano Ultegra 6800
Everything you need to know about the new Shimano Ultegra R8000 series groupset, and the key differences between it and the older Shimano Ultegra 6800 model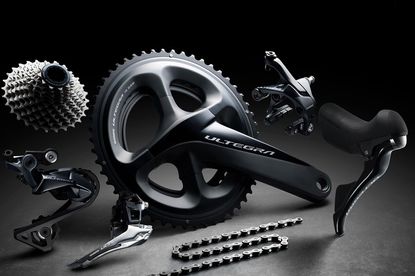 As you might expect, the new Shimano Ultegra R8000, R8050 and R8070 groupsets have benefited a great deal from the trickle down in technology from the Shimano Dura-Ace groups.
Buy now: Shimano Ultegra R8000 at Chain Reaction Cycles for £624 (new £1099)
Buy now: Shimano Ultegra R8000 at Chain Reaction Cycles for $699.99
It won't be much of a surprise, Shimano loves to spec its latest technologies across its newest products, which is great for those wanting to buy a less expensive groupset, but still get good performance.
It does, however, mean that there are now some key differences between the older Shimano Ultegra 6800 series and the new Shimano Ultegra 8000 series.
The most immediate difference is, of course, the looks. The new Ultegra model now mirrors the flagship Dura-Ace with the dark colour scheme and chunky crank that's far fatter than the now seemingly skinny old Ultegra model.
>>> Shimano grouspsets compared
Aside from the facelift, other notable changes include the medium rear derailleur's ability to accommodate an 11-34 cassette and the brake callipers now accepting 28mm tyres.
It might also come as surprise that the new, R8000 series actually weighs more than the old model, but Shimano has always been committed to making the best product it can, rather than slimming the scales.
Shimano Ultegra R8000 (mechanical) vs Shimano Ultegra 6800 (mechanical)
Buy now: Shimano Ultegra R8000 at Chain Reaction Cycles for £624 (new £1099)
Despite the increasing popularity of electronic shifting, mechanical groupsets are still the bread and butter of the majority of riders so we'll start here.
While the design changes are the most noticeable, they aren't just aesthetic. They do bring some marginal benefits in stiffness and weight saving.
Meanwhile, there's currently no word as to whether the crankset will be compatible with Shimano's power meter, but it is the same Hollowtech design, so logic would suggest so and it is something Shimano wanted when launching its new Dura-Ace model.
Up front, the hoods and levers have received a redesign so they're more like Dura-Ace, in both comfort and size.
The hoods are now designed with a pattern and no longer smooth, aiding grip if you don't like riding with mitts. The kink at the top, like that of Dura-Ace, creates a better hand position and more room.
Watch: Shimano Dura-Ace 9100 review
The front derailleur has also seen a major overhaul, and now mimics the far slimmer, almost skeletal Dura-Ace 9100 model. Supposedly, this should now give a much lighter shifting action, and more flexible cable routing options.
The Shimano Ultegra R8000 rear derailleur really drives home the Shadow design of the Dura-Ace rear mech, incorporating the same slant angle and giving slicker, smoother shifting, reducing cable friction as well as keeping the body up and out of harm's way.
The medium cage derailleur will now accept an 11-34 cassette, giving much larger gearing options should you head for the hills.
Buy now: Shimano Ultegra R8000 at Chain Reaction Cycles for £624 (new £1099)
The mechanical, calliper brakes are still of a dual pivot design but they've now been given the extra clearance to accommodate 28mm tyres – a sign that Shimano is well aware of the trend for bigger rubber.
Other, minimal changes include a now sleeker gap between the arms of the brakes, which should give better, more assured performance.
Shimano Ultegra R8050 (Di2) vs Ultegra 6870 (Di2)
Shimano says it has made the shifting for Di2 more intuitive, which means a distinct separation of the upshift and downshift levers, which addresses a minor scruple we had when we first rode the 6870 model.
Shimano Ultegra R8050 receives the same wireless functionality as the new Dura-Ace model which means they're now compatible with 3rd party cycling computers thanks to Shimano's E-Tube software. Buttons on top of the hoods now let you remotely switch screens on your Garmin.
Synchro-Shift, recently introduced to Ultegra 6870, is also being continued on the new model, as is multi-shift, this is programmed through the E-Tube app.
Happily, Shimano Ultegra R8050 should also benefit from continued firmware updates for the E-Tube software, including rider profiles, meaning different programs can be ran on a Di2 system for different occasions, whether that's racing or riding.
Shimano Ultegra R8070 (hydraulic) vs Ultegra 6870 (hydraulic)
The real changes here are with the levers and rotors. We've had qualms with the large Ultegra 6870 hydraulic levers for a while but it looks like they may have been shaved down for the new R8070 version. Shimano claim that the bracket has been shrunk for improved ergonomics.
Other interesting news is the greater reach adjust and free stroke adjustment built into the levers – something Campagnolo has done very well on its recent disc brake groupset launch.
Elsewhere, Shimano claims to have improved the heat dissipating properties of the SM-RT800 rotors thanks to its Ice technologies Freeza properties.
Shimano PD-R8000 vs Shimano PD-6800
That's right, lets not forget Shimano's trusty pedals, and the Shimano Ultegra level platforms have undergone a series of revisions.
The 8000 series pedals are now 0.6mm lower in stack than their previous iterations, come with a 4mm longer axle and are a claimed 248g.
Shimano Ultegra ST-R8060 vs Shimano Ultegra ST-6871
The time trial shifters are another area that get a sizeable shake up. They receive a general slimming down thanks to Shimano removing the switch box, and now only have button on the side, rather than the previous two. Despite this, it still remains compatible with Shimano's Synchro-Shift.
Buy now: Shimano Ultegra R8000 at Chain Reaction Cycles for £624 (new £1099)
Shimano Ultegra 6800 weights
Levers 425g (pair)
Front/rear mech 104g/195g
Chainset 676g
Front/rear wheels 705g/944g
Pedals 248g
Shimano Ultegra R8000 weights
Levers 438g (pair)
Front/rear mech 106g/200g
Chainset 674g
Front/rear wheels 625g/943g
Pedals 248g
Shimano Ultegra R8050 Di2 weights
Levers 295g (pair)
Front/rear mech 132g/242g
Chainset 674g
Front/rear wheels 625g/943g
Pedals 248g
Shimano Ultegra R8000 pricing
Levers 319.99 (pair)
Front/rear mech £52.99/£84.99 (£89.99 medium cage)
Chainset £249.99
Cassette 11×25,28 and 12×25 £74.99 / 11×30,32 and 14×28 £79.99 / 11×34 £84.99
Front / rear Brakes £69.99 (£79.99 direct mount)
Wheels £749.98 (rim brake pair)
Pedals £149.99
Shimano Ultegra R8050 Di2 pricing
Levers £299.99 (pair)
Front/rear mech £209.99/£244.99 (£249.99 medium cage)
Thank you for reading 20 articles this month* Join now for unlimited access
Enjoy your first month for just £1 / $1 / €1
*Read 5 free articles per month without a subscription
Join now for unlimited access
Try first month for just £1 / $1 / €1