Campagnolo announces official disc brake groupsets
Campagnolo has released its disc brake groupsets and new Centaur 11-speed mechanical groupset – here's the full report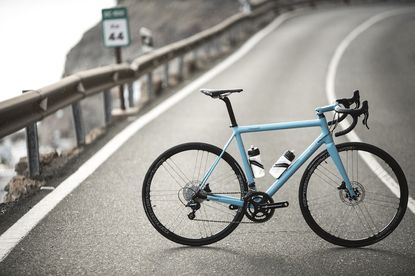 Get The Leadout Newsletter
The latest race content, interviews, features, reviews and expert buying guides, direct to your inbox!
Thank you for signing up to The Pick. You will receive a verification email shortly.
There was a problem. Please refresh the page and try again.
The Campagnolo Disc Brake Project returns triumphant after a rocky 2016, when it initially announced the project. It fell from the radar following a tough year for disc brakes in the pro peloton, but now the Italian brand is back swinging, with the release of its updated disc brake plan.
For Campagnolo, it was never about being "first to market", and Campagnolo claims that not working in haste allowed it to do the extensive research required to get the product right.
Every part of the drivetrain has been built with the more powerful stoppers in mind. It was a total 360-degree project, which means new disc-specific wheels, including Bora and Shamal, as well as cranksets.
There are two separate disc-brake systems: H11 is the name given to the higher-end carbon-levered Super Record (mechanical and EPS), Record (mechanical and EPS) and Chorus (mechanical) disc groupsets. Potenza 11 Ergopower, which has aluminium levers, is what Campagnolo calls its mid-range disc offering.
All the disc brake groupsets have totally redesigned cranksets, with Campagnolo pointing out that disc brake frames come with specific geometries, rear spacing and more extreme angles that necessitate chainline optimisation.
Feel the (Ergo) power
For the cockpit, the famously great Campagnolo ergonomics are applied to the disc groupsets. It's done with a stroke of genius via the Adjustment Modulation System, or AMS. This offers two lever positions for long and short travel, allowing the rider to dial in their preferred bite point.
The adjustment is a piece of cake thanks to a 2.5mm allen bolt in the hood, and the difference between the two positions is dramatic. In long form, brake engagement comes midway through the stroke; in short form it's far more immediate. Pair this with a simple reach-adjust system for the levers and there is no excuse for not finding the perfect set-up.
>>> First ride: New Shimano Dura-Ace R9100 groupset
Maximising comfort is no easy task, especially when you're wrestling an extended hood thanks to the addition of a master cylinder. However, Campagnolo has cracked this, too. The increased 8mm of hood has been craftily utilised to create a new 'aero' riding position.
The shifting remains the same as previous, non-disc groupsets, with the famous upshifting and downshifting still there, allowing you dump gears in that classic Campy way.
Campagnolo rotors and calipers
The calipers are flat-mounted without the need for adapters, which makes them universal to use regardless of your bike frame.
It's inside the caliper, though, where the brake technology really comes alive, proving that Campagnolo is coming at this from a totally new angle.
For starters, 22mm pistons are made from phenolic resin, picked purposely for its heat insulation properties. Plus, the addition of a magnetic spring both eliminates the need for a metal one and, according to Campagnolo, guarantees a faster rate of return.
The pads come with a "patented anti-vibration, noise-reduction solution". It looks like a bit of fabric between the pistons and the pad which reduces noise to "nearly zero" thanks to its vibration-damping qualities.
Lastly, cutting-edge technology comes without the cutting edge: Campagnolo has rounded off the edge of its discs so that, in theory, they cannot cut shoes, legs or anything.
Bora and Shamal wheels
Like we said earlier, the Campagnolo Disc Brake Project is a 360-degree affair and that means reinventing the wheel – the Bora and Shamal wheels to be precise.
The Shamals and Boras are probably Campagnolo's best-known wheels, and the new disc-brake specific versions include lots of the same new technology.
This includes a reimagined Mega G3 spoke design for both Shamal and Bora. The Shamal now totals 21 spokes both front and rear, with 14 on one side and seven on the other.
Meanwhile the Bora has 24 spokes (16 and eight). This 2:1 spoke count places double the spokes on the side most affected by asymmetrical forces – driveside at the rear and rotor side at the front. For both wheels the aluminium rear hubs and carbon front (Shamal only) come stock with 12x100mm spacing up front and 12x142mm on the rear.
Watch: Buyer's guide to groupsets
MoMag technology is nothing new, but it's used in both wheels to make sure there's no need to drill holes in the rim bed – something Campagnolo insists could compromise the carbon.
In terms of rim width, both the Shamal (22mm wide) and the Bora (24.2mm wide) have been updated to accommodate 25mm and 28mm tyres – something even Campagnolo admits is a tad modern for it.
But there's more: Centaur 11
It isn't just disc brakes that Campagnolo has been busy with, though. It has also spent time redeveloping its Centaur groupset. The relaunched version benefits from trickle-down technology and gains an extra gear – taking it to 11spd.
It's still aluminium and it's still mechanical but its chainrings (50/34 or 52/36) bolt to the spider separately, meaning it isn't compatible with other Campagnolo chainrings higher up the range. However, it does have the higher-end Ultra-Torque axle.
The shifting action remains the same.
The Centaur rear derailleur is compatible with a 32t sprocket on the rear, without having to swap it out for a long cage option – this does give Campag the advantage over its rivals.
However, it's the brakes that are the most impressive here, with great feel and bags of stopping power on tap thanks to a redesigned caliper.
Campagnolo has been busy redeveloping the Scirocco wheels for Centaur, too. They get the same G3 spoke design as the rim-brake Shamal and Bora – that's 14 spokes on the drive side and seven on the non-drive side.
The C17 rim also creates a decent profile for 25mm and 28mm tyres, bringing them bang up to date.
Centaur is available in a dark colourway and a stunning polished silver finish that'll be available later this year. Campagnolo reckons the new groupset will come in at the same price as Shimano 105.
Key release details and prices
Disc brake project
Potenza Black disc brake groupset will be available in May – £1,339
Chorus disc brake groupset will be available in May – £1,985
Record disc brake groupset will be available in May – £2,231
Record (EPS) disc brake groupset will be available in July – £3,443
Super Record (mechanical) disc brake groupset will be available in May – £2,439
Super Record (EPS) disc brake groupset – £3,725
Centaur groupsets
Centaur dark colour way will be available in May – £539.33
Centaur polished silver colour way will be available in September – £571.10
Disc brake wheels
Campagnolo Bora H35 tubular will be available in May – £1,621
Campagnolo Bora H50 tubular will be available in May – £1,621
Campagnolo Bora H35 clincher will be available in July – £1,818
Campagnolo Shamal will be available in September – £1,111
Thank you for reading 20 articles this month* Join now for unlimited access
Enjoy your first month for just £1 / $1 / €1
*Read 5 free articles per month without a subscription
Join now for unlimited access
Try first month for just £1 / $1 / €1
Get The Leadout Newsletter
The latest race content, interviews, features, reviews and expert buying guides, direct to your inbox!