Tifosi SS26 Campagnolo Chorus review
Here's how the Tifosi SS26 Campagnolo Chorus fared over 1,000+ miles of testing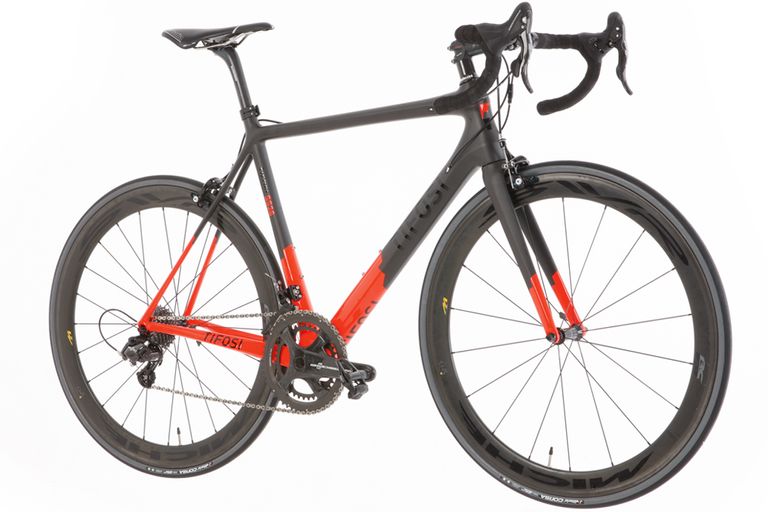 From the responsive frame, to the wheels and gear ratios, this is a speed machine that you can ride all day. Equally at home on a long, hilly ride as on an all-out TT effort, anyone investing in this bike will benefit from its excellent versatility. Swapping between bikes really highlighted just how good it is, especially as I didn't ride any below-par bikes in the meantime. The Tifosi SS26 Campagnolo Chorus looks great and rides even better — I'll be sorry to see it go
For
+

Excellent frame

+

Fast without compromising comfort

+

Looks great
Against
-

Gearing might be a bit high for some

-

Rims are difficult to get tyres on and off
A puncture on the first ride and a rim that didn't want to release the tyre got me and this bike off to a bad start. After a 2km walk home I gave the Tifosi SS26 Campagnolo Chorus a second chance, and I am very glad I did.
Frame
The frame is the best thing about this bike, and considering the heavy but spot-on shifting of the Campagnolo Chorus 11-speed groupset, that's saying a lot.
The 'luminous red' and black paintjob is aesthetically pleasing but the highest modus carbon-fibre frame is definitely not about style over substance.
Fast but without compromising comfort, the frame is quick on flat roads, climbs and winding descents. Every watt through the pedals feels like it is propelling you along the road, with nothing lost to the frameset.
>>> Are you using your bike's gears efficiently?
The SS26 name apparently comes from the road in the opening sequence of The Italian Job. Appropriate, considering the British brand's Italian-leaning aspirations.
Specification
Chorus may be Campagnolo's third-rung groupset but the quality and performance compare well with Shimano Ultegra.
The gear ratios are made for racing, but the quick-moving frame means you can get up most inclines with ease, albeit often standing out of the saddle.
The Chorus skeleton calipers are an exceptional set of brakes and the Miche-branded brakepads only add to the stopping power in the wet or dry.
Miche SWR RC Full Carbon is the supplied wheelset, and being Italian and handmade they suit the rest of the components. However, it can be hard to prise the Vittoria Corsa (Open) G+ Graphene tyres off the rims.
Thankfully, the tyres are tough enough for this not to be a major problem and a switch from 23 to 25mm lessened the risk of a puncture and further added to the comfort of the ride. Also, the wider tyres are easier to lever on and off.
Ride
This bike is vying for the best I've ever ridden with a very impressive KTM Revelator. Fast and comfortable, it was as at home during a one-hour TT effort as it was on a 180km hilly sportive.
The gear ratios are a bit racier than I'd normally ride, but the low weight and efficient power transfer of the frame meant 20 per cent gradients didn't cause much more trouble than they would have on a compact chainset.
>>> Is the compact chainset dead?
Concerns over my ability to get the tyres off the rims did mean I used a different set of wheels for about half the mileage I covered, but with those Miche deep-section wheels, the bike flies along and holds its speed.
Thinking back over the many miles I've covered, I'll be sorry to see the Tifosi SS26 Campagnolo Chorus boxed up and sent back.
Find your next groupset
Value
For most, this is a lot of money to spend on a bike, particularly for a brand not ridden by a WorldTour team, but that doesn't mean it's bad value.
Great to ride and with an impeccable Campagnolo groupset, the Tifosi SS26 is well worth consideration when buying a new race or fast sportive bike.
The stylish build should also hold its own for years to come as it should be some time before this sleek look becomes dated.
Thank you for reading 5 articles this month* Join now for unlimited access
Enjoy your first month for just £1 / $1 / €1
*Read 5 free articles per month without a subscription
Join now for unlimited access
Try first month for just £1 / $1 / €1
Jack Elton-Walters hails from the Isle of Wight, and would be quick to tell anyone that it's his favourite place to ride. He has covered a varied range of topics for Cycling Weekly, producing articles focusing on tech, professional racing as well as cycling culture. He moved on to work for Cyclist magazine in 2017.