KTM Revelator Prestige Di2 2016 review
A super-bike that would suit a pro or a top end tech loving sportive rider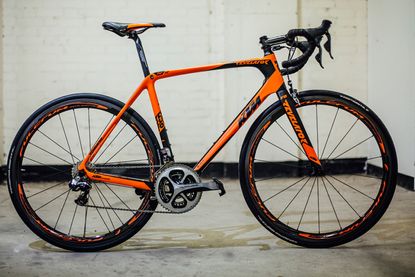 The Revelator Prestige is a fantastic bike that's been a pleasure to test over the past few weeks. The paintjob is eye-catching and sparked conversations with other riders, many of whom hadn't seen it before or heard of the brand. The componentry is top-end and complements the bike to give a great all-round ride. Fast on any terrain, this is a machine that will also see most through a sportive comfortably. Although the price may deter some riders, especially those in thrall to the big-name brands, few who buy this bike will regret their decision.
Reasons to buy
+

A joy to ride

+

Full Dura-Ace Di2

+

Very low weight

+

Reduced price from the previous model
Reasons to avoid
-

Might not be uniquely good enough to stand out in a saturated market
KTM Revelator Prestige Di2 2016
This bike first came to CW's attention at the Cycle Show back in September, and after riding the 2015 one earlier this year I just had to get my hands on the latest incarnation of KTM's top end bike.
The bike has had a major revamp compared to the very impressive previous model and thankfully none of the changes have been to the detriment of this very racy machine.
Changes to the frame and wheels are among the most obvious improvements, but the bike retains Shimano's Dura-Ace Di2 groupset.
Frame
The frame comes in Revelator high-performance carbon with a matching carbon fork. The rear seatstays/seatpost junction has been redesigned from last year, giving a more aero profile to the top tube and reportedly boosting rear-end stiffness.
In consultation with several UCI professional teams, KTM has developed a peloton-ready race machine that could hold its own against any of the other big brands.
As a result, and as you'd want and expect with the sizeable price tag, this frame feels every bit the professional machine it's been made to be. Acceleration on the flat and uphill is sharp and, once up to speed, the bike cuts through the air and seems reluctant to relinquish speed.
The bladed carbon fork that spearheads this rapid machine is an improvement on the previous year's model, eating up more road buzz.
The geometry of the frame is more endurance-orientated, although it does feel racier than the previous incarnation. It's no out-and-out sprint bike, but it's by no means a slouch.
Specification
The bike comes with full Shimano Dura-Ace Di2 electronic groupset, and little else would be sufficient for a frame of this quality.
Much has been written about how good Shimano's electronic gear systems are, and rightly so. The shifts are near-perfect; the self-regulation of the front mech gives the rider a wider scope of available gears, and the aesthetically pleasing shifter buttons complete the package.
>>> Six things no one ever told you about Shimano Di2
One little change that would improve the spec would be to swap out the compact for a mid-compact (52/36) chainset, which would be more in keeping with the racy feel of the bike.
This bike came with the direct-mount version of the Dura-Ace brakes, which are the best rim brakes I've used. Excellent in the wet and dry, they have superior stopping power and look better, too.
The rear brake is placed under the chainstays, which is said to have added aero benefit but could bring maintenance issues if not given enough attention when cleaning the bike.
This model comes with Fulcrum Racing Quattro Carbon wheels. These are a great wheelset but at first didn't feel quite as fast as the Mavic Cosmic Carbons previously used by KTM.
>>> Road bike wheels buyer's guide (videos)
However, these wheels do feel harder-wearing — something that outweighs the negligible drop in speed.
>>> Buyer's guide to road bike tyres (video)
The new wheels are partnered by Continental Grand Prix 4000S 25mm tyres, which are a noticeable and welcome improvement on the Mavic rubber that used to come with these wheels.
Riding
This is a bike that urges you to go fast and it's fantastic to ride. The Dura-Ace groupset is near-perfect, the newly designed frame is very good indeed and the Revelator Prestige would not be out of place on the start line of any professional race.
Thanks to its very low weight, this is a machine that climbs well and accelerates ever better. Charging along on the flat, it slices through the air and keeps even us non-pros pushing on at a fair lick.
It's one of the best-handling bikes I've ever ridden — responsive without being nervy or twitchy. The new wheel-tyre combo just adds to the confidence-inspiring feel of the ride and allows for speedy descending and cornering.
This is a great looking bike with an eye catching paint job and sleek looking frame. Ridden around Richmond Park and on a sportive in the Surrey Hills, it caught many admiring glances and sparked quite a few conversations, started by people who'd never heard of the brand or seen this bike before.
Value
Prospective buyers would be more likely to purchase this bike if they rode it first as it's the only way of seeing just how good it is, and even more so if they rode it before they saw the price tag.
It's an unlikely scenario that everyone will get to test ride this bike having not seen how much it is, and the price tag might have a few people dismissing it if they are unfamiliar with the brand.
This is a brilliant bike, and cheaper than last year's, but when thrown in the ring with the big-name brands it may struggle to hold its own.
This is a shame really as the whole build is high end, from the Di2 to the Ritchey finishing kit, this machine has oodles of bang for your buck particularly when compared to other top-end bikes.
However, those other top end bikes are seen in the pro-peloton and high end bikes shops, and as such are the bikes most buyers with money to spend will be drawn to.
KTM Revelator Prestige Di2 2016 full spec
Miles ridden: 590
Frame: Revelator high performance carbon
Fork: Revelator carbon
Size range: 52, 55, 57, 59cm
Size tested: 55cm
Weight: 6.6kg
Groupset: Shimano Dura-Ace 9070 Di2
Chainset: Shimano Dura-Ace 9000
Gear ratios: 50-34, 11-28
Brakes: Shimano Dura-Ace direct mount
Shifters: Dura Ace Di2
Wheels: Fulcrum Racing Quattro Carbon
Tyres: Continental Grand Prix 4000S 25mm
Bar: Ritchey Carbon Logic Curve
Stem: Ritchey Carbon
Seatpost: Ritchey Carbon
Saddle: Selle Italia SLR
KTM Revelator Prestige Di2 2015
This bike is the highest-level option offered by Austrian brand KTM. The quality that comes as a result of over 50 years' experience of making bicycles is easy to see.
KTM may be better known in the UK for its motorcycles, but it's making an assured step into the crowded high-spec performance road bike market with the carbon-framed Revelator range.
Frameset
The carbon frame and fork are attractive to look at and great to ride. The geometry is similar to that of a Trek Domane, a bike made for all-day comfort but which also carries race potential. This means that the KTM may, on paper, appear to be leaning towards comfort over speed, but in truth it is a very rapid machine.
During the test period, this bike was used for long rides on the Isle of Wight as well as speedy pre-work laps of Richmond Park. It delivered regardless of the parcours. The internal cable inlets are sleek and in-keeping with the aesthetics of the frameset. The width of the forks, girth of the bottom bracket and slightly oversized tubing on some stays eliminates flex to deliver a stiff ride with maximised power transfer.
Components
This bike comes with full a Shimano Dura-Ace groupset, including Di2 electronic shifting. At this price and with this quality of frameset, anything less than this pro-spec groupset would have been disappointing.
The test model came with a mid-compact 52-36t chainset and an 11-speed block with 11-25t sprockets. For me, this is slightly racier than I'd normally ride but is spot-on for the speedy vibes of the bike. Thanks to the low overall weight and efficient power transfer, such high gearing ended up not being a problem when riding the lumps and bumps of the Isle of Wight, including some 20 per cent ramps.
The high-end feel is continued with the Ritchey carbon finishing kit and Selle Italia saddle, showing that no corners have been cut in delivering a top-quality package for the sizeable price tag.
Wheels
The KTM Revelator Prestige Di2 comes with Mavic Cosmic Carbone SLE-C wheels that look and sound great. There's a definite satisfaction to the whoosh of an accelerating deep-section rim.
The pair weighs in at 1,620g without tyres, meaning they aren't the lightest but are far from being too heavy for the rest of the bike. Irritatingly, they came with very short valves and awkward valve-extenders, which made for fiddly tyre changes. The supplied 23mm Mavic tyres were swapped out straight away for some 25mm Bontrager tyres, to reduce the likelihood of punctures.
Riding
Simply put, this bike is fast, responsive and great fun to ride. As mentioned, the frameset's geometry strikes a balance between speed and comfort — a combination that a lot of bikes these days seem to be favouring.
The wheels and frame can feel a bit unforgiving on some under-maintained road surfaces, but put this bike on a smooth road and it flies along with great efficiency. The Dura-Ace brakes, which are set up Euro style — left lever for front brake — offer excellent stopping power, and the electronic shift gearing is clean, precise and would be spot-on in a race situation.
Conclusion
This is an eye-catching machine that offers a professional-spec ride. It comes with the best components and some great finishing kit, but the price tag casts it into a busy arena of well-known brands.
As such, there is little to set it apart and it may pale into the background of the big names on the market. At a lower price, this bike would be a solid choice for any aspiring racer looking to make a big investment.
KTM Revelator Prestige Di2 2015 full spec
Price: £5499.99
Frame: Full carbon monocoque design with tapered head tube and full carbon fork
Gears: Shimano Dura-Ace 9000 Di2 electronic, 11-25t
Chainset: Shimano Dura-Ace 9000, mid-compact 52-36t
Brakes: Shimano Dura-Ace 9000
Wheels: Mavic Cosmic Carbone SLE-C
Tyres: Mavic Yksion Pro Griplink 23c, swapped out for Bontrager R3 Hard-Case Lite 25c
Handlebar: Ritchey WCS Carbon Curve
Stem: Ritchey WCS Carbon-Matrix
Saddle: Selle Italia SLR Flow
Seatpost: Ritchey WCS Link Flexlogic Carbon 27.2
Size range: 52, 55, 57, 59cm
Size tested: 55cm
Weight: 7.05kg (without pedals)
Thank you for reading 10 articles this month* Join now for unlimited access
Enjoy your first month for just £1 / $1 / €1
*Read 5 free articles per month without a subscription
Join now for unlimited access
Try first month for just £1 / $1 / €1
Jack Elton-Walters hails from the Isle of Wight, and would be quick to tell anyone that it's his favourite place to ride. He has covered a varied range of topics for Cycling Weekly, producing articles focusing on tech, professional racing and cycling culture. He moved on to work for Cyclist Magazine in 2017 where he stayed for four years until going freelance. He now returns to Cycling Weekly from time-to-time to cover racing, review cycling gear and write longer features for print and online. He is not responsible for misspelled titles on box outs, and he lost the argument about using UK spellings