Shimano Dura-Ace R9100 groupset review (video) review
The full review of the much anticipated Shimano Dura-Ace R9100 mechanical groupset: as expected, it's great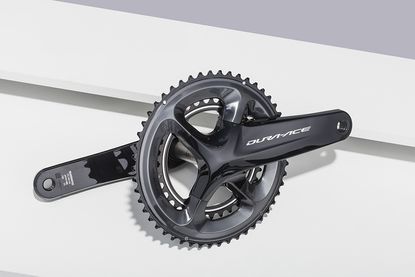 Shimano Dura-Ace 9100 is undoubtedly an improvement over its predecessor. However, the difference is not earth shattering. If you already own Dura-Ace 9000, I would suggest you don't need to rush out and buy the update as the biggest change is purely visual. I would also suggest that if you see a discounted 2016 bike for sale with Dura-Ace 9000, don't be put off that it doesn't have the latest components. Dura-Ace 9000 was an excellent groupset and has clearly been difficult to improve upon. That said, the incremental improvements are all positive and I can say with confidence this is the best mechanical groupset I have used to date. SRAM Red 22 is lighter, but the shifting is less assured. Super Record is more romantic, prestigious and arguably cooler, but it doesn't work as well. Ultimately all three are very good. Dura-Ace R9100 is a groupset worthy of the coveted Dura-Ace badge and adorning our dream builds.
Reasons to buy
+

Great shifting

+

Better braking performance
Reasons to avoid
-

Small improvements to previous model
You can trust Cycling Weekly. Our team of experts put in hard miles testing cycling tech and will always share honest, unbiased advice to help you choose. Find out more about how we test.
Shimano Dura-Ace is intended to be the best groupset you can buy. Designed to meet the needs of professional racing, the Dura-Ace name carries with it a reputation as the pinnacle of cycling componentry and the latest groupset, Shimano Dura-Ace R9100, delivers.
>>> Best deals on groupsets now
It's a well-earned reputation from the Japanese brand, which invests an impressive amount of research and development in its flagship components.
Buy now: Shimano Dura-Ace R9100 mechanical groupset from Wiggle for £1349.99
Dura-Ace typically exists within a four-year product cycle, which gives you an idea of how much engineering and testing goes into the finished product. We are periodically treated to a new updated version which culminates in a grand launch somewhere exotic. In terms of excitement and expectation, it is the cycling equivalent of Willy Wonka revealing his latest chocolate bar.
Here is our review of the mechanical version – Dura-Ace R9100. A review of the new Shimano Dura-Ace Di2 R9150 will follow once we have had the chance to properly test it.
>>> Shimano grouspsets compared
Shimano Dura-Ace R9100: What's new?
The first and most striking thing about Shimano Dura-Ace R9100 is without question the aesthetic.
Gone are the flowing shapes and the two-tone silver and black finish that adorned Shimano Dura-Ace 9000. In its place is a stealthy metallic black finish that subtly fades to grey (although having met Shimano's engineers, I doubt this is a homage to Eighties synth pop).
The angles and edges are much sharper too, something that is particularly apparent on the rear derailleur.
Despite looking like it fell off Darth Vader's face, the aesthetic of the rear mech has really grown on me. It all looks very smart, precise and purposeful. On the whole the looks have divided opinion, but after being unsure initially I'm a fan.
The previous short-cage rear mech was rated up to 28-tooth cassettes, but many professional riders routinely fitted larger sprockets in especially tough stages.
To this end, the new rear mech is now rated up to a 30t sprocket which, after extensive consultation, Shimano insists is what the pros want and need.
I tried fitting a 32t cassette and the system did seem to work fine, but if something goes wrong you won't be covered by Shimano's warranty.
With regard to engineering, the new rear mech is probably best described as a short-cage version of the mountain bike-specific XTR rear derailleur, with a linkage system that connects the unit to the hanger.
This system helps provide a more consistent gap between the upper jockey wheel and cassette sprockets across the whole gear range irrespective of which front chainring is used.
One thing to point out is Shimano has changed the spacing on the R9100 chainrings, suggesting that cross compatibility with older Dura-Ace front mechs is not advised.
The new rear mech also sits slightly closer to the wheel, which is supposed to give it extra protection it in crashes. Fortunately I haven't had any yet but, much like toast, bikes have an annoying tendency to land driveside down.
Shimano Dura-Ace R9100: How does it perform?
Set-up is significantly different from the previous version. Fortunately, Shimano has extensive and detailed service manuals available online that you can consult for free. I must stress that if you are going to adjust your new groupset or install it, follow these manuals. The limit screws and set-up may look familiar, but there are subtle, crucial differences.
The tolerances and level of precision are, like a Swiss watch, impressively high meaning that 'winging it' is unlikely to result in optimal performance. The front mech is a case in point, the design of which is a significant improvement over the previous 9000 component. Instead of just feeding the cable through, clamping it and cutting as per the outgoing design, the new mech is a little more complicated. The cable must now be fed back around behind the mech and positioning notch, looped through, held in place with a small plastic cap before it's cut and hidden.
Although outwardly more complicated, this system has a number of key advantages. Firstly the front mech now dictates the cable's angle of approach, which can vary depending on your frame. Previously, the 9000 front shifting performance could be influenced by the cable entry angle from the bottom bracket. It also does away with a separate barrel adjuster as that is now built into the front mech too. You can adjust it by way of a small grub screw. When setting up there is also a useful little inbuilt guide on the adjuster that aligns when you have the perfect cable tension to achieve the trim function on both the big and little ring. Previously this required a little trial and error.
I'm a big fan of the inbuilt cable tension adjuster and revised front mech in general. I have heard some mechanics criticise the new front derailleur for being more complicated. I would argue it is just new, different and, once you get used to it, a better design.
Shimano Dura-Ace R9100 shifting
The shifting on Shimano Dura-Ace 9000 is brilliant but out on the road I feel the Shimano Dura-Ace R9100 is ever so slightly better. The level action feels slightly lighter and more positive, with a very crisp and precise click. I should stress that the improvement really is marginal, though.
The shifter hood is slightly smaller in girth and I welcome the new shape. It feels more comfortable in the hand and as a rider who prefers not to wear mitts I like the new textured surface finish.
The front shifting is particularly impressive, too. Even when under high torque loads, the chain doesn't complain as you chuck it between the chainrings. This is partly down to the high torsional stiffness of the Shimano chainrings.
Once again, they are not the lightest available, but the performance is excellent. The new Hollowtech chainset, despite appearing substantially chunkier, is actually 7g lighter than the equivalent previous version.
There remains no multishift function though, as found on high-end Campagnolo groupsets. For those unfamiliar, this enables you to dump four gears in a single big lever push.
There is also no automatic trim function, as found on the front mech of SRAM Red 22. Although SRAM fans may miss this, the trim function on Dura-Ace works very well, ensuring you don't get annoying chain rub.
Shimano Dura-Ace R9100 weight
As cyclists we obsess about weight but, much like computer processors increasing in power, there must come a point where bike components cease to get any lighter.
Tim Gerrits, Shimano's head of product development, said: "At Shimano we will never compromise the performance of our driv train and shifting."
It is important to understand that first and foremost Shimano wants Dura-Ace to be the best product and will not make a component lighter, if it results in lesser performance. A case in point in point is the brakes, which Shimano claims are 43 per cent stiffer than the previous version.
The improvement in the brakes is welcome and noticeable – the single-mount caliper now feels like a direct-mount brake, with more power and stiffness. The cam lever is also positioned out of the wind resulting in the most marginal of drag savings.
The key message here is Shimano wanted to improve the brakes and to do so the weight has increased slightly. The new brakes also offer increased clearance for 28mm tyres.
The complete groupset weight of the Shimano Dura-Ace R9100 is 2,007g without cables; 2,097g with. I make that to be 9g lighter than Dura-Ace 9000, which in turn was 71g lighter than 7900.
Interestingly Shimano Dura-Ace Di2 R9150 is a touch heavier, until you factor in the cables and housings, at which point it is ever so slightly lighter than mechanical at 2051g.
Shimano Dura-Ace R9100 value
Although a premium groupset, Dura-Ace mechanical remains substantially cheaper than Campagnolo Super Record, which has a retail price of £2,399, while it is more expensive than SRAM Red 22, which retails at £1,499.
However, having pondered the subject at length, I suggest that the Shimano Dura-Ace R9100's biggest competition is likely not to be Campagnolo or SRAM, but Shimano Ultegra Di2.
For a slight weight penalty equivalent to a larger water bottle or one less pain au chocolat, you can have electronic shifting and save yourself 100 quid. The retail price of Ultegra Di2 is £1,762.99.
Di2 has been a stratospheric leap forward in terms of bike technology and once you have used it, there is no going back. Even with the improvements made to mechanical shifting, Di2 shifting, even at Ultegra level, remains superior.
Dura-Ace is always expensive, but you have to remember this is the flagship product. The pinnacle of engineering. Even if it's beyond your budget you reap the benefit, as the technology and research and development always trickles down into more affordable groupsets.
Pricing of the Shimano Dura-Ace R9100
Shifters: £449.99
Front derailleur: £99.99
Rear derailleur: £189.99
Cassette: £219.99
Chain: £44.99
Crankset: £529.99
BB: £49.99
Front brake: £159.99
Rear brake: £159.99
TOTAL = £1,904.91
Weights of Shimano Dura-Ace R9100 vs DA 9000 in brackets
Shifter: 365g (363g)
Disc brake shifter: 505g
Front derailleur: 69g (67g)
Rear derailleur: 158g (160g)
Crankset: 609-621g (636g)
Thank you for reading 20 articles this month* Join now for unlimited access
Enjoy your first month for just £1 / $1 / €1
*Read 5 free articles per month without a subscription
Join now for unlimited access
Try first month for just £1 / $1 / €1