The best deals on groupsets available right now
We've trawled the internet to find the best groupset deals currently available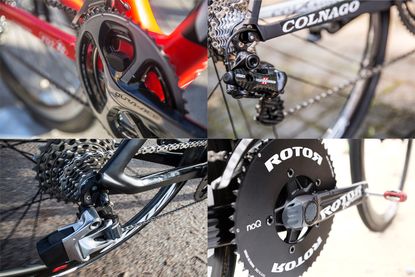 Get The Leadout Newsletter
The latest race content, interviews, features, reviews and expert buying guides, direct to your inbox!
Thank you for signing up to The Pick. You will receive a verification email shortly.
There was a problem. Please refresh the page and try again.
Your choice of groupset (i.e. the gear and brake levers, front and rear brakes, front and rear derailleurs, bottom bracket, crankset, chain and cassette) is, after the frame, the second most important part of your bike. This means that if you're looking to upgrade your bike, then taking a step or two up the groupset hierarchy can be a great option.
>>> Buyer's guide to road bike groupsets (video)
The groupset market is hugely competitive, with retailers fighting to bring their prices down as far as possible. This means that it can be difficult to find the best deal for whichever groupset your looking for.
However, we've done the leg work for you, and have trawled the internet to find the best groupset deals currently available.
Shimano
Shimano Sora
One up from the bottom of Shimano's road bike hierarchy, Shimano Sora may only be 9-speed but offers pretty impressive shifting and a derailleur that can cope with up to a 32t sprocket for less than £200.
Best price: Ribble Cycles - £187.95
Shimano Tiagra
With 105 now 11-speed and Sora staying at 9-speed, Shimano Tiagra is now the only 10-speed groupset in the Shimano range. That said, it's still inherited some trickle down technology from its more expensive brothers, such as the four arm crankset, while the long arm rear derailleur can cope with up to 34t sprockets.
Best price: Chain Reaction Cycles - £249.99
Other good deals: Ribble Cycles - £258.99
Shimano 105
Commonly seen as the entry point into Shimano's serious road bike groupsets, Shimano 105 made the jump up to 11-speed in 2015 and hasn't looked back. Even at the front derailleur the shifting is almost as easy and precise as Ultegra or Dura-Ace.
Best price: Ribble Cycles - £284.99, Chain Reaction Cycles - £284.99, Wiggle - £284.99
Shimano Ultegra
The next step up from 105 is Shimano Ultegra, which is what you'll probably find most riders using in amateur racing. This is the favourite groupset of many in the Cycling Weekly office with shifting that is the equal of Dura-Ace, and the only real difference from Shimano's top level offering is the higher weight.
Best price: Chain Reaction Cycles - £429.99, Wiggle - £429.99
Other good deals: Tweeks - £427.99 (not including bottom bracket)
Shimano Ultegra Di2
Shimano Ultegra Di2 is the least expensive electronic groupset on the market, although there is still a significant price jump up from the mechanical version of Ultegra. For your money you get seamless performance, with the main benefit being the extra power of the electronic front derailleur.
Best price: Wiggle - £859.99, Chain Reaction Cycles - £859.99
Other good deals: ProBikeKit - £869.99
Shimano Dura-Ace
The top of the Shimano mechanical tree, Dura-Ace has been leading the Japanese groupset charge since 1973 (coincidentally also the year when Campagnolo Super Record was first released). And for your £900-£1000 you get incredibly smooth shifting and very low weight, although there is a new Dura-Ace expected at some point this year which we're sure will offer even better performance.
Best price: Ribble Cycle - £949
Other good deals: Wiggle - £949.99, Chain Reaction Cycles - £949.99
Shimano Dura-Ace Di2
Shimano's top-end electronic groupset give you all the benefits of Ultegra Di2, so powerful and precise shifting at both front and rear, but with the lower weight of Dura-Ace thrown into the mix too. This is the groupset of choice for the majority of the pro peloton so you know it must be good.
Best deals: Pro Bike Kit - £1599.99, Evans Cycles - £1599.99
Other good deals: Merlin Cycles - £1649.95, Ribble Cycles - £1662.98
Campagnolo
Campagnolo Veloce
The entry level offering from the Italian company, Campagnolo Veloce is priced pretty similarly to Shimano 105 but is still 10-speed. The main reasons to buy this, then, are the incredibly smooth shifting and lovely aesthetics, while some may also prefer having a thumb lever for shifting.
Best price: Merlin Cycles - £299.95
Campagnolo Potenza
A new entry in the Campagnolo groupset hierarchy, Campagnolo Potenza is designed to tackle Shimano Ultegra head on, and is the first Campag groupset to come with a rear derailleur able to cope with a 32t sprocket.
Best price: Merlin Cycles - £539.95
Other good deals: Chain Reaction Cycles - £599.99
Campagnolo Chorus
Bridging the gap between Potenza and Record, Campagnolo Chorus offers a carbon rear derailleur, shifters and crankset but an aluminium front derailleur. It is also the least expensive Campagnolo groupset (and groupset in general) to offer a multishift function, letting you shift up to five gears with one push of the lever.
Best price: Ribble Cycles - £729.98
Other good deals: Wiggle - £749.99, Chain Reaction Cycles - £749.99
Campagnolo Record
If you want any indication of where Campagnolo is positioning itself in the market, then just check out the price of its second tier mechanical groupset (even with a 33 per cent discount). For the money you get all the benefits of Super Record but with a little less carbon and a little more weight.
Best price: Chain Reaction Cycles - £1149.99
Other good deals: Merlin Cycles - £1199
Campagnolo Record EPS
The middle of the three options in Campagnolo range of electronic groupsets, Campagnolo Record EPS offers exactly the same functionality as Super Record EPS, but with a little extra weight, and a little less kudos.
Best price: Evans Cycles - £2049.99
Campagnolo Super Record
The crème de la crème of groupsets, ask most cyclists what shifting they would put on their dream bike, and the answer would probably be Campagnolo Super Record. However that also means it's the most expensive mechanical groupset on the market, with carbon-fibre derailleurs, crankset and shifters.
Best price: Merlin Cycles - £1499.99
Other good deals: Evans Cycles - £1533.99
Campagnolo Super Record EPS
The groupset of choice for most riders on Campagnolo-sponsored professional teams, Campagnolo Super Record takes the sublime shifting the standard Super Record groupset and makes it a little more high tech.
Best Price: Merlin Cycles - £2549.99
SRAM
SRAM Apex
SRAM Apex, the American company's entry level groupset, will be getting rid of its front derailleur next year, which is perhaps why the double chainring option is so inexpensive at the moment. It's still 10-speed but can cope with anything up to a 32t sprocket at the rear.
Best price: Ribble Cycles - £299.95
SRAM Rival
An 11-speed groupset designed to go head-to-head with Shimano 105, SRAM Rival is available in short cage or medium cage (which will allow you to run up to a 32t sprocket) and like all of SRAM's mechanical groupsets, shifts using the company's DoubleTap system.
Best price: Merlin Cycles - £334.99
Other good deals: Ribble Cycles - £357.98
SRAM Force
Like Shimano Ultegra and Campagnolo Chorus, SRAM Force has benefitted from many technologies that have trickled down from more expensive groupsets, meaning that the front derailleur has Yaw technology so it rotates as the chain moves up and down the cassette. It's also available with disc brakes.
Best price: Merlin Cycles - £534.95
Other good deals: Chain Reaction Cycles - £672.42
SRAM Red
The lightest mechanical groupset on the market, SRAM Red has enjoyed a considerable following in the pro ranks and among weight weenies for a number of years. With the release of eTap it's got a rival for the top spot in the SRAM groupset hierarchy, and should be due an update pretty soon, which could perhaps explain the great deals around at the moment.
Best price: Chain Reaction Cycles - £1114.67
Other good deals: Merlin Cycles - £1349.95
SRAM Red eTap
The world's first wireless groupset, we loved the SRAM Red eTap groupset when we tested it earlier this year. It's a doddle to set up and works exceptionally well, and what's more if you just buy the electronic bits a bobs (which is what you get at these prices) then it will work with any Shimano or SRAM 11-speed groupset.
Best price: Merlin Cycles - £1195
What do you get for your money?
Groupsets vary in price a great deal, but what changes as the price goes up? The first thing to consider is weight. A lighter bike will accelerate faster and climb quicker than a heavy one, but components also need to be strong and stiff. As the price of components increases the weight decreases. In order to maintain strength, durability and stiffness of the lighter components, more expensive materials are required. For example, an entry level groupset will likely have a steel chain, with a top end groupset featuring a titanium chain.
Performance
Manufacturing tolerances are much more higher on a top end groupset, which means that with an increased price, you get improved shifting between gears. The more expensive components are smoother, more precise and quicker to shift.
Electronic groupsets are currently the benchmark in shifting performance, offering smoother shifting when changing gear under load, such as when riding out of the saddle or grinding up a hill. In these situations the lower end groupsets will be very clunky and strained, whereas the electronic shifting is sublime.
The electronic groupsets are slightly heavier (~200g) than their mechanical counter parts, but this is a minor penalty for the improved shifting. Setting up gears can often be tricky, but the electronic groupsets automatically align themselves, which makes maintenance simple.
Something to consider is that the shifting performance does tend to level out for the top two tiers. For example, the shifting quality between Ultegra and Dura-Ace is very similar, and the difference between the two primarily comes down to weight.
Braking performance improves too, with the calipers becoming stiffer up the hierarchy. This translates to more power, feel and modulation. The more expensive chainsets tend to be lighter and stiffer too. This can transform a bike, as a stiff crankset is more efficient at transferring the power from the pedals into pushing you forward. A chainring that flexes slightly under load will absorb energy, and decrease shifting performance too. For these reasons the big sprinters, such as Marcel Kittel will favour very stiff chainsets.
Durability
As one would expect, durability improves as you move up in price. Quality mid-tier components such as shifters and derailleurs last a very long time if properly maintained. However it is important to consider that the top-tier groupsets, such as Super Record and Dura-Ace, are designed for racing and not everyday use. These components are designed to be the lightest, with everyday use a secondary concern, which means that durability of groupsets tends to peak around the second highest tier.
Running costs should also be factored in, as chains and cassettes are expected to wear out and be replaced several times throughout the lifetime of a bike. Replacing a Super Record chain and cassette will incur a much greater cost than a Chorus equivalent.
Thank you for reading 20 articles this month* Join now for unlimited access
Enjoy your first month for just £1 / $1 / €1
*Read 5 free articles per month without a subscription
Join now for unlimited access
Try first month for just £1 / $1 / €1