Shimano 105 R7000 groupset review
The gap between the top three groupsets is getting smaller. Now with the new Shimano 105 R7000 it is hard to see why you'd pay more for Ultegra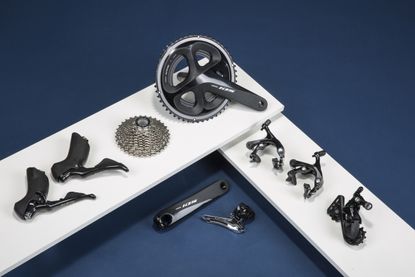 Without doubt the new Shimano 105 R7000 is a huge leap forward in terms of performance. Retailing under £600 for the complete groupset it screams value for money but it shouldn't be snubbed due to its 105 name. Performance is far more in-line with Shimano's swan song groupsets Ultegra and Dura-Ace, although don't be fooled into thinking it is as good as those to pricier groupsets. You do, however, get great shifting prowess, better looks and durable components vastly improved from previous. What you should take away from this is that it has enough performance to race and its durable enough to be a good groupset to use throughout the winter too. The best is yet to come though, and bikes that will use this groupset from next year will ensure you get amazing value bikes with great components to boot - very good Shimano, very good.
Reasons to buy
+

Price

+

Performance

+

Looks
Reasons to avoid
-

105 name doesn't carry same gravitas as Ultegra and Dura-Ace
You can trust Cycling Weekly. Our team of experts put in hard miles testing cycling tech and will always share honest, unbiased advice to help you choose. Find out more about how we test.
It is the first tier of the Japanese's performance range and perform it does. The new Shimano 105 R7000 narrows the gap to Shimano Ultegra and Dura-Ace with a huge boost in looks, actions and weight saving.
What's new?
Despite Shimano 105 being the first of Shimano's 11-speed performance products, it has long been considered the everyman groupset of cycling, so it's hugely exciting that it has received a significant overhaul. Shimano 105 receives the Ultegra treatment, which means it gets the stealthy black and gloss chainset (although it's also available in silver) that's identical to Shimano Ultegra R8000.
This is available as a 53/39, 52/36 or 50/34 and can be partnered with an 11-25, 11-28, 11-30, 11-32 or a whopping 11-34 cassette. The latter demonstrates Shimano's recognition that versatility is quickly becoming the most important aspect of modern cycling.
Shimano has also repositioned the inner ring so that it reduces the effects of cross-chaining, which could make the difference for those who race but don't want to fork out the additional costs for Ultegra. It does however, make the rings no longer compatible with the old front derailleur design.
Moving up to the controls, the new Shimano 105 R7000 hoods and levers get the same ergonomic rework that Ultegra R8000 received. That means a downsizing of the whole hood, making it far less bulky in the hand and the addition of a chamfered top that makes it easier to grip when it's hot and sweaty.
Again, the new R7000 front derailleur has a compact toggle (pivot design, better tyre clearance and an integrated cable tension port removing the need for an in-cable barrel adjuster. On Ultegra and Dura-Ace before it, the new design made for a significantly light front shift, and the same is true of the new 105.
The rear mech on the new 105 is also light years ahead of the older version. It is available in a medium or long cage guise (necessary for the 11-34 cassette) and it receives Shimano's mountain bike Shadow technology that pulls it up underneath the cassette and chainstay, out of harm's way.
This all means that the new Shimano 105 R7000 groupset is, in all aspects, better than its predecessor and falls in line with Shimano Ultegra and Dura-Ace in terms of performance and looks. It is hard to ignore the new Shimano 105 R7000 and shouldn't be discounted because of its value price tag.
Shimano 105 R7000: how does it perform?
In initial set-up and adjustment, the new R7000 follows Shimano Ultegra and Dura-Ace. It does from the outset look more complicated to set up the gears of the new groupset but, as with the latest Ultegra and Dura-Ace it is in fact easier in the long run to adjust. Although, maybe do have a look at the set-up guide before you dive straight in for the first time as there are key differences.
The front mech cable routing has changed so that the angle of the cable is dictated by the mech rather than where on the frame the cable comes from. This means it doesn't matter what the frame's cable routing is like, shifting should be good across the board.
The cable, once pushed through the mech, now loops back around through the mech once more and is held in place, and it's here you can cut and hide the cable end. You have one grub screw to adjust the mech position, your usual high and low limiters and an integrated cable tension adjustment screw to help get the perfect trim position in both the big and little rings.
Shifting
Shifting has been improved to offer a nice swift action for both front and rear gears. The change to the front mech allows for a lighter action and you get just that.
When compared directly to Ultegra you of course don't get as a nice feel to the lever action. But there really isn't much in it. Shimano 105 R7000 gives a measured and yet light action to drop you in the small or pick up the chain into the big ring.
Adjusted correctly, which the new mechs allow you to do first time thanks to the new routing, gear changes are great. You still get your trim function for the front mech, both in the small and big chainrings, but sadly you still don't get the multi-gear dump feature you find on Campagnolo groupsets.
What you do get is precise shifting and although it isn't a light as the more expensive groupsets, it is very good. The main thing here it doesn't feel cheap or plasticky. In fact, it is very hard to distinguish between the new 105 and Ultegra.
With the new Shimano 105 R7000 you get a good range of gears for both the front and rear. Anything from 11-25 to 34, though a long caged rear mech will be needed for the 34 tooth cassette. 53/39, 52/36 or 50/34 are your options up front.
Be aware here that the chainset is not compatible with the older style front mech, so shifting won't be as crisp if you mix and match.
I think now the only thing that would offer a sizeable improvement in shifting performance is moving to electric.
Braking
Braking is offered in two different forms for the rim brake groupset. You'll have the option of the standard dual pivot like the ones I tested on the Condor Super Acciaio and thanks to trickle-down technology effect, direct-mount brakes.
The dual pivot brakes allow for anything up to 28c tyres, which is ample and more so with the direct-mount brakes. Here you get assured braking and a nice braking action from the lever.
A lot of the time with cheaper brake calipers or levers you feel like your brakes are spongy and you don't feel as confident really leaning on them when stopping sharply, but you get none of that feeling with the new 105.
Note that with 105 R7000 Shimano also offers 105-branded hydraulic disc-brake components for the first time: previously RS505 had been grouped with 105 but according to Shimano this was not true 105.
Weight
Whether it is Dura-Ace or Ultegra, Shimano has always made clear that its intention is never to sacrifice performance for the sake of saving a few grams. Instead, it spends its time perfecting the performance of each product, although each component usually weighs more the further it is from Dura-Ace.
Shimano 105 is no different, and on our scales Shimano 105 R7000 weighed in at 2,180g without cables. Is it light enough to be competitive?
Well, yes it is!
Chainset 713.4 g (50-34T) - Ultegra 674g
Front mech 95 g - Ultegra 92g
Levers 500g - Ultega 440g
Rear mech SS 225g - Ultegra 200g
Cassette 320g 11x32 - Ultegra 292g
Chain 257g - Ultegra 257g
Brakes pair 379g - Ultegra 360g
System weight 105 2,489g - Ultegra 2,315g
As you can see from the table above compared to Ultegra you save 174g in total of all the components you can see on that list.
174g! That's it! This of course makes the Shimano 105 R7000 weight wise very competitive and, minus a couple packets of crisps for the week, you'll be on par with Shimano Ultegra.
This begs the question: what is Shimano doing making Shimano 105 so good? In every aspect it looks, feels and performs more closely than ever like its pricer stablemates and this can only mean one thing: will Ultegra and Dura-Ace be electric only?
Value
Buy now: Shimano 105 groupset at Wiggle for £349.99
Shimano 105 R7000 costs £570.92, which makes it great value for money considering the amount of top-tier tech included in the groupset. Shimano doesn't even seem worried about the potential for the new groupset to shade Ultegra considering the technology and the price tag. In fact, it seems the only thing that Shimano 105 can't offer that Ultegra does is electronic shifting.
It would seem that Shimano may head towards offering Ultegra and Dura-Ace as Di2 options only and given the fact that Shimano 105 offers similar performance to mechanical Ultegra, it would make sense for the brand to use this technology to separate the top three tiers – apart from pricing of course.
Compared to the likes of Centaur and SRAM Rival – which are both similarly priced – I'd say Shimano 105 R7000 offers better performance and overall looks better too. I reckon the R7000 groupset is knocking on the door of the Campagnolo Potenza groupset that is designed to rival Shimano Ultegra.
So in all, price versus performance it's very good and I'm really starting to fail to see why you'd need to spend more on mechanical Ultegra.
The groupset now falls in line with its more expensive siblings. It looks a lot sleeker, shifting is well actioned and it feels all together like a better product and something not to be ashamed of!
It truly is a great value groupset.
Pricing
Shimano 105 R7000
ST £199.99
FC £134.99
FD £34.99
RD £47.99 (£44.99 for SS)
CS £42.99
CN £29.99
BR £79.98
TOTAL £570.92
Thank you for reading 20 articles this month* Join now for unlimited access
Enjoy your first month for just £1 / $1 / €1
*Read 5 free articles per month without a subscription
Join now for unlimited access
Try first month for just £1 / $1 / €1