Shimano Ultegra R8000 review: the newest iteration of the fast selling groupset
The excellent Shimano Ultegra R8000 is similar in appearance, performance and setup to Shimano Dura-Ace but without the price tag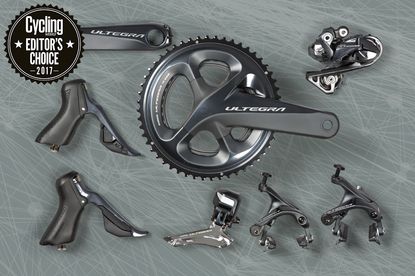 Get The Leadout Newsletter
The latest race content, interviews, features, reviews and expert buying guides, direct to your inbox!
Thank you for signing up to The Pick. You will receive a verification email shortly.
There was a problem. Please refresh the page and try again.
Shimano Ultegra has, for a long time, been the bread-and-butter groupset of most riders, and the new Shimano Ultegra R8000 series not only reaffirms that but injects it more than ever with the performance of Shimano Dura-Ace.
We've ridden the Shimano Ultegra R8070 (that's disc brakes and Di2) as well as Shimano R8000 (the purely mechanical version), and found both systems to be simply superb. There's no doubt it our mind that this groupset deserves a spot on Cycling Weekly's Editor's Choice for 2017.
Shimano Dura-Ace without the price tag
It'll be almost impossible to write this review without referring to Shimano Dura-Ace, and it doesn't take an eagle eye to realise that the two now look identical. But the question is whether the performance would be too.
A nuanced answer would make clear the distinctions in materials between the two groupsets, and how the construction differs (don't worry, we'll get to that). But in short, the groupsets have never been closer in performance, and more importantly, Shimano doesn't care.
It doesn't care that Shimano Ultegra R8000 might step on the toes of the higher end Shimano Dura-Ace, because it just wants to release the best platforms for the riders and consumers, and we applaud that.
Buy now: Shimano Ultegra R8000 at Chain Reaction Cycles from £521
Even better, the desire to cram as much tech into a lower price point is matched by a desire to make the groupset more accessible.
According to Tim Gerrits, the man in charge of Shimano's product development, there's no hard or fast definition of road cycling any more. For Shimano, this fluidity and evolution meant creating a groupset that can accommodate a 34t cassette, giving a 1:1 ratio with a compact front setup, and 28mm tyres for the added grip and resilience.
Naturally, the Shimano Ultegra R8000 had to hit its price point. That means glass fibre brackets in the hoods rather than the carbon fibre of Dura-Ace, steel bolts in the rear derailleur over alloy, steel front derailleur cages instead of aluminium and aluminium levers rather than carbon.
Importantly, the crankset is constructed differently: the Ultegra version is shaped differently and is made with a different mould.
All in all, mechanical Ultegra (R8000) is 336g heavier than Dura-Ace as a system, and – weight-weenies cover your eyes – even heavier than old Ultegra 6800 by 46g across the mechanical system.
Happily, the new Shimano Ultegra R8070 system is lighter than the old R6870 by some 197g, leaving it 250g heavier than the same Dura-Ace system.
So, while the differences do drive the weight up, Shimano also says it "drives the price down for Ultegra, and you still get the technology".
The setup
The Ultegra R8070 setup, which in Shimano parlance means electronic shifting and hydraulic braking, was immediately striking in just how different it looks to the old Ultegra system– and how much it looks like Shimano Dura-Ace.
Gone are the large hoods and equally large levers. In their place sit slimmer hoods, which sat comfortably in our hands despite being chocked full with the master cylinder and electronics.
Pair this to greater reach and free-stroke adjustment and you've got a setup that even the smallest hands can agree with.
Such improvements extend to the Di2 levers, too. Whereas once they were too close together, and shifting too ambiguous for our liking, now the spacing has been improved and shifting is met with a resounding click.
Unlike old Ultegra – and just like new Dura-Ace – the hoods now have a chamfered surface, for a bit of added stickiness, although they were still a bit slippery under sweaty hands.
At this point it should come as no surprise that the mechanical setup is now identical to the Dura-Ace equivalent, this means new cable routing into the front derailleur with a new way of indexing the gears. Equally, the hoods are slim and comfortable to rest on for long periods of time.
The ride
First introduced for Dura-Ace, Shimano's extensive Di2 technology has trickled its way down to Ultegra.
Electronic integration has been pushed further and now there's absolutely no difference between Shimano Ultegra Di2 and Shimano Dura-Ace Di2 – the electronic motor and shift speed are exactly the same, impressively fast and crisp, shifting with a reassuring clunk.
The Shimano Ultegra R8000 options also get the same top buttons on the hoods, which can be programmed to either shift or switch your Garmin screen. Plus, there's plenty of opportunity to add additional button shifters for sprinting or just a more ergonomic ride.
Frankly, the technology on offer is staggering, and riders are completely free to customise their shifting through the eTube app which is now available on phone or tablet.
All this means a greater integration of Syncroshift into your riding, and now with three different settings it's efficient and useful, and you'll never have to cross-chain again.
Mechanical shifting was as equally reliable and very fast. The new front derailleur design and cable routing results in a light shifting action and on the rear changes were precise and met with a reassuring clunk.
In terms of braking, the Shimano Ultegra rotor cooling fins are not covered with the black heat dissipation material like Dura-Ace's are. While they do have Shimano's Freeza technology, they're plain aluminium, and as a result don't dissipate heat quite as well.
Happily, the power is still good, and there's plenty of it, even on the steepest and longest Alpine descents. There's also a reassuring lack of brake fade, although prolonged use was met with a sharp "squealing" from the brakes.
When pressed, Shimano assured us it was normal, and could be because of any number of variables, but it was most likely the increased forces from the powerful stoppers affecting the pads and the frame.
Buy now: Shimano Ultegra R8000 at Chain Reaction Cycles from £521
For those perhaps looking to make the jump into hydraulics for the first time, it'll be relief to hear that additional free-stroke and reach adjustment is now offered underneath the hoods. They're also a piece of cake to bleed, meaning you can always have plenty of power on tap.
We also leapt at the opportunity to try the new Ultegra rim brakes, after being blown away by just how impressively the Dura-Ace models performed.
It's safe to say we were as equally blown away by Shimano Ultegra R8000 performance, with enormous amounts of power on stop and plenty of feel to them.
On a technical level, Shimano Ultegra R8000 is a magnificent piece of work, it works exceptionally and is an improvement in all the right places on the previous model. But we're as equally impressed by Shimano's willingness to produce such quality at the expense of its Dura-Ace groupset, putting the rider first.
Thank you for reading 20 articles this month* Join now for unlimited access
Enjoy your first month for just £1 / $1 / €1
*Read 5 free articles per month without a subscription
Join now for unlimited access
Try first month for just £1 / $1 / €1
Get The Leadout Newsletter
The latest race content, interviews, features, reviews and expert buying guides, direct to your inbox!