Topeak BarLoader bar bag review - useful by itself or together with the FrontLoader bag
A useful and weatherproof bag, but check that you have room around your bars as some cable systems will foul with it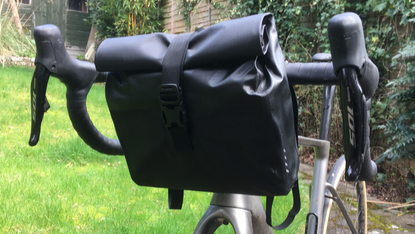 (Image credit: Paul Grele)
A useful and weatherproof bag option for bikepacking or longer day rides. It can be used by itself or in conjunction with its sister FrontLoader bag. Being able to keep - and quickly remove - your valuables in one place is good for safety too. Its capacity is easily adjustable, and it can accommodate clothing changes on variable weather days. Just be careful whether it can fit around your cables though.
Reasons to buy
+

Waterproof

+

Durable

+

Useful storage & capacity

+

Versatile
Reasons to avoid
-

Can be particular about which bars/cabling it will work with

-

Velcro on rolltop can catch with certain clothing

-

Can be a little dark to see into, when trying to find things
You can trust Cycling Weekly. Our team of experts put in hard miles testing cycling tech and will always share honest, unbiased advice to help you choose. Find out more about how we test.
The Topeak BarLoader is an easily mountable handlebar drybag that can be used alone or mounted as an accessory bag in combination with Topoek's FrontLoader Bar Bag system. Featuring sonically welded seams, a roll top closure which uses Velcro, the BarLoader protects your kit from dry dusty trails or from rain when riding in wet conditions.
Image 1 of 2
Topeak BarLoader: construction
The BarLoader measures 25cm wide by 25cm high, and it has a depth of 8cm. The bar bag has a maximum capacity of 6.5L/395ci, and is capable of carrying a load of up to 3kg/6.6lbs. The bag itself weighs in at 368g on our scales, including all of the straps that it comes with.
Included, along with the main and inner bags, are two bar mounting straps, a head tube strap, a shoulder strap and three 3M protective strips to save your paintwork from abrasion. The straps mentioned above are all removable, should you wish to fit the bag over a FrontLoader system. To do this you would use the integrated straps, which clip over the dry bag roll used with that system. If the bag is to be used on its own, then the longer integrated straps can be left hanging down or neatly folded away using the strap tidy. A photo of this is shown below.
The inner bag uses a bright yellow fabric to help illuminate the inside of the otherwise dark main bag. Helpfully it is removable, should you need to locate a small item from one of its zipped side pockets.
Image 1 of 3
Topeak BarLoader: fitting and the ride
The first job is to fit the bag to your bars, and this is where your gear cables will make or break the fitting... If you have the older style of Shimano road brake/shifter levers, where the cable outer emerges from the side of the lever and arcs to the frame, then you may have an issue with fitment. I didn't have enough depth between the bars and the cable routing (just in front of the head tube) to fit the bag. This is because the bag hangs down about 16cm beneath the bars. For most other systems (down tube levers, flat bar bikes or drop bar bikes with the cables routing under the bar tape) you should be fine. This is the case when you fit the BarLoader directly to the bars. If you are using it in conjunction with the Topeak Frontloader (or similar system), which I will discuss later, then the cabling issues will be different! As the FrontLoader fitted the bike just mentioned it meant that the BarLoader could also be used, just not on its own.
It fitted the Vitus Venon EVO-RS' bars really nicely. The velcro straps held the bag tightly to the bars. I loaded it up with a few tools, a pump, wallet, phone, snacks and a rain jacket and set off for Boxhill (in Surrey). The bag has an optional strap that can be used to hold the base of the bag close to the head tube to reduce its swinging movement when heavily loaded. I opted not to use it on this ride. There was a small amount of rocking back and forth from the bag, and it would swing more if you came out of the saddle for a steeper section. However the velcro straps held tightly and didn't rotate on the bars. The bags movement wasn't a distraction to me either. At the top of the zigzag ascent I needed to remove a layer, as I was quite warm now, and the bag accommodated the extra garment easily. I thought that it looked good and was perfect for carrying my gear on this ride.
The single front clip holds the rolltop opening closed and can easily be adjusted to keep the pack smaller, or opened up when more capacity is required. The rolltop opening is sealed with velcro, which helps keep water or dust out, but can catch onto certain clothing. Generally cycling type garments are fine but I was wearing a jumper when loading the bag and the velcro kept sticking to my sleeve! Talking of loading the bag, it's worth mentioning that there is a removable inner bag (shown below - yellow) which has three zipped sections to keep things safe or separate. It helps that it is a light colour as it would otherwise be difficult to see much in the bag as it is a long dark tube when unrolled and open!
Image 1 of 2
Topeak BarLoader: value and conclusion
The BarLoader can be used by itself or in addition to a FrontLoader. The FrontLoader is a great bag for carrying bulky items such as a sleeping bag or down jacket, etc. when you're bikepacking, but it is not easily accessed mid-ride. So the BarLoader can be strapped over the FrontLoader to add some useful functionality, allowing you to access items needed during a ride. You may need to be careful about how you load your bike up as too much weight on the bars can affect the handling. I particularly liked using the bag on its own as a day ride bag, where it could hold my clutter and spare clothing. Being able to remove your valuables and keep everything in one place when off the bike is really useful too.
The Brooks Scape Handlebar Pouch ($80.00 / £59.99) and Roll ($150.00 / £124.99) system ($230.00 / £184.98 total) is similar to Topeak's combined Barloader and Frontloader system ($191.94 / £139.98 total) in its modular approach, and whilst the Brooks Pouch is a similar price to Topeak's BarLoader ($86.99 / £64.99), the Brooks Roll is about twice the price of the Topeak Frontloader ($104.95 / £74.99). The Pouch looks like it'd work with my bike mentioned above (with the gear cable fouling) but it is half the capacity of the BarLoader. On that basis I'd say that the Topeak BarLoader is good value and it is a good load carrier, as long as it fits your bar setup. My advice is to check before you buy.
Topeak BarLoader: specs
Bag weight: 368g (tester's measurement) including all straps
Dimensions: 25cm x 25cm x 8cm (WxHxD)
Capacity: 6.5L/395ci
Maximum load: 3kg/6.6lbs
Thank you for reading 20 articles this month* Join now for unlimited access
Enjoy your first month for just £1 / $1 / €1
*Read 5 free articles per month without a subscription
Join now for unlimited access
Try first month for just £1 / $1 / €1