Topeak Frontloader Bar Bag review - large and sturdy but no quick-access
Bikepacking is made easy with this harness-style bar bag that lets you remove the dry bag once you've arrived at your destination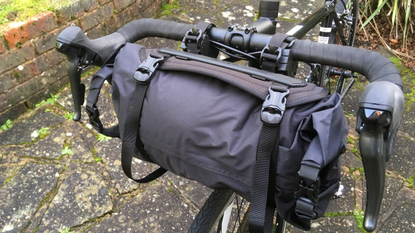 (Image credit: Paul Grele)
A nicely made and versatile way to carry bulky yet lighter items on your adventures. It fitted easily to most bikes it was tested with, but the cable routing can be an issue with some bike models. The air valve on the dry bag was a nice addition to easily remove excess air and pack the dry bag down a bit tighter. It's not a bag designed for quick access on the go, with the only points of entry being the side rolls of the dry bag - but you can pair this Frontloader Bar Bag with Topeak's Barloader accessory pack (sold seperately) to add that extra funtionality and capacity.
Reasons to buy
+

Well made

+

Often straight forward to fit

+

Useful capacity for bulky but light kit
Reasons to avoid
-

Can be awkward fitting to some bikes due to their cable routing
Why you can trust Cycling Weekly Our expert reviewers spend hours testing and comparing products and services so you can choose the best for you. Find out more about how we test.
The Topeak Frontloader Bar Bag is designed to carry light but bulky items on your handlebars. It provides a useful storage area to help you spread your kit across your bike when you next go on an adventure.
The best handlebar bags can be split into two categories, those that add extra capacity on bikepacking trips, and others that give easy access to essentials on local loops or commuting.
Topeak's Frontloader slots into the first, and is great for carrying a decent amount of kit on the bars thanks to its eight litre capacity and sturdy design. It isn't really the sort of bag that you'd keep dipping into on a ride, though, as it doesn't have easy access pockets unlike some others on the market.
Topeak Frontloader: construction
The bag set is comprised of a harness, which attaches to the bars, and a removable dry bag. This allows the harness to remain attached to the bike without having to remove it each time. The harness itself is made from a stiff but flexible 'board' which is attached to the handlebars using two straps and spacers, and there is a third strap lower down which can go around the head tube of the frame to offer additional support. There are two additional straps to hold the dry bag in place where the 'board' curves around the dry bag and the straps are tightened up.
The dry bag is double ended to allow easy access from either side, and is sealed by folding over the opening and clicking closed with clips. There is an air valve to purge excess air from the bag which keeps it more compact. The dry bag is waterproof rated to 10,000mm - which is similar to some hill-walking rain coats - and so should keep your kit nice and dry.
The harness weighed 387g and the dry bag was 113g on my scales, so a total of 500g. There is an eight litre capacity and five kilo max load, says Topeak.
Image 1 of 4
Fitting
In brief, I tried the harness on several different bikes with as many different bar types and cable routing as I could - to try and get a feel for how simple or awkward each might be. I have used a WildCat Lion harness in the past and, although they are similar, there are differences too. Namely that the Topeak uses spacers for the bar section and that it is secondarily secured via the head tube.
To start with, I used a flat bar bike (photos one and two in the gallery above) and it was easy to fit. The spacer blocks (three per side) allow fine tuning of the mounting and you can use as many, or few, as your application requires. I tended to use all three for each fitting. The threading of the straps can be a bit fiddly however, but once threaded they stayed in place. I generally opted not to use the head tube strap, but I would for really heavy loads. It is supplied with some clear 3M frame protector strips to keep your paint intact. Nice touch.
I loaded up with a sleeping bag and a down jacket which came in at 1.7kg including the harness and then rode off-road. The handling was barely affected, which pleased me, as when I've ridden with 2.5kg on the bars (using the Swytch bike battery) I felt the weight affect handling. The load was stable and the straps held tight. A good start. The dry bag was able to sit wider under the flat bars and not interfere with the controls too.
I then attached the bag to a Genesis gravel bike (see photo three above) and this surprised me as the fitting was really awkward due to the cable paths. In the end I had to place the cables between the bar straps and blocks to get a good placement. Once fitted it rode nicely, but if I was going to use it with the harness regularly I would consider recabling the bike (it had both brake and gear cable routing under the bar tape). It did surprise me that this bike was the most difficult to achieve a good fit.
Then I fitted the bag to a drop bar bike with under tape brake cables but with external gear cables (see photo four in the above gallery). Prior to fitting I thought that this setup would be the most awkward as it often is when using bar bags. However I was surprised that it was really straight forward to fit and that the cables just sat over the top of the harness and bag.
Apart from the fitting to drop bar bikes, the other consideration is that you can't load the bag as fully as you would with a flat bar bike, as you need to leave room to access the brake/gear levers.
The ride
Overall, I found that Topeak's bar bag system was well made and performed well.
I particularly liked the strap locks on the dry bag section straps and this was repeated on the head tube strap. It would've been nice if they'd been on the harness bar straps too, but as they held tight maybe that would've been unnecessary.
I also liked the quick removal aspect of the design, with the ability to take the dry bag off with you and leave the harness in situ. You can ride with the harness empty, just click the straps up - this is helpful too.
Value and conclusion
At $105 / £76.99 this bag is great value, coming in at less than the lightweight Wildcat Lion Harness (£80 and doesn't include a dry bag) and the Miss Grape Tendril 10.7 Waterproof Handlebar Bag ($135 / £110). These are all bags that you load up at the beginning of your adventure and unpack at the destination, as opposed to an easier access type of bag to carry say food, a camera, phone, a waterproof etc. In that respect Topeak's Frontloader is more of a pure bikepacking bag as opposed to a touring or day ride bar bag.
The Frontloader bag was often easy to fit as well as stable out on the trail. The addition of the air valve on the dry bag meant that you could compact the bag contents smaller and more solidly which in turn meant that the harness held the dry bag securely. It didn't slip or side while I was using the system.
Overall, the Topeak Frontloader Bar Bag is a great addition for those camping/overnight bikepacking trips where a little more kit is required.
Specs
Weight: 500g/1.1 lb (387g for the harness and 113g for the dry bag)
Capacity: 8 litre with a 5kg/11 lb max loading
Size: 33 x 28.7 x 5 cm / 13" x 11.3" x 2"
50 x 15 x 15 cm / 19.7" X 5.9" x 5.9" (Waterproof Carry Bag)
Colours: Black or Olive Green
Cost: £76.99 / $105 RRP
Contact: Topeak.com
Thank you for reading 10 articles this month* Join now for unlimited access
Enjoy your first month for just £1 / $1 / €1
*Read 5 free articles per month without a subscription
Join now for unlimited access
Try first month for just £1 / $1 / €1
Over 40 years cycling in a variety of disciplines including road riding, commuting, a self-supported Land's End to John o' Groats trip, XC mountain biking and several Polaris Challenge two-day events. Adventure, escape and fun are the motivations for my riding. I also love bike and kit design and have fillet brazed a couple of framesets using Reynolds 853 steel tubing for myself. A very satisfying experience to ride your own bespoke bike!
Height: 180cm
Weight: 66kg