Brooks England Scape Handlebar Pouch review – tidily-made and convenient place to carry your stuff
Good-looking bag with enough capacity for day rides but can we please have something better than straps to mount it?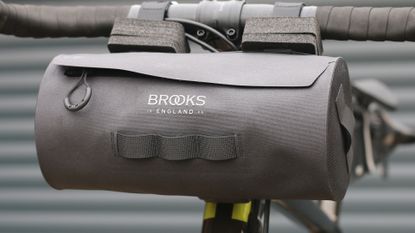 (Image credit: John Stevenson)
A handy bag that keeps tools, spares, jacket and like easily to hand, but it's a bit pricey and the straps-and-spacers mounting is rather primitive.
Reasons to buy
+

Easily to hand gear carriage

+

Tidily made

+

Very water-resistant
Reasons to avoid
-

Bodgy straps-and-spacers fitting

-

Expensive
You can trust Cycling Weekly. Our team of experts put in hard miles testing cycling tech and will always share honest, unbiased advice to help you choose. Find out more about how we test.
The Brooks England Scape Handlebar Pouch is a weatherproofed cylinder bar bag that has 3 litres of capacity, and also boasts straps for hanging extra gear, such as a visibility-boosting front light. We take a look at how it compares to the best handlebar bags.
Brooks England Scape Handlebar Pouch: construction
Welded together from waterproof plastic sheet, the Scape bar bag has a pair of EVA foam discs at each end to keep its shape, and various bits of webbing on the outside to hang Stuff. It attaches to your handlebar with a pair of webbing straps, plus a strap round the head tube for stability. EVA foam spacers keep it away from the bar so there's room for your hands.
The single opening is a water-resistant zip out front, with a rain flap to help keep out the wet. It's all tidily put together and the aluminium buckles for the mounting straps are a nice touch.
The ride
I used the Scape to carry my tools, spare tubes and windproof jacket, a total of 750g of gear. There was room to spare; I could easily have crammed in a couple of Snickers bars, my phone and keys, and a heftier jacket.
With the straps firmly cinched down, it's very stable and it's not big enough to affect your steering because you just can't load it up that much. I mean, sure you could fill it with lead shot if you wanted to find out just how bad an idea is lots of weight on your handlebar, but for sensible loads it's fine.
The Scape Pouch works best with wide handlebars, like the gravel bike flares that the designers presumably envisioned it mounted on. On more conventional road bike bars there's not much hand space between the mounting straps and the turns to the hoods, and of course you lose the hand positions next to the stem.
For all that they work, straps and bits of foam are a bodgy way to mount a bag to the handlebar, and they're fiddly to remove and refit. For small bags like this, a scaled-down version of Rixen & Kaul's Klickfix mount would be tidier and more convenient.
Nevertheless, I like having jacket, spares and snacks easily to hand like this. It's only a small improvement but it's easier to get things out of a bar bag than a saddle bag, and more comfortable than stuffing your jersey pockets.
The Scape Pouch's biggest problem is that the flap over the zip pops up when the wind catches it. In theory that could let in water if you were riding in properly damp conditions.
Value and conclusion
The category small handlebar bags isn't huge. Rivals to the Scape Pouch include the 1.5-litre $67.49 / £50.00 Restrap Canister and the $93.00 / £68.00 2 litre Apidura Racing Handlebar Pack. CW reviewer James Bracey liked the Apidura Racing Handlebar Mini Pack, which is the Racing Pack's slightly larger (2.5 litres) sister. You'd also want to consider the 3-litre, £46 CamelChops Blimp 2.0 and the $59.99 / £47.99 Craft Cadence bar bag, though at 3.5 litres that's arguably not a small bag, very tidy though it may be.
$80.00 /£59.99 seems a lot for something this simple. Sure, there are more expensive cylinder bar bags aimed at bikepacking applications, but they're usually larger and have additional features: double roll closures, mounting points for extra bags and like that.
Still, it's waterproof, keeps your essentials very easily to hand, and has straps for hanging extra stuff, even if that's just a visibility-boosting front light.
Specs
Weight: 180g
Dimensions: 25cm wide x 12cm radius
Waterproof
Lasting performance
Practical functionality
Adaptable and Versatile
Thank you for reading 10 articles this month* Join now for unlimited access
Enjoy your first month for just £1 / $1 / €1
*Read 5 free articles per month without a subscription
Join now for unlimited access
Try first month for just £1 / $1 / €1
One of the UK's most experienced cycling journalists, John started writing about bikes for Mountain Biking UK magazine back in the late 1980s. A spell in Sydney saw him editing Australian Mountain Bike magazine, before getting online as a news and production editor at Cyclingnews.com, in the 'the drugs are for my dog' era.

Since returning to the UK in 2006 he has worked on the launch of Bikeradar.com, and launched Totalwomenscycling.com before handing the editorship over to someone more representative of the readership. He has also written for Cycling Plus and Cyclist magazines, and most recently was editor-at-large for road.cc.

He lives in Cambridge with his partner and a silly number of dogs (or possibly a number of silly dogs), and divides his riding time between Tarmac and gravel while battling the notorious Fenland headwinds.