Vitus Venon EVO-RS 105 Di2 road bike review - a new benchmark in versatility
A very capable endurance road bike with added versatility...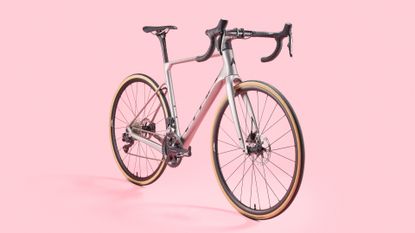 (Image credit: Future)
The Venon Evo range straddles the two disciplines of endurance road and fast gravel riding, and is available in either guise. This road version is a solid and fast bike capable of being ridden all day and yet is still comfortable. It provides a balanced riding position and sure footed handling, which gives confidence to the rider. It can be fitted with fenders / mudguards to make it an all season bike, should you wish it to be so.
Reasons to buy
+

Endurance position is great for long days in the saddle

+

Versatile frameset can take fenders if needed

+

Can accommodate 28-45mm width tires

+

Is capable on fast gravel trails with sure footed handling (if in GR specification)
Reasons to avoid
-

28mm tire do present an aesthetic challenge, given the capacious clearance
The Vitus Venon Evo is an all-road frameset that aims to blur the line between the best endurance road bikes and the best gravel bikes. It can accommodate tire widths from 28mm up to 45mm, depending on the discipline that you want to primarily ride.
The Evo-RS comes with road specific groupsets, with the choice of Shimano 105 or Ultegra, SRAM Rival or Force, all of which are electronically controlled. You can buy the frameset by itself, too, should you wish to.
Vitus Venon Evo-RS road bike: construction
Vitus uses the 'Evo' tag to denote their highest performing bikes in each of their ranges. It uses technology and engineering know-how from their existing high performance road bikes, as well as aerodynamic design, to build a bike that is focused on speed and efficiency. The 'RS' refers to the spec, specifically, that this a road-oriented build.
The one-piece monocoque frame features a press fit bottom bracket, and it has M12 bolt through axles. Integrated cable routing allows mechanical groupsets to be fitted, as well as electronic ones and the frame has bosses for mounting full-length fenders / mudguards.
Dropped seat stays have been created with a forgiving carbon layup, which allows some vertical compliance when the road surface turns rougher. In addition a 27.2mm diameter seat post can allow a small amount of flex, which also helps with comfort.
The geometry falls in between the more aggressive 'Evo' road bikes and the slacker 'Substance' adventure gravel framesets that Vitus offers. The Medium frame (which is on test) has a head tube angle of 71.5 degrees and the seat tube is 73.8 degrees.
Vitus Venon Evo 105 Di2 road bike: the ride
The Venon Evo RS (road) came fitted with a full Shimano 105 Di2 2x12 speed groupset and was shod with 28c Michelin Power Cup tubeless tires. The medium frame had the silver paint option and it looked really clean with no cabling visible.
First impression out on the road was how well balanced the riding position felt to me. Not too low and race oriented, but not too upright either. Other than setting the seat height, I didn't need to alter anything. Spot on!
It rode firmly but comfortably, with really sure footed handling - partially thanks to Power Cup tires, which gripped well on wet roads. Although this is a fast bike, it doesn't have that extreme urgency that a focussed race bike has.
That said, two or three pushes on the pedals meant that I caught up to my riding buddy with ease. I also felt that I could ride for a long time and not find myself beaten up by the ride. The bottom bracket uses press fit bearings which Vitus says have been carefully designed to avoid any creaking. They were silent for my time with the bike.
On another ride, I found myself climbing up the Surrey Box hill Zigzags. One rider passed me, but as he was on an electric powered bike, I didn't feel so bad. He was the only one though! The bike rode the long uphill very efficiently, and I didn't feel the need to stop for tea and cake as I just wanted to continue with my ride.
It was my first time riding with the new 12 speed 105 Di2 groupset. I found the new button positions more intuitive than the previous version. I particularly liked the auto change at the rear, activated when you changed between the front chainrings. This meant that you were in broadly the same ratio as before and mitigates the big jump that you normally get with a 34/50t front chainring setup.
The hydraulic brakes had great bite and modulation and were light in action, however there was some squawking occasionally. I put this down to bedding in and needing a tweak of caliper position. Apart from that it was very quiet, for a carbon bike, with just a little 'woosh' noise rather than the full rumble that some carbon bikes have!
Unlike the sister bike, the Venon Evo-GR Force Gravel Aero, this model has narrower and shallower rims. They measured 26mm external width, with a rim and tire combined height of 53mm. This meant that they were not susceptible to side wind buffeting or skipping.
The wheels rolled very efficiently. All of the elements combined to make for a comfortable ride over some terrible road surfaces, and on smoother tarmac it just floated along, ticking the miles out with ease. The M12 bolt through axles keep everything solid and well located too.
I normally want to tweak, adjust or change aspects of any bikes that I ride, however I could only find one thing with the Venon Evo-RS... I'm not a fan of tan side wall tires... Sorry! But as you can't really see them while you ride I guess it's pretty minor. I certainly wouldn't change them until they wore out, as they performed excellently.
Although the bike wasn't supplied with fenders / mudguards, there are fixing to allow you to do so. The extra brackets are available from Vitus and they are the same parts that fit their Energie cyclocross bike. The bolt is underneath the fork crown, but the bracket will allow you to then fit a conventional fender mount. I would've very much appreciated some protection from the rain in a very wet April...
Vitus Venon Evo-RS road bike: value and conclusion
The Vitus Venon Evo-RS 105 Di2 12 speed retails for $3,899.00 / £3,599.99, with the frameset only available for $1,999 / £1,799.99. There are 4 colors for the frame and forks: Silver, Midnight Blue, Sage Green and Black Cherry (a deep red).
As the frame is Vitus' Evo version, which is their top version for each discipline, it starts with 105 or Rival, with the higher option of Ultegra or Force groupsets. All four groupsets are electronic, however the frame has the capacity to use full length, internally housed, outer gear cables should one wish to fit a mechanical groupset.
I find the Vitus Venon offering to be a compelling one. I like versatility of purpose in a bike, and the ability to run it with or without 'guards as a pure endurance road bike is a good start, but then to be able to use it as a fast gravel bike (with either a tire or wheel change) as well, is even better. It's potentially two bikes in one.
I also think that the pricing is keen for the level of bike that you're getting here. The Specialized Roubaix Sport comes in at $3,500 / £3,500.00 but it has a 105 2x11 mechanical groupset and doesn't have the same gravel capability either. It has similar comfort and riding position to the Venon, and either bike is great way to cover some distance.
I also had the Venon Evo Gravel on test and, it came down to choosing one or other of them, I would plump for the Gravel version. It was nearly as fast on the road; dealt with terrible road surfaces, via its 40mm tires, with aplomb; and looked really stunning in its Black Cherry paint!
But that's the good thing in a way, you could choose one and alter it in the future should you wish too. That's versatility.
Vitus Venon Evo-RS road bike: specs
Weight: 7.8kg for medium (tester's measurement)
4 colors: Silver, Midnight Blue, Sage Green & Black Cherry
4 groupsets: Shimano 105 Di2 & Ultegra Di2, SRAM Rival AXS & Force AXS
Available as a frameset only too: $1,999 / £1,799.99
As ridden:
Groupset: Shimano 105 Di2 12 speed
Chainrings: 50/34t
Cassette: 11-34t
Wheels: Prime Attaquer wheels (26mm external width)
Tires: Michelin Power Cup Classic TS TLR 700x28c tubeless
Thank you for reading 10 articles this month* Join now for unlimited access
Enjoy your first month for just £1 / $1 / €1
*Read 5 free articles per month without a subscription
Join now for unlimited access
Try first month for just £1 / $1 / €1
Over 40 years cycling in a variety of disciplines including road riding, commuting, a self-supported Land's End to John o' Groats trip, XC mountain biking and several Polaris Challenge two-day events. Adventure, escape and fun are the motivations for my riding. I also love bike and kit design and have fillet brazed a couple of framesets using Reynolds 853 steel tubing for myself. A very satisfying experience to ride your own bespoke bike!
Height: 180cm
Weight: 66kg