Best endurance and sportive bikes: a buying guide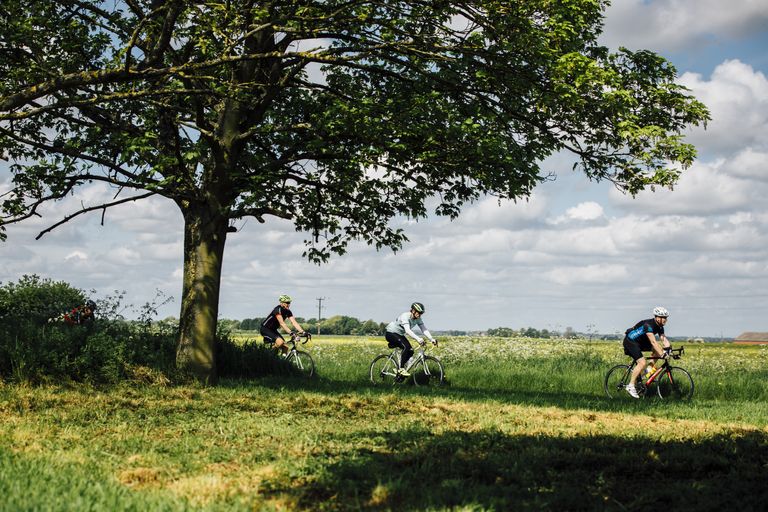 What is an endurance or sportive bike?
Specific carbon layups to improve the compliance of a frame
More relaxed geometry to keep you comfortable for longer
Clearance for wider tires
Disc brakes to cope with all weather conditions
Some models have short travel suspension for added comfort
An endurance bike, otherwise referred to as a sportive or gran fondo bike, is a bike that has been designed to make long days in the saddle just that little bit easier by providing a more comfortable ride that should not only protect your backside from all the vibrations passing through your seat-post and saddle, but should also keep your legs fresher after multiple hours on the road.
>>> 2021 Sportive Series calendar
These bikes have become increasingly popular over the last few years for two main reasons. First, the huge growth of sportives and fondos has meant that there are more and more people whose main concern when buying a new bike is that it make eating up the miles on long rides that bit more pleasant. And second, most people don't get to ride on velvety Swiss roads, and such to tackle broken pavement and chip seal most ridersgenerally value a bike that is able to take the worst out of rough tarmac.
Here's our pick of the best endurance bikes, before we go on to explain exactly what features you should look out for when searching for a bike in this category.
With each bike you'll find a 'Buy Now' or 'Best Deal' link. If you click on this then we may receive a small amount of money from the retailer when you purchase the item. This doesn't affect the amount you pay.
Reasons to buy
+Ride quality+28mm tyres and disc brakes+Planted, assured handling+Confidence inspiring+Healthy weight
Reasons to avoid
-Very few!
Fitted with 28mm tires and disc brakes, the Endurace from Canyon bikes is designed for all-day riding adventures, but the geometry is still racey enough to provide a fast and fun ride.
The wheelbase is relatively long to provide confidence-inspiring stability but the fork angle makes for speedy handling.
Available in carbon or aluminum, we tested an alloy model and were impressed with its ride quality and its Shimano Ultegra 6800 drivetrain. For 2019, Canyon has specced the same model with Shimano 105, which now £1,649 / $1,899 Alternatively, you can get a carbon version, with prices starting at £1799 / $2,199 and coming equipped with Shimano 105.
Reasons to buy
+Value+Comfort+Versatility
Reasons to avoid
-Cable routing-Saddle
With a relaxed position and stable ride, those long miles will be eaten with ease aboard any of the Defy models.
Giant has tweaked its best selling bike ever so slightly. It has taken its D-Fuse seatpost concept and applied it to the handlebars. Now both the seatpost and handlebar will dampen the bumps on the road. The brand has also lengthened the wheelbase slightly to add a comfortable level of stability.
The Overdrive steerer promises excellent handling and front end stiffness thanks to oversized headset bearings.
This particular model comes with a Shimano Ultegra drivetrain and hydraulic disc brakes. Smooth-rolling Giant PR-2 disc composite WheelSystem come shod with 32mm Giant Gavia Fondo 1 tubeless tires.
Giant Defy models start from £1,599 / $NA with a Shimano Tiagra (not available in the US), the Advanced 2 features Shimano 105 with Giant P-R2 Disc wheels and costs £1,949 / $2,500.
Reasons to buy
+Aerodynamic+Comfortable+Stable handling+Clean looks
Reasons to avoid
-Not the lightest in its class
With aerodynamically optimized tube shapes and a 2x11 hydraulic groupset, this offering from Ribble represents extremely good value. The quality of the frame does not disappoint, with the carbon doing a lot to adsorb the road buzz. With discrete eyelets for mudguards and confidence-inspiring handling, long winter miles aren't a problem for this bike.
The Mavic Aksium wheels our bike came with are not the lightest, nor the most aerodynamic. While they are certainly dependable and robust, in pure performance terms they do hold back the bike a little from its full potential.
Fortunately, Ribble allows you to swap out components with its Bikebuilder app. If speed is more of a concern than price, you could even pop in some Zipp 302s.
Reasons to buy
+Fast ride+Relatively comfortable up front+Capable on multi terrain
Reasons to avoid
-Rear end is harsh
The Specialized Roubaix saw a major overhaul in 2017 with the addition of the 'Future Shock' front suspension, and 2019 that saw another update, with adjustable suspension added to the top models. It might be easy to dismiss as a gimmick but really isn't one.
The suspension built into the steerer tube does a great job of improving comfort on really rough surfaces, and also helps to improve handling, as the tire spends more time in contact with the tarmac around bumpy surfaces.
It also doesn't impede your sprinting and climbing even as you pull up and down on the bars when out of the saddle, and the bike's weight is impressive for an endurance bike too.
Cannondale Synapse Hi-Mod Disc Dura-Ace Di2 2019
Cannondale's Synapse is renowned for offering a comfortable ride, without canceling out the expert handling and stiffness that you want from a road bike.
Weight has been kept low, but Cannondale has used its SAVE (Synapse Active Vibration Elimination) technology to ensure comfort is kept high on the agenda. A 'Power Pyramid' bottom bracket presents plenty of stiffness making for quick-footed accelerations.
We were lucky enough to test the top of the range model, with Dura-Ace Di2, but models start with a Shimano Sora fitted aluminum frame for £849.99 / $1,150. A carbon Dura-Ace Di2 version with disc brakes comes in at £4,000 / $3,300.
Reasons to buy
+Versatile+Comfortable+Great spec
Reasons to avoid
-Slightly sluggish on steep hills
Trek's Domane has evolved over the years into an extremely capable endurance roadie that can tacket long miles on surprisingly rough terrain. Part of the magic mixture at plays is the front and rear IsoSpeed decouplers; these pivot based flex points take the square edge off big hits without sacrificing any efficiency or power transfer.
The other piece of the pie is the tire clearance, there is room in the frame for upto 38c tires (35c with fenders), which is verging on what we expect to see on gravel bikes. Trek has also integrated nifty down tube storage that comes with a tool roll and is big enough for a few spares and tools or heaps of snacks.
Reasons to buy
+Stability+Nice blend of comfort with enough range in the geometry
Reasons to avoid
-Heavy-Wheels a let down
Painted up in its trademark celeste green, the Bianchi Infinito CV sees a slightly more relaxed position that is racier cousins with a taller head tube and a slightly longer wheelbase — which also makes more room between the rear stays for bigger 32c tires too.
But hidden between the layers of carbon that make up the frame is Bianchi's Countervail vibration canceling technology. The viscoelastic material which is incorporated into the layup was originally developed for NASA and does surprisingly well to eat up harsh road vibrations before they reach the touchpoints. The layup also sees the same Carbon Nano Technology used in the Oltre XR which reduces the gaps between the resin and carbon fibers vastly increasing the overall stretch and stiffness.
All of this adds up to a planted and confident frame that creates a plush ride, but while the chunky tubing is unyielding to twisting and flexing during big efforts and sprints.
How should an endurance bike ride?
Comfort is your primary concern when buying an endurance bike. As most of your weight is support by your saddle rather than the handlebars, it is most important that the back-end of the bike is comfortable. However, depending on your position, your arms and wrists will still be bearing a fair amount of your weight so front end comfort is still important.
But comfort is not the be all and end all with an endurance bike. After all, comfort is not going to be your only concern 100-percent of the time, and you still want a bike that is able to respond and give an exciting ride when you want to put the hammer down.
>>> Nine ways cycling changes when you're over 40
This means that you don't want a bike that provides comfort by building flexibility into every part of the frame as this will result in a frame that cannot respond to quick bursts of power and will mean that you can't hold your speed as well. So any extra comfort would be offset by the extra time that you have to spend out on the road due to lower average speeds.
Watch: Cycling Weekly Bike of the Year - best endurance bike
As you're not going to be tearing up a tight and twisty criterium circuit on an endurance bike, the handling should be leaning towards the more chilled out end of the spectrum. This means that you need to put in more effort to navigate the bike through corners, which might sound like a bad thing, but also means that less effort is required to keep it on the straight and narrow.
>>> Bike handling techniques: how to improve your cornering?
Don't worry though, it should still be able to cope with everything but seriously fast and technical descents. And anyway, your bike handling is probably more important than the bike's handling when it comes to cornering.
Endurance bike geometry
The geometry is one of the most important element that defines how a bike rides. Indeed, give an expert a geometry chart and they will be able to have a pretty good guess at the type of bike that they are looking at and how it rides.
There are a number of features of an endurance bike's geometry that should make it comfortable for riding long distance over rough terrain, normally giving a more upright riding position that will place less stress on your back and neck.
>>> Neck pain after cycling? Try these exercises for upper body relief (video)
The first thing to look for is a taller head tube, which will usually be more than 17cm for a 56cm frame, although on some bikes it will be approaching 20cm, which will mean that you don't have to lean over as far to reach the bars. Of course, this position can always be tweaked by the use of spacers underneath the stem and by using stems of different angles.
Endurance bikes will also usually come with a slightly shorter top tube, which will effectively bring the saddle and handlebars closer together. Again this will mean a more upright, less stretched out position to reduce the strain on your back and neck.
>>> How to prevent back pain (video)
Other endurance bike geometry features are designed to improve the comfort of the frame and to alter the bike's handling. Most endurance bikes have a slightly slacker head tube angle and greater fork rake, which will create a more compliant front end and more stable handling, while a longer wheelbase (occasionally greater than a metre) also makes for a less twitchy ride.
Endurance bike comfort features
Aside from the geometry there are a whole load of different features that different manufacturers build into their endurance bikes to try and make them stand out from the crowd.
One of the most popular such features is the use of some sort of suspension or vibration dampening technology to reduce the amount of road buzz that is transmitted through the frame and into your body. Two of the most well-known are Trek's Isospeed decoupler technology and Specialized's Future Shock or Zertz inserts, although there are other similar systems used by the likes of Pinarello and Lapierre.
Watch: how to dress like a cyclist
However, other manufacturers create comfortable endurance bikes by working with the carbon-fiber lay ups of the frames to build flex into areas like the seatstays and top tube while other areas of the frame are stiffened up to to make sure that power transfer isn't hindered.
What components should I look out for on an endurance bike?
As when buying any new bike, the most important thing to look at when buying an endurance bike is the groupset. Most endurance bikes will come with a wide range of gearing that should enable you to get up some pretty steep hills even when tired at the end of a long ride.
This will usually mean a compact chainset (50/34t) and a wide range cassette with a 28t or even 32t largest sprocket. However, this compatibility with this size of cassette varies. So if you're buying a bike with Shimano Dura-Ace, then the limit is a 28t cassette, while all Campagnolo rear derailleurs currently have a maximum capacity of 29t. SRAM fans will have more joy, however, with all of the company's rear derailleurs (apart from SRAM Red eTap) catering for a 32t sprocket when bought with a medium cage.
However, your choice of groupset won't affect the comfort of your endurance bike, while your choice of wheels and tires certainly will.
You probably won't get much of a choice if you're buying a complete bike, but some wheels with wider rims combined with wider tires will improve the comfort of the ride. More and more endurance bikes are coming with clearance for 28mm or even wider tires, which can be run at lower pressures to soak up road vibrations, and come with the added benefit of better grip and lower rolling resistance.
The benefits are greater when combined with wider rims, which allow for a greater volume of air within the tire at any given pressure, and therefore a more comfortable ride, as well as making for a wheel that is also able to absorb more vibrations from the road.
Finally, endurance bikes are leading the way when it comes to disc brakes on road bikes. While bikes that are designed more with speed in mind can suffer with the added weight and aerodynamic turbulence that comes with attaching disc brakes to a road bike, these are less important when it comes to endurance bikes.
These are by no means a deal breaker, but certainly offer a number of benefits over rim brakes. Most notably you get more consistent braking performance in wet and dry conditions, while they have more braking power and better modulation as you don't need to squeeze the brake lever as hard to apply the brakes. But make sure you get hydraulic rather than mechanical discs, as mechanical discs are far less powerful and efficient than hydraulic systems.
How much should I pay for an endurance bike?
There's no need to splash the cash in search of a good endurance bike. The geometry is probably the most important thing in creating a comfortable endurance bike, and in general bikes at the lower end of the market have a more relaxed geometry. This means that you should be able to pick up a comfortable endurance bike for well under a grand.
However, if you want something made out of carbon-fiber and featuring the bells and whistles of some snazzy vibration dampening technology, then you can spend a lot more than that. £2,000 / $2500 and a bit of shopping around should be able to secure you a bike with the same frame as used by the pros in the likes of Paris-Roubaix and the Tour of Flanders, albeit with a cheaper (although usually perfectly good) groupset and heavier wheels.
Spending more money than this will move you up the groupset ladder but might not give you a significantly better frame, so it's worth considering whether this extra money is better spent on other kit, such as some high quality shorts which will greatly improve your comfort on long days in the saddle, or a bike fit which could relieve any aches and pains that you get from riding.