Cannondale road bikes range: which model is right for you?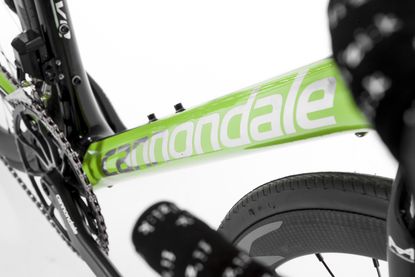 (Image credit: Cycling Studio)
Cannondale is a leading bike brand which creates coveted machines for the roads and mountains, supplying WorldTour teams with winning bikes as well as masses of eager amateurs.
Like many such companies, Cannondale didn't start out as a bicycle manufacturer. Indeed, at its birth in 1970 it manufactured precast concrete housing. Its first bike related product was the ("unintentionally") cheekily named 'Bugger' bike trailer, inspired by a weekend camping trip.
The first bike arrived in 1983, an aluminium touring frame featuring handcrafted oversized tubes. The business hit rocky times in the early 2000s, declaring bankruptcy in 2003, to be later purchased by Canadian based Dorel Industries in 2008.Dorel owns Pacific Cycle, the bike distributor of steeds made in Taiwan and China for US brands such as Mongoose and GT.
Now, Cannondale's HQ is set in Wilton, Connecticut, and it supplies bikes to the women's TIBCO Silicon Valley Bank team as well as the men's squad EF Pro Cycling.
Useful links for road bike shoppers…
Swipe to scroll horizontally
| | |
| --- | --- |
| Brands/topics | Model overviews and reviews |
| BMC bikes | BMC bike reviews |
| Boardman | Boardman bike reviews |
| Cannondale | Bike reviews,SuperSix Evo,CAAD12,Synapse |
| Canyon bikes | Canyon bike reviews |
| Carrera bikes | Carerra bike reviews |
| Cervelo bikes | Cervelo bike reviews |
| Cube bikes | Cube bike reviews |
| Focus bikes | Focus bike reviews |
| Genesis bikes | Genesis bike reviews |
| Giant bikes | Giant bike reviews,Giant Defy,Giant Propel,Giant TCR |
| Pinarello bikes | Pinarello bike reviews |
| Raleigh bikes | Raleigh bike reviews |
| Ribble bikes | Ribble bike reviews |
| Scott bikes | Scott bike reviews |
| Specialized | Bike reviews,Allez,Tarmac,Diverge |
| Trek bikes | Bike reviews,Domane,Emonda,Madone |
| Price points | Bikes under £500,under £1000,under £1500,under £2000 |
| Road bike styles | Aero road bikes,Endurance road bikes,Women's road bikes,Commuting bikes,Touring bikes,Singlespeed bikes,Track bikes,Time trial bikes |
| Other bike styles | Adventure and gravel bikes,Cyclocross bikes,Electric bikes,Hybrid bikes |
Cannondale's technologies
You can trust Cycling Weekly. Our team of experts put in hard miles testing cycling tech and will always share honest, unbiased advice to help you choose. Find out more about how we test.
Every major bike brand has a long list of in-house technologies which feature on their bikes, most of them appearing across the range and utilised on a selection of models. Cannondale is no different - indeed, you could argue it's one of the leaders.
Here's a look at some of the key terms you can expect to come across when browsing Cannondale bikes:
In 2000 Cannondale introduced the BB30, an oversized bottom bracket shell which replaced the steel BB spindle with a 30mm aluminium version. The result? A lighter and stiffer construction.
The brand released the design to the industry, and it's been heavily adopted. The BB30a followed, an asymmetric version of the same which adds material to the non-drive side to create an even stiffer base.
The bike trade shares three key obsessions: low weight, stiffness, and compliance. SAVE (Synapse Active Vibration Elimination) is Cannondale's approach to the last value on that list. In simplistic terms it means designing flex into the fork, seat post and rear triangle to absorb shock through carbon layup and tube shaping.
There are now four versions of 'SAVE': Plus, Speed, Aero and basic Save, with different methods used depending upon the aims of the bike and projected rider.
Cannondale's answer to carbon is its own construction: BallisTec. It places an emphasis on strength and stiffness, but the lightweight chassis in the range prove that the number on the scales hasn't been forgotten.
>>> Best lightweight climber's bike: a buyer's guide
The name comes from the military grade ultra-strong base fibres, also used for ballistic armouring. The combining resins are similar to those used in the construction of carbon baseball bats.As ever, BallisTec carbon comes in several grades. BallisTec Hi-Mod is the strongest and lightest and features on the top end builds.
This one stands for 'Cannondale Advanced Aluminium Design' and is used across all of the aluminium frames. The principle is that rather than taking a tube and trying to shape it to meet the requirements, Cannondale identifies the needs the tube must meet, and then uses software to virtually create and test them until the desired qualities are met.
The popular CAAD13 (which emerges from the CAAD12 and so on) road bike was built in this way to offer the mix of stiffness and low weight which makes it a sought after criterium race bike.
>>> Should your next bike be carbon, aluminium, steel or titanium?
Cannondale doesn't stop at bikes - it also creates its own cranksets and wheels. The HollowGram cranksets are particularly coveted thanks to the spider web design used and System Integration that keeps the weight exceptionally low and the stiffness high.
You'll also spot other terms, like System Integration or Si, which requires less explaining and simply means more integration which drops weight and sometimes drag; mountain bikers would also name Cannondale's relentless suspension innovation as the major accomplishment of the brand.
Neo
Across Cannondale's range of bikes there are e-bike versions which are distinguishable by the word 'Neo' in the name of the bike. These options will give you a little extra boost from a motor that is situated around either the bottom bracket or rear hub.
Cannondale road bikes
If you're thinking of investing your hard earned pennies in a Cannondale road bike, then there's a lot of choice. Here's a description of each of the key models to help you work out which one is for you...
With each product is a 'Buy Now' link. If you click on this then we may receive a small amount of money from the retailer when you purchase the item. This doesn't affect the amount you pay
Reasons to buy
+
Compliant frame
+
Fast wheels
+
Handling
Cutting drag translates into more speed, with less effort. An aero bike what we would all like, and for those of us who can afford such technology,Cannondale's SystemSix does the job well.
The brand's research shows that drag plays a part over 15kph (9mph) and it also says that the SystemSix is faster than the SuperSix Evo on anything up to a 6 per cent gradient, thanks to the aero tubing amongst other features.Ten per cent less power is needed to maintain speed on the SystemSix and at 48km/h (30mph), this equates to a saving of over 50 watts, and when drafting you'll get up to 60% of that benefit.
For riders wanting to go faster on the flats, downhill, sprints and climbs that aren't the steepest (up to 6% gradient), the SystemSix will certainly deliver.The 'KNØT' bar and stem sees cabling run underneath the stem, inside a plastic covering down the inside of the head tube, whilst split spacers mean you don't have to de-cable just to make adjustments. Though the bar/stem combo looks like a one piece, it's a two part combo with eight degrees of adjustability.
The frame is disc brake only, making room for tyres up to 26mm, though it is optimised for a 23mm.
Bikes start with a Shimano Ultegra groupset, and at the other end there are two Hi-Mod models with top end carbon and come with an integrated wheel sensor for accurate speed and distance information.
Reasons to buy
+
Great handling
+
Lightweight
+
Compliant
+
Stiff
Reasons to avoid
-
Looking a little dated now
-
Quick release rear instead of bolt through
-
Isn't as aero as rival bikes
The Cannondale SuperSix EVO is the company's carbon all-round race bike. The geometry is designed around a flat back, head down approach to riding, although a subtle update has made it a little less aggressive than previous versions. It's also renowned for its nimble handling and low weight.
The model began life in 2004 as theSix13. Over the years, the bike dropped weight right down to665g for a 56cm frame - but this was later bolstered to provide a stiffer platform. The frames of 2017 came in at777g for a 56cm, but with greater system integration which means the built bikes were actually lighter. With the increasing popularity of disc brakes, the range includes models with rotor stoppers but there are still rim brake options.
A completely updated SuperSix EVO was revealed in June 2019 featuring a revamped frame featuring airfoil shaped tubing and dropped stays. More aero, with drag reduced up to 30% and more compliant than previous versions it has pushed the SuperSix EVO into a wider role with greater appeal.
>>> Check out this super-slimmed down Cannondale hill climb bike
With clearance for up to 30mm tyres, the SuperSix EVO can also be built up for comfort across any road surface. The most expensive SuperSix EVO model is the Hi-Mod Disc Dura Ace Di2 with Shimano Dura Ace Di2 and Cannondale's high-performing KNØT45 carbon wheels, while the lower end model is speced with Shimano 105 and rim brakes.
Cannondale offers women's specific builds on their bikes. These feature identical frames, with a smaller size available - from a 44cm - plus shorter stems, narrower handlebars, and women's saddles.
Reasons to buy
+
Versatile
+
Frame ride quality
+
Spec
The racing world has certainly not turned its back on aluminium. Though even the best aluminium is heavier than the best carbon, it can often rival cheap carbon - and is more resilient.
The Caanondale CAAD (Cannondale Advanced Aluminium Design) has been through many iterations, and we're now on the CAAD13. The CAAD12 was pretty popular; indeed, it earned itself a 10/10 score and a place in theCycling WeeklyEditor's Choice awards in 2018. The newer version is more aero, and more comfortable.
The aerofication of the CAAD divided opinions. It meant moving away from the traditional round tubes the model was renowned for, with truncated airfoil shaping to reduce drag to a reported 30 per cent.Extra comfort is possible with room for 30mm tyres and also is said to come from dropped seat stays - again a common method, but one with aesthetics that won't please all.
The geometry is not far off the SuperSix: the stack and wheelbase are mirrored, for example, as are the head tube and seat tube angles.
CAAD13 models start with Shimano 105, whilst the top end model comes with SRAM Force E-Tap AXS.Cannondale also offers the CAAD Optimo model, a cheaper entry level version with either a Shimano Sora or Tiagra groupset.
Reasons to buy
+
Comfortable frame
+
Impressive groupset
+
Lively ride when needed
+
High quality disc brakes
Reasons to avoid
-
Wheelset doesn't match the quality of other components
Newsflash: not everyone wants to race. The Synapse is Cannondale's answer to the endurance bike. The Synapse has a more relaxed geometry and with a greater focus on compliance it has mounts for mudguards.
Only available with disc brakes, the Synapse is available with an aluminium or carbon frame. Being an endurance bike, dampening vibrations is important - and SAVE is employed across the models, expect for the very bottom rung which gets a standard 27.2mm seatpost. In the higher tiers, Cannondale uses a proprietary 25.4mm seat post that offers more compliance. The seat stays and fork are built to do the same.
The top end models feature a 'Power Pyramid' bottom bracket, designed to place material in the optimum position for power transfer. Research carried out at theZedler Institute test lab ranked the bottom bracket and head tube of the Hi-Mod Synapse above leading endurance bikes such as the Specialized Roubaix Pro, Trek Domane SLR, BMC Roadmachine 01 and Canyon Endurace CF SLX.
Cannondale Synapse carbon models start with a Tiagra build, and top out with a Hi-Mod frame and SRAM Red E-Tap AXS.There are aluminium builds too, with Shimano Sora up to Shimano 105.The women's models promise size specific adjusted carbon lay up or aluminium tubing, and optimised touch points.
Reasons to buy
+
Handling and traction
+
Power application
+
Range
Reasons to avoid
-
Almost too much torque
-
Wheel spec
-
It's not pretty
Cannondale's Topstone is a gravel/all-road bike, featuring a super light 'Kingpin' suspension system, located part way up the seat tube, to ramp up comfort on the road and off the road.
Thechainstays, seat tube and top tube have 'flex zones' designed to deflect more impacts than a traditional frame - equating to around 30mm ofmovement at the saddle, with around 25mm of that movement coming from around the bottom bracket area and a further 5mm centred around the rear axle path.Cannondale says that all of this adds up to an experience similar to running a 9mm wider tyre.
There are alloy models, which start with microSHIFT, and top out with Shimano Ultegra. The carbon models start with Shimano 105 and the other end is equipped with SRAM Force eTap AXS.
There's also the Topstone Lefty which has 30mm of travel in its Lefty suspension fork. Paired with the 'Kingpin' rear suspension, it gives this model better control and even more comfort.
Reasons to buy
+
Excellent clearance
+
Stable handling off road
+
Tubeless ready
+
Compliance features built into frame
Reasons to avoid
-
Front mech cable routing will attract muck
-
Needs symmetrically dished rear wheel - not all aftermarket options are compatible
-
Low component spec for the price
Cannondale's cyclocross bikescombine technologies seen on their road and mountain bikes to create the nimble handling of a race bike with the robust strength and root/rock tackling expertise in the mud-world.
The CAADX bikes, as you might expect, feature CAAD developed aluminium frames whilst the SuperX sits top of the tree with BallisTec carbon. The geometry remains largely similar with the same stack, reach, head and seat tube angles promising a similar experience.
The CAADX bikes come with 46/30 chainsets, alongside 11-36t cassettes. By contrast, the SuperX Force 1 and GRX models have gone single ring, with models sporting 40 tooth chainrings and 11-36 or 11-34 cassettes respectively which are suited to muddy races with quick gear changes required.
Of course, there's a price difference: CAADX models start with microSHIFT gearing for the CAADX 2, whereas the SuperX models open up with Shimano's off-road specific GRX groupset for the SuperX GRX.
Reasons to buy
+
Fast, comfortable ride
+
Good choice of tyres
+
Stealth look
+
Good price
Reasons to avoid
-
Big jumps between gears
-
Very wide handlebars
For those looking for versatility, there's a range of hybrid bike options.For urban riders, there's the infamous Cannondale Bad Boy which is built for visibility and durability. This carries the lefty rigid fork for precise handling and the top two models, the Bad Boy 2 and Bad Boy 1 have a bright, integrated SuperNova LED light strip.
For these two models there's also an integrated rear light in the alloy seatpost, plus reflective 'top tube bumpers' to protect your frame from leaning and locking.All models carry disc brakes and wide volume 40mm tyres that will roll over even the worst city roads.
Alternatively, for mixed terrain commutes the Cannondale Quick comes with a rigid fork, 35mm tyres capable of tackling unmade roads, flat handlebars and aluminium frame with wide ranging gears, and all with disc brakes.
The Cannondale Quick CX options have 50mm fork travel included and 40mm tyres which can tackle rougher terrain.
If you want a bit more of an urban 'town' bike with retro appeal then Cannondale's latest Treadwell range is where to look. Step-thru frames, mudguards and front and rear racks make them versatile and ideal for commuting or just heading to the shops.
Thank you for reading 20 articles this month* Join now for unlimited access
Enjoy your first month for just £1 / $1 / €1
*Read 5 free articles per month without a subscription
Join now for unlimited access
Try first month for just £1 / $1 / €1