Best time trial bikes and triathlon bikes 2023: what to look for and our hand picked recommendations
Slicing through the air is no easy feat so we've compiled a list of best time trial and triathlon bikes that will make the job a fair bit easier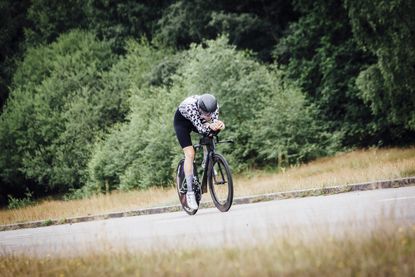 Time trial bikes and triathlon bikes are designed to be as aerodynamic as possible, in a bid to minimise drag and make you as fast as possible.
As soon as you travel over 15kph (roughly 10 mph) the biggest force you have to overcome as a cyclist is drag and the faster you go, the greater the drag.
Often referred to as the race of truth, time trials are considered by many to be purist form of bike racing. Being an event where rider and machine alone are pitted against the clock, cyclists have always looked to maximise aerodynamics in order to go as fast as possible.
If you're wondering where to start, our pages on everything you need to know to get into time trials will give you the complete low down, from how to get started through to the best kit at the Tour de France, world championships, including what you might see at the Olympics.
In this race, the bike can make a big difference - and the more wind cheating it can be, the better, although be sure not to overlook the importance of wearing one of the best skinsuits for cycling to assist in the wattage department.
Here is our guide to time trial and triathlon bikes in which we will explain what to look for and the main differences between different models.
What ever your motivation or intended use, here is a list of triathlon and time trial bikes that you may want to consider.
Best time trial bikes
You can trust Cycling Weekly. Our team of experts put in hard miles testing cycling tech and will always share honest, unbiased advice to help you choose. Find out more about how we test.
Read on for more information on what to look for, and an explainer on what you can expect at each price point. First, here are some models we recommend.
With each product is a 'Best Deal' link. If you click on this then we may receive a small amount of money from the retailer when you purchase the item. This doesn't affect the amount you pay.
Giant Trinity Advanced Pro 2
A frame set built around Computational Fluid Dynamics (CFD) testing, and wind tunnel testing, the Trinity uses advanced-grade composite throughout the frame and fork. The cockpit features an 'Aero Vault' system with an integrated front hydration system, plus ski-bend handlebars.
At this price point, the groupset is Shimano Ultegra, with a standard 36/52 chainset and Giant's own P-A2 wheelset.
The rim brakes are again Giant's own SpeedControl SL creation, and there's an ISM saddle which is popular among time triallists.
Bianchi Aquila CV Time Trial Carbon Ultegra Road Bike
Bianchi has used a carbon aero frame, embedding the Countervail technology that you'll find in bikes such as the Oltre XR4. This material increases the comfort of a frame that might otherwise be stiff and unyielding.
The geometry is designed for UCI WorldTour level pros, and is super aggressive, with plenty of aero nods, such as the shaped seat tube and integrated front end plus a 'NACA' (National Advisory Committee for Aeronautics) airfoil shape to the handlebar - though we'd like to see the level of external cabling reduced in time.
The brakes are hidden and the aluminium seat post can be set in two different positions, to suit TT or triathlon needs.
Reasons to buy
+
Aerodynamic
+
Fast
+
Trickle-down technologies from higher end models
Reasons to avoid
-
Lowering the cost in some places may have lowered the aerodynamics
Cervélo has long had a name in aero frames, and the P2 aims to bring performance to those starting out on their journey.
Sharing the same carbon frame as the higher end P3, this model comes with Cervélo's BBRight bottom bracket, which increases stiffness, and a dropped down tube to cut down on drag.
The cockpit is highly adjustable, and the groupset is Shimano 105 with a 50/34 chainset. The system itself is more than sufficient, but that compact chainset is something you might want to swap unless you like to spin a smaller gear.
The wheels are Shimano RS100 clinchers, wearing 23Continental Grand Sport Race clincher tyres. Again, you might want to upgrade to some deeper wheels with wider tyres for more comfort and more efficient rolling over bumpy roads.
If you're looking for the ultimate in speed seeking design, check out the unconventional looking Cervelo Px5.
Reasons to buy
+
Intelligent speccing
+
Great geometry
+
Excellent value
+
Adjustable rake
Reasons to avoid
-
Di2 box could be more accessible
The Speedmax family from Canyon is vast - starting from the £2099 for the Speedmax CF 7.0 and travelling north of £8k for the Speedmax CF SLX 9.0, with plenty of options in-between.
The entry level model enjoys a carbon frame, built around a Shimano 105 frame with Mavic Cosmic Elite hoops. The cockpit features the Canyon H30 Basebar Flat CF.
As you move through the range, the cockpit becomes even more sophisticated, with greater integration and more storage space, ideal for long distance events.
Di2 shifting is introduced at higher price points, which reduces hand movement required to shift, and the wheels become deeper and faster, such as the Zipp 858 NSW hoops fitted to the CF SLX 9.0 LTD pictured.
S-Works Shiv Disc limited edition
The redesigned Shiv from Specialized has been fine tuned specifically for triathlon, and is now 60 seconds quicker than the UCI legal Shiv.
The fin at the back holds water, with Ironman length races at front of mind. To make travel easier, the bars fold by simply loosening five bolts.
For the price - £10,999 - you'll be expecting top end spec, and you certainly get it, with Shimano Dura-Ace Di2 shifting, Roval CLX 64 carbon rims, and hydraulic disc brake.
Read more: Specialized Shiv redesigned
Reasons to buy
+
Stiff frame
+
Fairly easy to make adjustments
+
Value for money
+
Feels lightning fast on flat, straight roads
Reasons to avoid
-
Wheels and base bar could do with upgrading but match the price tag
-
Not so suited to sporting courses
Boardman had its own wind tunnel, and its bikes were tested and optimised to cut through the air as efficiently as possible.
The ATT 9.0 is an entry level option that boasts a C10 carbon frame and the wind cheating attributes of many of the top end bikes, but with a Shimano 105 groupset and 35mm Vision Team Comp wheels.
The Zipp cockpit isn't the most aero optimised, but it is highly adjustable to help you achieve your optimum position.
What is a time trial bike or triathlon bike?
Time trial bikes are specifically designed for the demands of riding against the clock, usually on flatter terrain where the difference between winning and loosing can often be mere seconds.
Maximising aerodynamic efficiency is the number one priority for a time trial bike, with comfort and weight becoming secondary.
Time trial bikes are also popular with triathletes competing in non drafting triathlons and Ironman events.
You don't need a time trialbike to take part in a time trial or triathlon, but if you want to maximise your performance and go as quick as possible, you should look to use one.
This is because they have different geometry to normal road bike which enables the rider to adopt a much more aerodynamic position.
As the first point of impact with the wind, it's vital to get the front of the bike as aerodynamic as possible, with even attention being paid to the impact of equipment being strapped on to your bike can do to your numbers. For example the Wahoo Elemnt Bolt bike computer has been specifically designed to work in harmony with a bikes aerodynamics.
Typically all time trial bikes will have forward facing tri-bars to enable you to get your arms and body narrow, a shorter head tube helps achieve a lower more aggressive position, while the seat tube angle will be steeper, positioning the rider over the bottom bracket and further forward on the bike.
What's the difference between a road bike and a time trial bike?
Time trial bikes are usually less comfortable, considerably heavier (usually 1-2kg or 2.3-4.6lbs), with deeper tube sections that make the frame more aerodynamic. The cockpit will feature a flat base bar and some tribars with gear shifters on the extensions, which is much more aero than a drop handle bar.
The main difference is geometry. You can stick a pair of clip on tribars onto a road bike (and this is a great starting point for beginners) but you will struggle to get the right position because normal road bikes try to position your bum behind the bottom bracket.
TT bikes have steeper seat tubes that allow the rider to rotate the pelvis and sit over or in front of the bottom bracket. The steeper seat tube allows the rider to open up the hip angle, which helps distribute the load to different muscle groups in the legs.
What's the difference between a time trial bike and triathlon bike?
In the UK time trialling is a popular sport, however in the rest of the world it is much more niche. Consequently, the market for Triathlon bikes is much larger than that for TT specific bikes.
The best time trial bikes are primarily designed for use by professional riders competing in WorldTour bike races such as the Tour de France. Races such as the Tour fall under the jurisdiction of the UCI and have to convene to the rules of that governing body.
The UCI rules and regulations dictate tube shapes, frame design and geometry. UCI legal bikes have to conform to the classic bike frame design of two triangles and the other rules stipulating what can and can't go on a bike, not that brands haven't questioned the balance between clarity and ambiguity of the rules.
>>> Triathlon suits: everything you need to know
The rules and regulations for the best triathlon bikes are much more relaxed than that laid out by the UCI and the result is that riders can adopt more aggressive positions and bike design can be more radical. A great example is the Cervelo P5X.
If your wondering where to start, our page dedicated to everything you need to get into triathlon will help and guide you in to the sport.
It's worth noting that in the UK, most Time Trials , including open events fall under the remit of the CTT governing body and not British Cycling. For CTT events it is fine to use a Non UCI legal bike such as the Cervelo P5X or water bottle fairings like those that can be added to the Canyon Aeroad. A notable exception to this would be the National Time Trial championships.
Watch Video - How much speed can you buy? (featuring the canyon speedmax tt bike)
The best entry level time trial and triathlon bikes
The best entry level time trial bikes will usually come with a good quality aluminium frame and mid tier groupset such as Shimano 105.
Wheels are likely to be non aero, although some brands will supply entry level deep sections, although you can always upgrade at a later date to a pair of the best road bike wheels.
They will feature less integration than the much more expensive top end models and this results in the frame being slightly less aerodynamic. However, this is usually less than you would think, often in the region of just six watts.
The reason for this is that the biggest obstacle to the wind will always be YOU, the rider.
Entry level time trial bikes are equal to top spec machines in their ability to allow the rider to adopt an aero position, with the rider typically accounting for 90% of the total drag at 48kph (30mph).
One of the best examples of this is the story of Richard Bussell, who won the National 10 mile time trial championship on bike refuted to cost just £1000. Although the bike was made up of used parts, it demonstrates that the difference between top end frame sets and entry level is aerodynamically small.
The best mid level time trial and triathlon bikes
The best mid point time trail bikes are likely to be carbon and you will likely start to see some integration. Integration involves specially shaped parts and components that help streamline the package. Groupsets are likely to mid level, such as Shimano Ultegra mechanical and Di2.
The best top end time trial and triathlon bikes
At the highest end of the market are the best time trial bikes and will be mirror images of those used by professional athletes and serious amateurs. Expect to see lots of exotic looking tube shapes, especially if looking at a non UCI legal time trial bike, designed especially in the most effective way to cheat the wind.
The top end time trial bikes will also be slightly more aerodynamic than mid price machines, although taking just the frameset into consideration this is only likely to be handful of watts, and the vast majority of the savings will be in the design or choice of components the bike is equipped with.
To a competitive rider, where every watt counts this can be significant though. Top spec groupsets, such as SRAM eTap and Shimano Dura Ace help reduce weight, giving top end machines a slight weight advantage over mid price bikes.
Electronic groupsets are often found on top end models. Great examples of top spec time trial and triathlon bikes are the Canyon Speedmax CF SLX and Cervélo P5.
Another option is the BMC Timemachine. This model family is available in two key versions: Timemachine TM01 or Timemachine TM02. The former features a 'v cockpit' which lifts the stack height and is more suited to triathletes. The TM01 also has a hinged fork, to allow for easy brake pad swapping when alternating between aluminium training wheels and carbon race wheels. With the additional v cockpit and fairings, such as the storage box, the Timemachine is not UCI legal, which is worth bearing in mind.
Features and what to look for
Wheels on Time Trial Bikes
Generally speaking, the deeper the wheel the faster it will be, with a rear disc being the preferred option for top time trialists. Time trial bikes are not often sold with disc, or optimum race wheels. If buying a complete bike we would suggest a bike with some decent wheels that can become your training hoops. You can invest further down the line in some faster wheels. It is worth budgeting for fast wheels as many experts suggest they offer more of an aerodynamic advantage than the frame. Regarding which wheel type is fastest (tubulars, clinchers and tubeless), we have a video you can watch here.
Groupseton Time Trial Bikes
If most of your racing is likely to be flat, then the slight weight saving of a premium groupset is not going to be hugely significant.
If you are looking to save money without a loss in performance then equip the best time trial bike you can afford with a slightly lower specced road bike groupset. #
That said, electronic groupsets are useful because they are easier to set up and maintain - something advantageous on very aero frames, with complicated cable routing. Electronic groupsets also allow you to position additional shifters on the base bar as well as the tribars, which is useful.
Frame design of the best time trial bikes
The best time trial bike will only be the best if it fits you, as this will determine if you can get into an aero position, so make sure you undertake a bike fit in some shape or form before you invest.
Time trial bikes size differently to road bikes (often a size smaller), so it is worth asking an expert, having a time trial specific bike fit, or sitting on a few in a shop.
Again, the consensus among experts is that wheels make more difference than the frame, so if are looking to save cash, but not loose too many watts, it could be better to spend more money on the wheels and potentially go a little lower on frame spec. For example, a Canyon Speedmax CF with a Zipp 808 front and Disc rear wheel, would be faster than a Canyon Speedmax CF SLX with Zipp 404s front and rear.
Saddle on the best time trial bikes
Do not be too concerned with the saddle your TT bike comes with as most people will swap out the saddle in a bid to try and find something that suits them. If you want more info on how to find the right seat for you, head over to our guide on the best cycling saddles, which includes our pick of the best, hints and tips on finding one to suit you, along with a helpful buying guide video.
UCI Legal Time Trial Bikes
If you are going to be competing in UCI events, then make sure the frame is on the UCI approved frames list and is legal. Team Dimension Data race on the Cervelo P5, but in order to make it UCI legal the team has to swap the fork for the shallower Cervelo P3 one.
Other bikes such as the Canyon Speedmax and Scott Plasma have non UCI legal fairings and nose cones, that can be removed to make the bike legal, should the need arise.
Get The Leadout Newsletter
The latest race content, interviews, features, reviews and expert buying guides, direct to your inbox!