Canyon Speedmax CF: the best value time trial bike on the market?
The new Canyon Speedmax CF has just been launched with, what on paper, appears to be a very competitive price for a complete TT bike.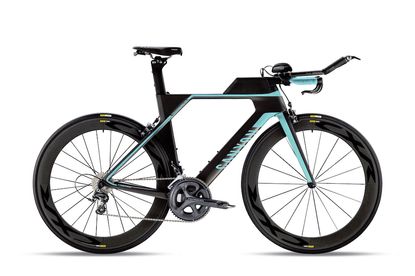 (Image credit: marion)
Canyon has just launched a new time trial bike, also intended for use in triathlons. The new Canyon Speedmax CF is designed to be a more affordable version of the Canyon Speedmax CF SLX, which starts at £4399. By comparison, the new CF will start at £2200.
The Canyon Speedmax CF and CF SLX look remarkably similar, but there are some key differences that account for the price difference. Firstly, the cockpit of the CF features less integration, but much greater adjustability. Although marginally less aero, this does give greater flexibility and practicality to the consumer.
>>> How a bike costing £1,000 won the National 10-Mile Time Trial Championship
The geometry of the bike is slightly different too, with the less expensive model possessing a slightly higher stack and shorter reach in the frame. Canyon explains that "this results in a more balanced position to enhance rider comfort without having too great an impact on overall aerodynamic performance."
According to Canyon the Speedmax CF will come with a "25mm headset spacer that enables two base configurations for bar height." The box behind the stem is a storage solution intended for food. There is a lower profile version of the box available so that it still fits flush once the spacer is removed.
>>> How much faster are aero wheels? (video)
Shimano direct mount calipers, the same as found on the Canyon Aeroad, have replaced the integrated brakes of the Speedmax CF SLX. On first looks, these appear to be much more easy to live with, transport and adjust.
Both bikes use the same 'Trident 2.0' tube profiles to reduce drag and according to Canyon the much less expensive Speedmax CF is only 0.7 of a watt slower at 45kph than the CF SLX. The carbon layup is slightly different between the two frames too.
Watch: how much speed can you buy?
Overall, the lower levels of integration and frame complexity have helped Canyon keep the price much lower than the CF SLX.
The entry-level model, which starts at £2200 will be equipped with Shimano 105 and Mavic Cosmic Elite wheels. More details on other models and pricing are still be announced at the time of writing.
Having ridden the last two versions of the Canyon Speedmax we can't wait to get our hands on this one. The price appears to be very competitive and will no doubt appeal to a lot of riders. Let's just hope that Canyon can keep up with the demand.
>>> Hayley Simmonds smashes her own 10-mile time trial record
The new Canyon Speedmax CF will be available in five sizes, ranging from XS to XL and there will be six different models, including two women's models.
Thank you for reading 20 articles this month* Join now for unlimited access
Enjoy your first month for just £1 / $1 / €1
*Read 5 free articles per month without a subscription
Join now for unlimited access
Try first month for just £1 / $1 / €1