Hayley Simmonds smashes her own 10-mile time trial record
James Gullen equals Alex Dowsett's 10-mile championship record in East Yorkshire, as Hayley Simmonds continues record-smashing run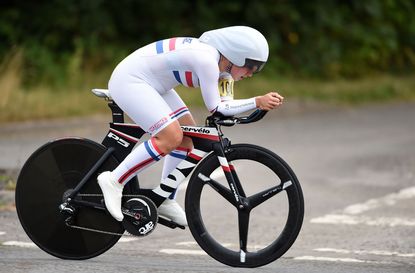 Hayley Simmonds sliced 13 seconds off her own national 10-mile time trial competition record - and helped smash the women's team record – in the Team Swift event on the V718 in East Yorkshire on Sunday.
The 28-year-old from Cambridge clocked 19-18 to beat her previous competition record of 19.31 set last month on the same course.
She was backed up by AeroCoach team-mates Victoria Smith and Lydia Gurley who clocked 20.36 and 20.50 respectively.
Their combined time of 1:00.44 was 2.41 faster than the previous competition record set in 2007 by Scienceinsport.com riders Wendy Houvenaghel, Lesley Walkling and Helen Carter.
"In the past I didn't really have team members to ride with but these two are really great girls," said Simmonds.
"I'm really happy that we posted three good times as that was the aim for today. The conditions weren't with us either as it was 5.5 miles into the wind and 4.5 miles back with it."
>>> Hayley Simmonds and Richard Bussell win national 10 time trial titles (gallery)
National 10- and 25-mile champion Simmonds believes that she can to go even quicker next season.
"I believe that if I got really good conditions I could chase the 19-minute barrier," she added. "Hopefully I can break into the 18s at some point, it is coming to the end of the season now so maybe next year."
>>> Hayley Simmonds becomes first woman to break 50-minute mark with new 25-mile record
There was almost a new men's competition record too as despite less than perfect conditions James Gullen (Pedal Heaven) posted a 17.20 to equal the previous record set in 2014 by Alex Dowsett (Movistar).
The 26-year-old from Kippax in West Yorkshire will be ruing a rain shower which made the turn slippery and a slight breeze as he missed out on taking the record by one second.
National 10 champion Richard Bussell (AeroCoach) clocked 17.49 for second while Stephen Irwin (North Lancs RC) finished third in 18.09.
Results
1. James Gullen (Pedal Heaven) 17.20
2. Richard Bussell (AeroCoach) 17.49
3. Stephen Irwin (North Lancs RC) 18.09
4. Keith Murray (Drag2Zero) 18.17
5. Jacob Tipper (Pedal Heaven) 18.25
6. Ian Guilor (Mapperley CC) 18.35
7. George Evans (Team Bottrill) 18.36
8. Paul Ashley (Fareham Wheelers) 18.40
Woman: Hayley Simmonds (AeroCoach) 19.18
Thank you for reading 20 articles this month* Join now for unlimited access
Enjoy your first month for just £1 / $1 / €1
*Read 5 free articles per month without a subscription
Join now for unlimited access
Try first month for just £1 / $1 / €1