Hayley Simmonds becomes first woman to break 50-minute mark with new 25-mile record
Simmonds adds the 25-mile record to the 10-mile and 50-mile records she already holds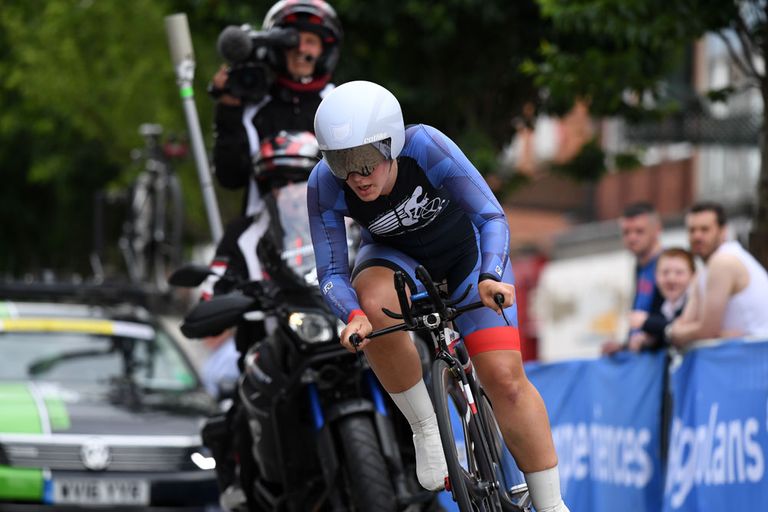 (Image credit: Andy Jones)
Less than 24 hours after breaking the women's national competition record over 10 miles, Hayley Simmonds (AeroCoach) broke the 25-mile record as she powered to an impressive time of 49-28 in South Wales.
The 28-year-old – who became the first woman to go under 50 minutes for the distance – has now broken three national records in the space of a week, following on from her record-breaking 50-mile performance the weekend before.
The conditions for Sunday's Bynea CC 25-mile event near Rhigos were good but not perfect. But they still yielded an impressive time from Simmonds, as well as a new tandem competition record with Adam Duggleby (Secret Training CC) and Steve Bate (Para T) covering the R25/3h course in 43.23.
"It's amazing to be the first woman to go under 50 minutes, it was a real relief!" said Simmonds. "I wasn't sure how I was going because I didn't feel fresh after setting the ten record the day before. But I put my head down and dug seep.
"I felt quite sick a couple of miles in, but luckily it passed because I didn't want to do three-quarters of the race feeling that way. I just focused on my numbers and pushed hard where in counted.
"I think you could still get faster days on this course, and there are other riders who could do 49s, so I don't think it's going to be as safe as my 50-mile record!"
Simmonds now turns her attentions to the Women's National 25-Mile Championship on Saturday near Alconbury in Cambridgeshire, where she must surely start as one of the favourites.
She added: "I'm feeling great heading into the National 25. I will try and push on with training for the first half of this week, then wind it down on Thursday and Friday."