Yet another competition record for Hayley Simmonds as she smashes her 10mi time
Hayley Simmonds knocks 15 seconds off her 10-mile competition record just six days after breaking the 50-mile record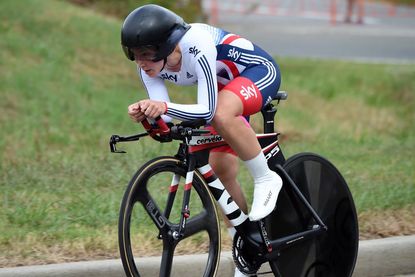 (Image credit: Watson)
Just six days after breaking the national 50-mile competition record, Hayley Simmonds (AeroCoach) broke her own 10-mile competition record in the Team Jadan event in East Yorkshire on Saturday afternoon.
The 28-year-old Cambridge-based rider clocked 19.31 to slice 15 seconds from her own women's competition record for the distance, which was also set on the V718 course near South Cave in East Yorkshire.
In-form Simmonds – who is driving to Wales on Saturday night to ride the Bynea CC 25-mile event on the R25/3h course in Wales on Sunday, where she could break another national record – said: "I knew that the record would be a possibility, but it was quite windy and it was difficult to tell just how windy it was.
"It was probably windier than when I set the record previously last year on the same course," she added, referring to the 19.46 she clocked in the Bridlington CC 10 last August.
>>> Hayley Simmonds wins British women's time trial title as Pooley places fourth
The V718 course is an out and back course which makes maximum use of prevailing coastal winds coupled with vehicles travelling at speed along the A63, shortly before it turns into the M62 near Hull.
The course heads eastbound for around 4.5 miles, then after the turn just before North Ferriby it heads back west for around 5.5 miles.
>>> Hayley Simmonds surprised by her winning margin in National Time Trial Championships
"I came over the roundabout at the turn in about 8.40, but it was a headwind back and of course the return leg is further, so I wasn't sure how I would do," added Simmonds.
"When I did the 50 record the week before I was on the bike for an hour and 40 so I had plenty of time to work out in my head how I was doing, whereas today, because it's much faster and shorter it's just a case of head down and go for it.
"I knew I had overtaken two riders on the outward leg, then another one on the way back, so I knew I was going well, but I wasn't sure if I was on record pace until I got back."
Thank you for reading 20 articles this month* Join now for unlimited access
Enjoy your first month for just £1 / $1 / €1
*Read 5 free articles per month without a subscription
Join now for unlimited access
Try first month for just £1 / $1 / €1