Hayley Simmonds and Richard Bussell win national 10 time trial titles (gallery)
Hayley Simmonds once again showed why she is the best time triallist in the UK at the moment. Photos by Andy Jones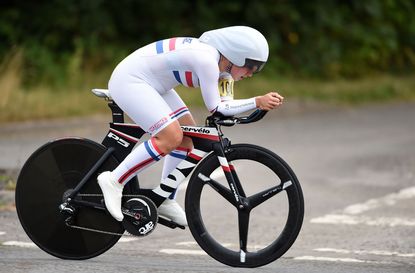 Hayley Simmonds (AeroCoach) continued her stellar season with victory in the national 10 mile time trial. Her time of 21-28 was enough to beat her nearest rival by 35 seconds.
Simmonds already held the 25 mile, 100 miles and British national champion titles this year and has now added the 10 mile distance her haul this season.
Despite her dominance in time trialling over recent months, Simmonds was overlooked for the Rio 2016 Olympic Games. Emma Pooley rode the time trial in GB colours but finished down in 14th.
Henrietta Colborne (Team Ford Ecoboost) was the best of the junior women, her time of 23-23 enough to secure the win in that category.
Adam Hartley (PH-Mas Cycling) was the quickest of the junior men with a time of 20-09 on the G10/42 course in Dorking, Surrey.
The result in the men's 10, which took place the following day on the P886 course in Hampshire, was much closer as Richard Bussell (AeroCoach) won by just four seconds to defend his title.
Bussell's time of 20-35 was enough to knock James Gullen (Pedal Heaven) down into second place.
Results
Women's national 10 mile time trial
1. Hayley Simmonds (AeroCoach) 21-28
2. Anna Turvey (Tyneside Vagabonds CC) 22-03
3. Julia Shaw (Drag2Zero) 22-12
4. Kate Allan (Drag2Zero) 22-43
5. Victoria Smith (AeroCoach) 22-44
6. Rachael Elliott (Newbury RC) 22-56
7. Nicola Juniper (Team Ford Ecoboost) 22-57
= Emily Cox (Bedfordshire Raod RT) 22-57
9. Lydia Gurley (AeroCoach) 23-02
10. Alice Lethbridge (Starley Racing) 23-04
Men's national 10 mile time trial
1. Richard Bussell (AeroCoach) 20-35
2. James Gullen (Pedal Heaven) 20-39
3. Ryan Perry (Langdale Lightweights RT) 20-46
4. Matt Clinton (Mike Vaughan Cycles) 21-14
5. Lloyd chapman (Pedal Heaven) 21-17
6. Joseph Fry (Pedal Heaven) 21-21
7. Matthew Smith (Team Bottrill) 21-23
8. John Dewey (Team Bottrill) 21-27
9. Christopher Fennell (Thanet RC) 21-39
10. James Boyman (Farnham RC) 21-45
Thank you for reading 20 articles this month* Join now for unlimited access
Enjoy your first month for just £1 / $1 / €1
*Read 5 free articles per month without a subscription
Join now for unlimited access
Try first month for just £1 / $1 / €1