How much faster are aero wheels? (video)
We decided to do an experiment to see how much difference (in general terms) aero wheels make. Here are our findings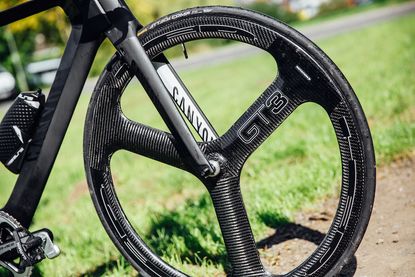 (Image credit: chris catchpole)
Aero wheels don't just look cool, we are told they make us faster too. But how much faster? Aero wheels can be expensive, so we wanted to see how much faster they typically make you to try and establish if they are worth the investment.
To do this we headed down to Herne Hill velodrome in South London to put some different wheels to the test.
We have decided to test three sets of wheels
Standard Setup
A pair of Mavic Ksryium R-Sys SLR wheels. These are to represent a typical box section, low profile wheel found on most road bikes.
Racing Setup
The second pair, we have are ENVE Smart 4.5s. The front is 40mm deep and the rear is 50mm. This depth has been chosen as it is typical of aero wheels most professionals will opt for in road races.
Time Trial Setup
We have a Hed GT3 trispoke front and ridiculously bling Lightweight Autobahn Disc. This is widely considered to be the ultimate time trial wheel set up and has been used by Alberto Contador amongst others.
We also used it in our 'How much speed can you buy?' feature.
The Experiment
I enlisted the help of Dr Hutch who, as a professional time triallist, is an expert at riding smoothly around a track.
>>> Buyer's guide to Aero wheels (video)
Each of our three sets of wheels were ridden for 10 minutes at 200W and 10 minutes at 300W. The reason for this is that we felt that 200W represents a power output sustainable by a decent club or sportive rider and that 300W is typical of a time triallist or racer. From this we wanted to establish if it is still worth getting aero wheels even if you are not riding at race pace.
>>> How much faster is an aero bike?
All the runs began from a rolling start and we measured the distance travelled. Power measurement was via Power Tap P1 pedals and Challenge Record Tyres with Latex tubes were used on all the wheels.
>>> How much speed can you buy? (video)
Hutch rode exclusively on the drops, maintaining the same position throughout the runs and all the wheels were fitted to the same Merida Reacto Team Bike.
The Results
Now before we get on to the results, we are aware that this is not the most accurate test in the world and wind can play a part, but it is a real world test.
For all the marketing claims based around wind tunnel data, you don't ride your bike in a wind tunnel, you ride outside and Herne Hill represents as much of a controlled outside environment you can get.
Regarding the results, the actual power Hutch recorded is provided, along with the normalised power of the run. This is important, as it shows how smoothly Hutch rode.
1) Mavic R-Sys SLR
At 200W (200W actual, 201W normalized) - Distance travelled: 5120m at 30.7 kph
At 300W (299W actual, 299W normalized) - Distance travelled: 6070m at 36.4 kph
2) Enve Smart 4.5
At 200W (202W actual, 203W normalized) - Distance travelled: 5460m at 32.7 kph
At 300W (301W actual, 302 normalized) - Distance travelled: 6442m at 38.6 kph
3) Hed GT3 Trispoke and Lightweight Autobahn
At 200W (200W actual, 202W normalized) - Distance travelled: 5520m at 33.1 kph
At 300W (300W actual, 300 normalized) - Distance travelled: 6600m at 39.6 kph
The results suggest that even when travelling at just 200W there is a significant aero benefit to some deeper wheels.
Dr Hutch suggested that this would be enhanced by the conditions on the day which were a little windy. The time trial set up was slightly faster still, perhaps less than expected.
As a veteran time triallist, Hutch speculated that he would expect the TT wheels to perform better at higher speeds approaching and exceeding 30mph.
>>> Long term review of the PowerTap P1 pedals
Another thing worth pointing out is that although the results may vary slightly between different wheel brands, we can assume most deep wheels will perform to a similar level.
So there you have it, aero wheels can make you slightly faster while simultaneously making your wallet significantly lighter. Two kilometres per hour faster in this case.
However, there is no need to buy them, it ultimately depends on what you want to get out of your riding.
Thank you for reading 10 articles this month* Join now for unlimited access
Enjoy your first month for just £1 / $1 / €1
*Read 5 free articles per month without a subscription
Join now for unlimited access
Try first month for just £1 / $1 / €1
Oliver Bridgewood - no, Doctor Oliver Bridgewood - is a PhD Chemist who discovered a love of cycling. He enjoys racing time trials, hill climbs, road races and criteriums. During his time at Cycling Weekly, he worked predominantly within the tech team, also utilising his science background to produce insightful fitness articles, before moving to an entirely video-focused role heading up the Cycling Weekly YouTube channel, where his feature-length documentary 'Project 49' was his crowning glory.