Boardman ATT 9.2 Time Trial Bike review
An affordable piece of speed weaponry which is more than adequate for enthusiasts and with replacement base bar and wheels reaches near professional level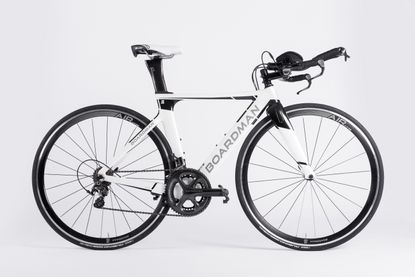 An efficient time trial machine with an exceptionally stiff frame and wind tunnel testing to back up its aero features. Races well out the box but wheel and base bar upgrades could transform this into a real winner – meaning it's a bike you won't grow out of quickly.
Reasons to buy
+

Stiff frame

+

Fairly easy to make adjustments

+

Value for money

+

Feels lightning fast on flat, straight roads
Reasons to avoid
-

Wheels and base bar could do with upgrading but match the price tag

-

Not so suited to sporting courses
You can trust Cycling Weekly. Our team of experts put in hard miles testing cycling tech and will always share honest, unbiased advice to help you choose. Find out more about how we test.
The law of integration states that the fastest time trial bikes are pretty much always the hardest to tinker with. There's a sub-law that determines a similar relationship between the price tag and number of watts saved. It should be pretty obvious how that line graph correlates.
The Boardman ATT 9.2 sits around a third way up the scale.
It's a piece of speed weaponry that's fairly easy to live with, boasting a tech loaded frame which can perform at an exceptionally high level with a couple of alterations.
Boardman ATT 9.2 frame
Boardman as a brand invests heavily in innovation and technology. Former hour record holder and time trial world champion Chris Boardman himself is heavily involved; Boardman is even building a Performance Centre with a cycling-specific wind tunnel for public use.
Boardman's time trial bikes are divided into two distinct families: the ATT and TTE bikes. The ATT is the more affordable of the two, with a frame coming in at £1,399 as opposed to £2,399.
The TTE's superiority comes largely from a higher level of integration, but the ATT frame is far from a slouch.
Constructed from top-end Boardman C10 carbon, the frame was developed using computational fluid dynamics (studying the way gas or liquid travels over a surface), wind-tunnel and real-world testing.
The 9.2 ATT we tested features Boardman's Aerodynamic Surface Trip technology. This tube shape tech delays the point at which airflow separates from the surface, thus reducing the size of its wake and overall drag.
The ATT features the same fully integrated fork and brake system as its top-end TTE brothers; the seat post adjustment is located in the top tube and covered by a rubber seal and cables are tidied away into a junction box just behind the stem, keeping them out the way.
The geometry is fairy aggressive. We tested the XXS with a stack/reach of 483mm/375mm, which is longer and lower than a Specialized Shiv and fairly similar to a Trek Speed Concept.
A steepish head angle (72°) and short wheelbase (948mm) all add up to a frame that sits closer to the 'racy' end of the scale, with a lesser emphasis on stability.
Boardman offers a women's version, in this case the frame is identical but would be called an XS.
Components
Boardman's direct sales means it can provide pretty stellar builds for a surprisingly good price tag. The 9.2 comes in at £2,299 with Ultegra shifters, mechs and Shimano 105 cassette plus a nice little addition of Shimano Dura-Ace brake levers.
The chainset is a sensible double 53/39 with a pleasantly close-ratio 12-25 cassette on the rear.
It's bafflingly common for time trial and triathlon bikes to come specced with a compact chainsets.
That might make sense for a bike that's going to be used for some of the sporting style routes designed by triathlon race planners. But Boardman has a background in 'proper British time trials' – number in return for an over-stewed cup of tea and all - and for these events the gearing set-up is spot on. No one needs a compact for a dual carriageway.
The brakes are TRP, arguably a bit of a let-down, but they just about match my level of enthusiasm for stopping for a roundabout mid-flow.
The ISM saddle is an intelligent addition – the noseless perches are massively popular on the TT scene and they're ideal for anyone riding on the rivet for extended durations.
The base bar comes from Zipp, but is the fairly entry-level Vuka Alumina construction which does the job but would want swapping in time. Ditto for the Boardman Air Elite 5 wheels with a rim depth of 35mm, and Vittoria Rubino Pro tyres in 25c.
The ride
I rode this bike to a new 25 mile TT PB of 56:03 – a pretty decent slice off a previous PB of 01:00:36. That's that out the way and it's worth taking into account that I'd done quite a lot of bike riding since the last 'fast course' effort and the infamous R25/3H course in question enjoys a pretty substantial ski slope start.
Regardless, the bike proved to be rapid on a dual carriageway.
The location of said R25/3H course – South Wales – meant I completed quite a lot of riding in the lead-up to the event cresting the considerably more lumpy slopes around the coast.
Immediately noticeable was the stiffness of the frame. Power transfer felt infinitely more efficient than on my long standing 'old faithful'. The bike loved flat out, straight road efforts and I loved riding them on it.
Short climbs became excuses for irresistible surges and the ride quality really came alive when the hills were behind me and the road flattened out.
I also tested the bike on a sporting course and on some local lanes. I wasn't as innately comfortably cornering and descending on it hard. This could in part be down to the geometry and indeed the narrow shape of the base bar adding to a less stable experience. The bike can handle the lanes, but it didn't feel like they were its favourite playground.
I used the specced wheels for training rides and club events, and upgraded to a deep-section option to race. The Boardman wheels are perfectly adequate for training, and you could race them whilst you saved your pennies – but they're not as light, stiff or wind cheating as a set of carbon 50mm wheels and the Vittoria tyres felt a bit draggy.
Bar set-up is always going to be an artful process on any new TT bike.
Out-the-box the Zipp extensions were so long I was choosing between whacking myself in the knees and not being able to reach the shifters. A quick chop-job sorted this but if buying online it's worth factoring in time to get this sorted.
I rode the bike one spacer from slammed – which doesn't leave so much room for creating a more aggressive fit. This said, a negative stem could sort you out if need be. There's plenty of space for saddle adjustment too.
The brakes are hidden behind the fork, with handy removable covers which can be unbolted when it's time to make adjustments. The bolts are made from quite a soft metal, they're easy to round out so care needs to be taken.
The rear brake is also hidden, adding to aerodynamics. However, this does mean it's not easy to adjust the brake quickly before an event – leading to a heart-stopping moment when I found it rubbing T-2mins to start (whacked it into position – works every time).
Value
The Boardman ATT 9.2 carries Ultegra spec – with a sniff of Dura Ace – and comes in at a price range where many others feature 105. Touches such as the ISM saddle add a cherry on top.
Thank you for reading 20 articles this month* Join now for unlimited access
Enjoy your first month for just £1 / $1 / €1
*Read 5 free articles per month without a subscription
Join now for unlimited access
Try first month for just £1 / $1 / €1