Cervélo bikes range guide: from aero, endurance to track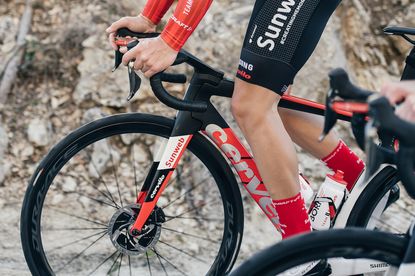 (Image credit: Vincent Riemersma)
Cervélo bikes are some of the most sought-after toys in cycling, with the brand upholding a reputation for creating a range of top-end machines with a racing pedigree.
The Canadian brand was born in 1995 and unveiled to the public at the Toronto Bike Show in 1996 by founders Phil WhiteandGerard Vroomen.
Both founders had a background in human-powered vehicles going back to 1986 and the early focus for the brand was time trial bikes. To this day the 'P' series – time trial and triathlon bikes – are highly regarded and still pushing the boundaries of frame development, for example with the marmite-esque appeal of the new P5x.
In 2012, Cervélo was acquired by the Pon Bicycle Group (PBG). At the time of the acquisition, both founders continued with the Pon Group, White staying as Cervélo's CEO and Vroomen moving into business development with the PBG.
Useful links for road bike shoppers…
Swipe to scroll horizontally
| | |
| --- | --- |
| Brands/topics | Model overviews and reviews |
| BMC bikes | BMC bike reviews |
| Boardman | Boardman bike reviews |
| Cannondale | Bike reviews,SuperSix Evo,CAAD12,Synapse |
| Canyon bikes | Canyon bike reviews |
| Carrera bikes | Carerra bike reviews |
| Cervélo bikes | Cervélo bike reviews |
| Cube bikes | Cube bike reviews |
| Focus bikes | Focus bike reviews |
| Genesis bikes | Genesis bike reviews |
| Giant bikes | Giant bike reviews,Giant Defy,Giant Propel,Giant TCR |
| Pinarello | Pinarello bike reviews |
| Raleigh bikes | Raleigh bike reviews |
| Ribble bikes | Ribble bike reviews |
| Scott bikes | Scott bike reviews |
| Specialized | Bike reviews,Allez,Tarmac,Diverge |
| Trek bikes | Bike reviews,Domane,Emonda,Madone |
| Price points | Bikes under £500,under £1000,under £1500,under £2000 |
| Road bike styles | Aero road bikes,Endurance road bikes,Women's road bikes,Commuting bikes,Touring bikes,Singlespeed bikes,Track bikes,Time trial bikes |
| Other bike styles | Adventure and gravel bikes,Cyclocross bikes,Electric bikes,Hybrid bikes |
Cervélo in pro cycling
You can trust Cycling Weekly. Our team of experts put in hard miles testing cycling tech and will always share honest, unbiased advice to help you choose. Find out more about how we test.
In May 2015, Cervélo signed a five-year partnership with British Cycling. Initially, the change over might have caused a few bike fit difficulties as athletes tried to swap measurements like for like, but GB's six gold, four silver and two bronze cycling medals in Rio suggest the Cervelo bikes certainly weren't slow.
Indeed, the track bikes, in particular, received high praise - British Cycling called the T5GB track bike"the most aerodynamic model the Great Britain Cycling Team has ever ridden."
In the World Tour, the bikes are ridden by Team Sunweb's men's and women's squads. The brand doesn't make women's specific frames and believes that contact point adjustment is the key to a good fit.
Cervélo's bike ranges
Cervélo bikes are divided up into ranges, and each range contains several models, which in turn house assorted spec options. Once you understand the ethos behind each range, it's largely a case of selecting the model that most fits your spending power and requirements.
However, since each model is essentially a frame family in itself, it's worth checking out the engineering checklist before you invest if one element is particularly important to you.
Here's a look at what the ranges are all about...
Cervélo's 'S' range: the aero road bike
The aero road bike concept is something that Cervélo created with the Soloist back in 2002. In the years gone by since, other brands have of course crowded into this space - and now the aero bike range from Cervélo is called the S-Series.
Aero bikes are designed to hold speed over comfort. Wind resistance is kept to a minimum in the hope of putting every last watt to good use. Weight is often less important: evidence suggests that aero gains can provide more benefit than weight loss in most situations.
All this said, Cervélo has aimed to keep the weight as low as they can with all model families enjoying carbon dropouts and the 'BBright' - a bottom bracket shell that uses oversized tubing, with an 11 mm extension on the left hand (non-drive) side, which is both stiffer and lighter.
For the 2019 season, the frame saw an almighty upheaval, and much of that is carried into today.
Notable features include a new cockpit including an outspoken v-shaped stem that the brand says cuts through the air quicker than a standard style. The newest iteration is designed around disc brakes, and as a result, can manage up to 28mm tyres.
The stem appears to sit pretty high rise, but in reality, when slammed the position is the same as the old S5, with a -6º stem.The brand also worked on increasing stiffness by replacing the fork steerer with a tensioning rod and building up the front portion of the head tube. Cervélo says the bike saves 42g of drag over the outgoing model, a saving of around 5.5 watts.
The 'extended seat tube cut out' continues from past models - this is seen also on the time trial bikes. It's the most aero option that sees the wheel hug the frame closely, but it adds a little weight when compared with the partial cut-out seen on other models.
The S5 also boasts aero cable management, and a 'built for bottles' design which uses an aerofoil downtube that's flattened to offer an aero edge.
Read more: Cervelo S5 launch and first ride
Cervélo S3
Reasons to buy
+
Aerodynamic advantages are truly noticeable
+
Improved comfort over previous version
+
Aesthetics
Reasons to avoid
-
Quill stem design is a little tricky to work with
-
RAT axles begin to frustrate over time
As per the S5, the slightly more affordable S-Series also had a watt saving makeover for 2019.
The brand has incorporated its 'True Aero technology' using redesigned tube shapes and tucking away cables to save 102g which translates to 13 watts. The frame stiffness has been increased, too.
Notably, Cervélo has altered the geometry of the S-Series, taking it further from the aggressive S5 and closer to the R3. The stack is now 13mm higher than the S5 in size 54, and the seat stays are skinnier to add compliance. This said, the S3 is still very much an aero race bike.
Read our Cervelo S3 disc review
Cervélo's R-range
This is the "classic road" option - these are do-it-all bikes that actually do 'do it all' - with Tour de France and Paris Roubaix wins to their name.
The geometry is designed to be adjusted to suit assorted needs and there's clearance for wider tyres.
The bikes feature Cervélo's 'Squoval Max' tube shapes. The name probably gives it away – they're a bit square and a bit oval. The goal is to deliver targeted stiffness whilst cutting weight where possible.
The bikes within the range do differ, as explained below.
Cervélo R5
Reasons to avoid
-
Lacking aero credentials
-
Light front end
-
Adjustments needed could be costly
The Cervelo R5 earned itself a place in the Cycling Weekly Editor's Choice awards not too long ago, with our reviewer commenting "the frame's carbon layup allows just enough road resonance through to make the ride feel fast and lively, without being jarring."
The geometry has seen a major re-think, making it more aggressive than the R-Series. With the head tube reduced to 151mm in size 56, it's now lower than the likes of the Specialized Tarmac and the Pinarello Dogma F10.
Our model came with the rather fancy Shimano Dura-Ace Di2, but there's a total of eight build options across disc and rim brakes.
Read our Cervelo R5 review
Cervélo R3
Reasons to buy
+
Good handling
+
Comfortable frame
+
Great groupset
Reasons to avoid
-
Compromised by its wheelset
The R3 and R3 disc models come with an 'elite road fit' as opposed to the 'pro road fit' of the R5. This means it's just a little less aggressive, but equally stiff thanks to the same Squoval Max tubing.
There are only disc brake options available and the rotors are 160mm on both the front and rear. The cost savings of this lower range model are evident in the cockpit, with an alloy handlebar and stem being spec'd, as opposed to the carbon of the R5. This is a preferable place to save some money, as the weight penalty is minimal in this area.
Read our Cervelo R3 review
Cervélo's 'P' Range: the time-trial bike
The P-series is where Cervélo came from, and the bikes have a huge reputation in triathlon circles as well as being sought after by time triallists.
It's perhaps in the triathlon world where the P-series bikes excel, with the more dual sport focused P5 and P5X bikes having an upright geometry a bit more suited to Ironman events than fast 10s down UK dual carriageways.
All of the P-series bikes feature the Cervélo BBright, which places an 11mm oversized tube on the left side to allow for a stiffer, lighter structure without impacting the chainset on the left. They've also all been treated to an extended seat tube cut out, which allows the rear wheel to hug the frame.
At every level of the Cervélo bikes TT range, the bikes have dropped downtubes, so that the area is hidden behind the front wheel, as well as shielding seatstays - save for the Px5 which obviously does not, due to the lack of this previously fundamental piece of the bike geometry puzzle.
The addition of the P5X in 2016 marked a giant leap forward for Cervélo's frame development, with the engineers truly throwing the UCI rule book from a great height and creating a bike with half a seat tube and a downtube resembling some sort of rocket.
The P5X was no doubt revolutionary but it was criticised for its climbing abilities. So Cervélo came back with the P3X - a lighter and stiffer version, with three spec builds available and a handy 'speed riser' that allows riders to experiment with infinite positions.
Next, it introduced the PX, which maintained the new lighter, stiffer guise of the P3X but saw some of the original features added back in, including the split base bar which makes for easier travel.
Both models are targeted at the triathlon market, particularly the longer distances, hence the inclusion of modular storage systems. Like its look? No, not sure we do, too.
Cervélo P5
Reasons to avoid
-
Brakes are difficult
-
Not simple enough for everyday use
-
Expensive
-
Limited adjustability of the cockpit
-
Poor quality fairing on front brake
-
Can't change gear from brake levers
The Cervélo P5 is the brand's top UCI legal time trial bike. In previous years, teams had to swap the fork to that of the P3 to remain within the rulebook, but that's no longer the case.
The model now comes with the brand's 'Speed Riser' cockpit, allowing riders to fine-tune their position to perfection.
Modular storage means those taking on long-distance events have space for all the supplies needed, though short course competitors can remove the boxes, and cables are well tucked away.
Read our Cervelo P5 review
The new Cervélo P-Series model offers riders a slightly more affordable entry into the P range. You won't get the integrated adjustable cockpit as per its big brother, but the front end is interchangeable so riders can fine tune to their needs.
The bolt-on extra storage options are still present, so long distance time-trials are still a possibility with this frame. All models in the P range come with disc brakes, and even this entry level option is specced with hydraulic calipers.
Cervélo Áspero
The best bike for gravel
The brand has remained true to its racing roots, creating a carbon race-fit model with more aggressive geo than you might see elsewhere in the gravel market, and with a heavy focus on handling at speed.
However, gravel riders are going to need wider rubber and ideally adjustability to cater for different conditions. Thus, Cervélo has built its gravel grinder to cater for 700c wheels with tyres up to 42c, or 650 wheels with tyres up to 49c. The ability to adjust the front axle means that the handling can be kept uniform even with large differences in tyre size.
There are only disc brake build versions on offer, with everything from SRAM Apex 1x, to Shimano's new GRX gravel groupset and SRAM Force eTap AXS, plus a frameset only option.
Cervélo Caledonia
The best all-road bike
Designed in collaboration with Team Sunweb as a dedicated bike for the cobbles in Belgium and northern France, it is equally capable as a bike for those all-day epic rides.
The steering has been made more stable for better control over the Roubaix pavé, which also will be apricated by those who are seven hours into a ride when it's only 2 o'clock.
Hidden mudguard mounts and wider tyres (max 35mm; 31mm with mudguards fitted) add to its versatility. But the racier side has not been forgone. The cables are completely integrated into the cockpit, while the kammtail tube shapes further help to cheat the wind.
A more budget oriented version is also available with less cable integration and a traditional round seatpost.
Cervélo T4
The best bike for the track
Finally, we reach the end of the large range that Cervélo bikes produce. But Cervélo's track bikes are an integral part of their DNA, and after their use on the track in Rio, they have been an important part of British Cycling's make up, too.
The T5GB is the bike that ferried Olympic athletes to glory, but if you're shopping for yourself, you'll be looking at the T4.
When choosing a track bike, the key differentials are stiffness, geometry and aerodynamics.
The T4 has been created to offer enough stiffness for Olympic athletes, so you can be assured of the pedalling efficiency. It's been designed around a pursuit geometry - which is pretty long and low - but a change to the bar and stem can produce a fit suitable for endurance events.
The extended seat tube cut out - developed through the P range - provides additional aerodynamics. The bikes are available as a frame only.
Thank you for reading 10 articles this month* Join now for unlimited access
Enjoy your first month for just £1 / $1 / €1
*Read 5 free articles per month without a subscription
Join now for unlimited access
Try first month for just £1 / $1 / €1
Michelle Arthurs-Brennan is a traditional journalist by trade, having begun her career working for a local newspaper, where highlights included interviewing a very irate Freddie Star (and an even more irate theatre owner), as well as 'the one about the stolen chickens'.
Previous to joining the Cycling Weekly team, Michelle was Editor at Total Women's Cycling. She joined CW as an 'SEO Analyst', but couldn't keep her nose out of journalism and in the spreadsheets, eventually taking on the role of Tech Editor before her latest appointment as Digital Editor.
Michelle is a road racer who also enjoys track riding and the occasional time trial, though dabbles in off-road riding too (either on a mountain bike, or a 'gravel bike'). She is passionate about supporting grassroots women's racing and founded the women's road race team 1904rt.
Michelle is on maternity leave from July 8 2022, until April 2023.