Sunweb announces partnership with Cervélo for 2019
The Canadian bike brand that sponsored Team Dimension Data in 2018 replaces Giant for the men and Liv for the women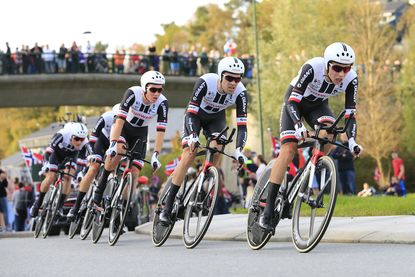 (Image credit: Yuzuru SUNADA)
Sunweb has announced that it's men's and women's WorldTour teams as well as development squad will ride aboard Cervélo bikes for the 2019 season.
The team makes the swap from Giant, whilst the women move over from Liv - Giant's women's specific brand.
The 2005 founded German outfit has welcomed the arrival of Cervélo, with a video which also unveils the Canadian brand's new S5, which features an innovative aero cockpit that the riders will have to wait to test out.
>>> New Cervélo S5 launched: All the details and our first ride review
Richard Keeskamp, Sports Marketing Director at Cervélo said: "We're very excited to partner with Team Sunweb, for us it's the perfect match in ambition and performance."
The team is home to 2017 Giro d'Italia winner and runner up at both the 2018 edition and the Tour de France, Tom Dumoulin, plus Women's Tour winner and USA champion Coryn Rivera.
"The team is word-class and active in a wide range of fields and disciplines with men, women and U23 programs – competitive in the one-day races, time trials, sprints and grand tours, which requires very specific equipment to be able to make the difference over competition. It challenges us to raise the bar even further in developing and delivering new and state-of-art technologies," said Keeskamp.
The riders will compete primarily on the new S5, which Keeskamp said: "heralds a new era for our company and stunning advances in aero and engineering technology for Team Sunweb's riders."
He emphasised that the team would be providing feedback for Cervélo, who in 2018 was the sponsor for African registered outfit Team Dimension Data.
Team Sunweb CEO, Iwan Spekenbrink said: "We're thrilled to welcome one of the most high-tech brands in the industry to our team. Having the resources and knowledge at hand to make our equipment lighter, better and faster will make the difference.
"Time trials and road races are sometimes won or lost by a fraction of a second, which is a confirmation to us that these efforts do pay off. We've a shared DNA to keep pushing technology forward and innovation is key to both our organisations, which makes for the perfect fit.
"Behind the scenes Cervélo has been working hard on the new S5 race bikes revealed today, this emphasises their commitment to helping us and we're already looking forward to kicking off the 2019 season."
Thank you for reading 5 articles this month* Join now for unlimited access
Enjoy your first month for just £1 / $1 / €1
*Read 5 free articles per month without a subscription
Join now for unlimited access
Try first month for just £1 / $1 / €1