Giant bikes road range: which model is right for you?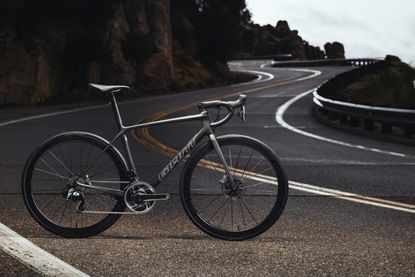 Someone at Giant had some foresight when they founded the company and began the bike range in 1972. They probably didn't know it would eventually achieve the bike equivalent of world domination, but the brand certainly lives up to its name now.
Giant is generally accepted to be the world's largest bike manufacturer. It has factories in their home region of Taiwan, as well as China and the Netherlands, and specialist stores all over the world.
In the early days, Giant was the manufacturer of the majority of bikes sold under the name 'Schwinn' - at one point making over two-thirds of the brand's models. When that relationship ended in 1987, Giant moved in the direction of making bikes with its own badge on the head tube.
>>> The top 10 road bike innovations
The venture was successful, and in 2020 Giant is a worldwide company - you're never far away from a retailer carrying its bikes. As well creating road bikes, they produce high-quality, much-respected mountain, hybrid and e-bikes.
All of Giant's frames are designed in-house, and the brand makes its own carbon, as opposed to buying in pre-preg composite to mould. The brand also manufactures its own components and equipment, ranging from helmets and shoes to wheels and GPS computers.
One of Giant's most famous developments is that of the Compact Road Design, sported by its pro riders in the late 1990s.This simply means that the top tubes slope down from the head tube to the seat tube, reducing the size of the front and rear triangles to create smaller shapes which are lighter and stiffer.
In 2011, Giant demonstrated its dedication to women's specific products by separating its women's bikes and kit and placing these items under a dedicated brand: Liv. The Liv brand, they claimed, was the first dedicated and extensive offering in women's cycling and each model is built from infancy around a female rider.
>>> A guide to the women's specific Liv bikes
As per any major bike brand, Giant produce a wide range of bike families designed around different styles of riding. Unlike other brands, each of these is then split into models: Advanced, Advanced Pro, Advanced Pro Disc, and SL. These models are each available at assorted different price points based upon components such as the groupset, wheels and handlebars.
More and more of the disc models now feature SRAM AXS groupsets, a move away from the almost entirely Shimano roster back in 2019.
Below is the lowdown on the most popular road and hybrid model families within Giant's absolutely massive stable.
With some products there is a 'Buy Now' link. If you click on this then we may receive a small amount of money from the retailer when you purchase the item. This doesn't affect the amount you pay
Useful links for road bike shoppers…
Swipe to scroll horizontally
| | |
| --- | --- |
| Brands/topics | Model overviews and reviews |
| BMC bikes | BMC bike reviews |
| Boardman | Boardman bike reviews |
| Cannondale | Bike reviews,SuperSix Evo,CAAD12,Synapse |
| Canyon bikes | Canyon bike reviews |
| Carrera bikes | Carerra bike reviews |
| Cervelo bikes | Cervelo bike reviews |
| Cube bikes | Cube bike reviews |
| Focus bikes | Focus bike reviews |
| Genesis bikes | Genesis bike reviews |
| Giant bikes | Giant bike reviews,Giant Defy,Giant Propel,Giant TCR |
| Merida bikes | Merida bikes review |
| Pinarello | Pinarello bike reviews |
| Raleigh bikes | Raleigh bike reviews |
| Ribble bikes | Ribble bike reviews |
| Scott bikes | Scott bike reviews |
| Specialized | Bike reviews,Allez,Tarmac,Diverge |
| Trek bikes | Bike reviews,Domane,Emonda,Madone |
| Price points | Bikes under £500,under £1000,under £1500,under £2000 |
| Road bike styles | Aero road bikes,Endurance road bikes,Women's road bikes,Commuting bikes,Touring bikes,Singlespeed bikes,Track bikes,Time trial bikes, Aluminium bikes, Carbon bikes |
| Other bike styles | Adventure and gravel bikes,Cyclocross bikes,Electric bikes,Hybrid bikes |
Giant bike range
You can trust Cycling Weekly. Our team of experts put in hard miles testing cycling tech and will always share honest, unbiased advice to help you choose. Find out more about how we test.
Reasons to buy
+
Price
+
Ride quality
+
Handling
If you're starting out on your journey with two wheels, this is likely to be the one you're considering. Likewise, if you want a reliable commuter or a winter bike you can trust through the seasons, it's a good bet.
>>> Cycle to work scheme: everything you need to know
The geometry is designed to feel fast and fun, but with a high enough stack, short enough reach and long enough wheelbase that stability and comfort are well taken care of, too.
Models start with an aluminium frame, carbon fork and rim brakes for the Giant Contend 2. Whereas the top end Giant Contend AR 1 is equipped with Shimano hydraulic disc brakes and a tubeless wheelset.
>>>> The best bikes for cycle commuting
The 'AR' (any road) models come with wide volume tyres and are disc brake only.Giant also produces 'SL' (super light) models which use a higher grade of aluminium, plus SL disc versions which come equipped with rotor stoppers that will work in all weathers.
The Giant Defy is the brand's endurance road bike.The aim of the game in its creation was to offer a comfortable ride that can be enjoyed all day long - even in the toughest of professional one-day classics - whilst still offering handling that feels fast and enough stiffness to provide quick acceleration.
A key technology used on the Defy bikes is 'D-Fuse' - this features at the seatpost and handlebars. Essentially the tubing is rounded at the front and flattened at the rear, to absorb shocks and vibrations for a smoother and more compliant ride feel.
All bikes in the range use disc brakes and wide volume tyres which add to comfort. The Giant Defy Advanced options feature an Advanced-Grade Composite frame, matching material at the fork along with an OverDrive steerer which promises front end stiffness and control.
>>> Taking the plunge: How to nail your first cycling race
Move into the realm of the Giant Defy Advanced Pro models and the steerer used is the OverDrive 2 which Giant say offers greater stiffness over the standard OverDrive. Another nifty addition is the 'RideSense' monitor. This wireless sensor can send wheel speed and cadence info to an ANT+ computer. The top end model, Defy Advance Pro 0 Red also comes equipped with SRAM Red e-Tap AXS groupset and Quarq DZero power meter crankset.
The Liv women's bikes have an entirely independent geometry, built from conception around a female rider. However, the Liv Avail is available in aluminium and carbon versions and mirrors similar qualities of the Defy.
Read our review of the Giant Defy Advanced 1
Buy Now: Giant Defy range at Rutland Cycling from £2,898.99
As its speedy sounding name may suggest, the Propel is the brand's aero road bike. And isn't it beautiful.Giant Propel models received disc brakes for the first time in the 2018 range, six months after being first spotted at the 2017 Tour de France.
The Giant Propel Disc uses flat-mount technology, thru-axles front and rear and Giant says that during aerodynamic testing its disc-brake integration produced less drag than traditional caliper brakes.
The disc models now also boast a new integrated Contact SLR/SL Aero handlebar/stem unit, with internal cable routing. The tubeless ready Giant SLR WheelSystem also comes with aero spokes and a tall 65mm rim depth at the rear.
Giant produces both rim and disc brake versions of its Propel models The basic Giant Propel Advanced 2 comes with an Advanced Grade Composite frame and the OverDrive 2 steerer for increased front-end stiffness and enhanced steering performance. All these also enjoy the 'RideSense' data recording sensor which will communicate cadence info to an Ant+ computer.
>>> Read our review of the Giant Propel Advanced
Moving on to the Giant Propel Advanced Pro range, these bikes come with deep section wheels and more integrated cable routing, alongside the OverDrive 2 steerer and 'RiseSense' capability.
The Propel Advanced Disc comes with hydraulic stoppers, wider rim rear wheel and integrated bar and stem for the Propel Advanced 2 Disc. If you go for the Propel Advanced Pro Disc 1 this is boosted to Shimano Ultegra Di2 and an integrated power meter.
The top of the range models are the Propel Advanced SL 1 Disc and SL 0 Disc bikes. These use SL-Grade carbon, which is lighter and come with SRAM AXS groupsets for improved gear efficiency.
>>> Read our review of the Giant Propel Advanced SL1 Disc
Whilst the Liv women's bikes are not women's versions of the men's bikes, the Liv Enviliv is the aero road bike within the brand's range and shares many of its technologies with the Propel.
The Giant TCR goes down in cycling history as an icon in its own right. It's an all-rounder race bike that's well renowned for offering significant stiffness and maintaining a notably low weight.
Recent updates have improved its aerodynamics by a margin of 7/8 watts, whilst still featuringthe same compact frame design. The frame now features flatback tube designs, particularly around the fork and headtube.
Stiffness has also being increased, particularly in the downtube and bottom bracket area. The updated models in the TCR Advanced range are kitted out with rim brakes, while the range topping TCR Advanced SL 0 Disc has superior SRAM hydraulic disc brakes.
Watch: New Giant TCR launched!
Read reviews and news:
First, there's the Giant TCR Advanced. These models come with Advanced Grade Composite frames and the OverDrive steerer along with fairly basic wheelsets. Then there's the Giant TCR Advanced Disc models, which share similar characteristics, but instead have Shimano Tiagra Hydraulic disc brakes.
Those with a little more need for speed might look at the Giant TCR Advanced Pro bikes. These boast the stiffer OverDrive 2 steerer, as well as the updated Giant SLR 1 wheel system. This carbon rim wheelset comes shod with tubeless tyres in all cases, and they're genuinely impressive wheels, so none of this "great bike, needs new wheels" malarky that almost always adorns bike reviews. There's also three Giant TCR Advanced Pro Disc models which start with the TCR Advanced Pro 2 Disc.
Topping off the range, you'll finds the Giant TCR Advanced SL 1 Disc and 0 Disc. These feature new ThinLine painting technology, which saves 65g in weight from paint alone.
For women, Liv's lightweight racing bikes that are suitable for both long hilly road races and fast-paced crits are the Langma range. The Liv Langma tips the scales at 6.7kg and has a redesigned front end which offers aero advantages, whilst still offering stiffness enough to be raced by the female riders of CCC-Liv.
Giant Trinity triathlon and time trial bikes
Giant's Trinity bike has been raced at the very top level and have been engineered using Giant's Computational Fluid Dynamics and dynamic wind-tunnel testing.
>>> Pro Bike: Tom Dumoulin's Giant Trinity TT bike
The Trinity Advanced is the basic model and its tube shaping is designed to beat resistance and the brakes are hidden, whilst a standard stem means adjustability is kept high.
The Trinity Advanced Pro comes with lots of aero optimised storage space for hydration and nutrition, making it a great contender for Ironman triathletes.
The Liv time trial bike is the Avow Advanced Pro which comes with all the same storage and hydration facilities as the Trinity Advanced Pro or there is the cheaper Avow Advanced.
Giant far from stops at road bikes. They've got plenty of mountain bikes in their collection, and for those who like to mix it up there are cyclocross and adventure road/gravel bikes.
The Giant TCX is the brand's cyclocross bike. It's available in 'SLR' (aluminium frames) and 'Advanced Pro' (carbon frames).
All of the bikes in this range come with hydraulic disc brakes, and use a single-ring chainring system alongside an 11-speed cassette.This is favoured by CX racers thanks to the simplicity it offers and increased chance of it all working when the mud builds up.
The TCX bikes do have bottle cage mounts, but no provision for luggage.In the Liv range, the Liv Brava is designed to offer the same cyclocross race performance for women.
For those more interested in long, endurance rides across mixed terrain, there are several options.
Starting the collection, the aluminium Giant Revolt comes with 38mm tyres plus hydraulic disc brakes, which will provide reliable and comfy riding off the beaten track. Then there's the Giant Revolt Advanced, with a carbon frame, and the Revolt Advanced Pro with SRAM AXS shifting and deep Giant SLR-1 wheels for a more performance orientated ride.
The Liv women's model closest to these adventure style bikes is the Liv Invite.
New in 2020 was the Toughroad SLR,stacked with plenty of mounts for baggage, wide tyres and flat bars. Basically, an ideal steed for long distance trekking.
Hybrid bikes combine the quick and nimble frames of road bikes with the rough and ready wide tyres and flat bars of mountain bikes. They're comfortable commuters and also popular among fitness riders seeking an upright position and the ability to enjoy the rough roads of parks and canal paths without too much rattling.