Are single-ring chainsets the future?
Could the simplicity and low weight of a 1x set-up outweigh its flaws? Quieter, more secure, lighter — these are just some of the praises our dirt-riding brethren have been singing about single-ring set-ups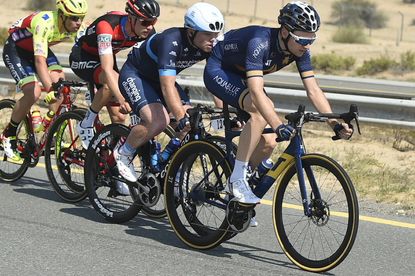 (Image credit: LaPresse/ Fabio Ferrari)
On the road, 2018 looked like it could be a revolutionary year for the single ring, with Aqua Blue Sport racing aboard the one-by specific 3t Strada aero bike.
But does news of Aqua Blue Sport folding, and the criticisms made by British rider Adam Blythe of the single ring setup signal the end of one-by on the road or just in the pro-peloton? Cycling Weekly decided to look into the potential of going single ring specific.
Straight away, there's an appealing simplicity to a single-ring set-up. Losing the front derailleur is one antidote to that poisonous, acidic road gunk that gets flicked up and clogs the mechanism.
Second to that, it removes the bother of gear fettling and cable replacement, meaning less garage time and more ride time.
Plus, if you take SRAM's 1x groupset out for a ride you'll find the system noticeably quieter on the rough UK roads than a normal double. That's because the rolling bearing clutch mechanism in the rear derailleur "eliminates derailleur bounce and chainslap", according to SRAM.
However, discerning road riders will object, citing a loss of gears and too large a jump between those that are left. Indeed, a common complaint by folk out on the road is that they struggle to find the "perfect gear" and even worse, 1x set-ups can be pretty painful for the first few rides, especially if you get the gear ratios wrong.
Two or three teeth on the front chainring can make a big difference — the difference between riding up the climb and having to get off and push.
These were all criticisms levelled by Aqua Blue Sport rider Adam Blythe at the team's one-by specific aero bike. In a recent interview with Bradley Wiggins, the British rider said: "There's only one chainring and if you imagine you're doing a climb, normally you'd have a 38 ring to drop down to but now you've just got a 10 cassette that goes up to a 42 with a 50 chainring on the front. So you're knackered, you can't race around in a one-day race let alone a two-week race or one-week race".
Tailored to suit
Perhaps the one-by drive chain is too limited for the pro-peloton, but there could still be hope for the one-by drivechain with us amateurs, and it comes down to set-up. You could opt, for example, for a 42t chainring, to make hillier rides a little less strenuous. Alternatively, if you ride on the flat, a larger ring would be sensible to help you lay down the power.
We got in touch with SRAM to find out more and get some recommendations. When asked whether it was as simple as choosing a chainring carefully, it confirmed that was part of it, as was changing cassette sizes.
However, J.P. McCarthy, SRAM's road product manager didn't stop there.
He also suggested so much of it comes down to understanding the needs of the rider and "understanding the rider's top end; when it is OK to tuck and coast on descents," as well as their "low-gear needs."
Single-ring set-ups could be niche, then. It's a case of tailoring your ride to you, because "problems perceived by one rider are not problems for others", according to McCarthy.
With that in mind, it's interesting to think of the possible uses of a single front ring set-up.
In an environment such as a time trial, where power and aerodynamics are everything, doing away with one of the chainrings is not an entirely new idea. It's an environment where you know every inch of the course and can tailor your ride to suit it.
That said, racers raise objections, in particular the issues of chainline efficiency for one ring set-ups.
The inefficiency of cross-chaining on the bike could potentially lose valuable watts — something TT racers definitely don't want to happen. We probed SRAM on whether this was an issue. Its answer? No.
"Loss of efficiency due to cross-chaining is minuscule. The benefit of selecting a gear that feels good and is easily accessed always outweighs potential loss of efficiency due to chain line."
The future looks bright, then, for the single-ring in the world of time trialling.
For amateurs, its hassle-free, ease-of-use potential on the road is hard to ignore — at least for this rider anyway. Ultimately, though, it's possibly too niche for roadies to get behind and having to know the ins and outs of the following day's route can remove flexibility — for many part of the joy of road riding.
Watch: Cyclocross bike buyer's guide

Expert Take
J.P McCarthy, Road Product Manager, SRAM
"Certainly here in Chicago, 1x is perfect year-round. In terrain that requires a greater gear range, the rider has a choice: with 2x, the rider has closer gear ratio steps, sometimes awkward and inefficient front shifts, complicated gear sequence, and potential for chainslap.
"With 1x, the rider has the full range of gears in one hand, larger gear ratio steps, sequential gear selection, and superior chain management. Loss of efficiency due to cross-chaining is minuscule.
"The benefits of selecting a gear that feels good and is easily accessed always outweighs potential loss of efficiency due to the chainline. And 2x drivetrains permit more extreme cross-chaining than 1x drivetrains anyway."
Our Take
For pro riders it seems like moving to a one-by chainring currently feels a little like a leap of faith. However, for amateurs the future looks cautiously optimistic, even if a lot of riders consider it a touch controversial.
But as a winter set-up, combining ease of use and minimal faff, along with its fitness-boosting potential, we find it very appealing.
If mountain bikers and cross riders can get on with it, then perhaps we can too.
Thank you for reading 10 articles this month* Join now for unlimited access
Enjoy your first month for just £1 / $1 / €1
*Read 5 free articles per month without a subscription
Join now for unlimited access
Try first month for just £1 / $1 / €1