Should you worry about chainline efficiency?
Does the angle of your chain really matter, or are modern bikes built well enough to ensure it never sits harmfully askew?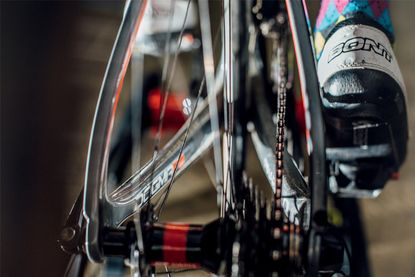 First things first: it helps to understand what chainline is and why it's important. The term itself seems relatively self-explanatory: the line in which your chain runs in any given gear. However, there are two definitions of chainline.
Firstly there's the chainline dictated by component manufacturers. Imagine running a line down the centre of your bike from front to back, running through the tread of your front tyre, along the top tube and straight along the rear tyre. The first idea of chainline — we'll call it 'prescribed chainline' — is the ideal distance to position the chain from this central line through the bike.
>>> Are electronic groupsets necessary?
This ideal distance is the middle point between the inner and outer chainrings of the chainset, where the front derailleur will work most efficiently. To achieve this chainline, manufacturers specify bottom bracket sizes and spindle lengths to accompany their chainsets and front derailleurs.
>>> Pro Bike: Peter Sagan's World Champion's Specialized Tarmac
This chainline is effectively set and there's nothing to concern you while riding. It does, however, highlight one of the reasons why it's not ideal to mix and match components.
Check out Shimano's second tier groupset
The second idea of chainline is the actual line or angle the chain takes between the chainset and the cassette. This is the chainline that matters more in practical terms. The perfect, i.e. most efficient, chainline runs dead straight from chainring to cassette. This is easy to achieve on a singlespeed or fixed-wheel bike, but not so easy with gears.
>>> Disc brakes in the WorldTour: are they necessary on road bikes?
On a geared bike, the chain should run straight from the middle of the chainrings to the middle of your cassette. Running the chain at an angle can cause the chain to rub on the front derailleur, and reduce component life. That's why newcomers to cycling are told not to run extremes such as 'big-to-big' or 'small-to-small', i.e. 52x25 or 39x11.
Straight from the factory
That said, modern groupsets make it perfectly possible to achieve decent shifting across sprockets, as the flexibility in the chains can handle a bit of angle. This is handy because, even though middle-to-middle is ideal, it's simply not always possible.
>>> Are carbon-soled cycling shoes necessary?
"I suppose the big question with chainlines in the last couple of years has been with road bikes going to disc brakes," Hoy and Pinnacle designer James Olsen says.
"Shimano has stuck with the same chainline at the front, which is about 42 or 43mm, but all bikes with disc brakes now have 135mm back ends rather than 130mm. If Shimano's chainlines were right on a 130mm back end, the front chainline should move out 2.5 to 3mm to accommodate the 135mm rear.
>>> Sir Chris Hoy's Hoy-Vulpine clothing range ready for the winter (video)
"In a similar way, some riders say they're not riding anything bigger than an 11-23 or a 12-25 cassette. Then they'll spend most of their time pedalling round in the upper few cogs; the bike is essentially over-geared for them.
"So when you're thinking about your ideal chainline, and how to make your chain work most efficiently, look at the gears you're using most and consider how straight your chain is when you're using them. That's probably the easiest way to make it most efficient from a power output perspective: match your gearing and your cassette choice so that you're pedalling a straight chainline."
>>> Do we need 12-speed gears?
Avoid crossing your chain from big chainring to big sprocket. If on the big ring, use the 25 sprocket, then change on to the inner chainring and drop the chain down the cassette.
Our take
On a modern, complete-build bike from an established manufacturer, chainline shouldn't be an issue. For performance junkies, there are ways to tweak it minutely so that it better fits your style of riding and preferred gear choices. For the rest of us, if your derailleurs are straight but your chain is jumping off chainrings or derailleur pulleys, or rattling, check your chainline.
The experts' views
Yes: Andrew Lorenzi, B'Twin design manager
The chainline is very important for several reasons: more efficient transmission; the less you bend the chain, the smaller the power loss; better function and less chance of the chain falling off the rings; less wear due to less friction; better function of the front derailleur; and quieter operation.
>>> B'Twin Ultra 720 AF bike review (video)
Ideally, follow the supplier specs but you have to be particularly careful when manufacturers mix parts from different suppliers.
No: David Alexander, Specialized Bicycle Components University; BodyGeometry FIT expert
By the time somebody buys one of our bikes, they don't have to worry about chainline, because we've done all the worrying for them! We try to maintain our chainline so that it'll work with 11-speed cassettes and really short chainstays.
But we are given minimum chainline guidelines from component manufacturers, and that limits what we can do with bottom bracket size and chainstay length.
Thank you for reading 10 articles this month* Join now for unlimited access
Enjoy your first month for just £1 / $1 / €1
*Read 5 free articles per month without a subscription
Join now for unlimited access
Try first month for just £1 / $1 / €1