B'Twin Ultra 720 AF (video) review
With an Ultegra groupset on a bike for just over a grand, what's the catch...?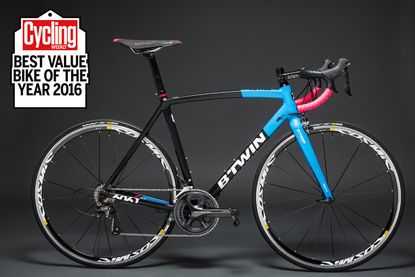 You'd be hard pressed to find a better equipped bike for just over a grand than the B'Twin Ultra 720 AF. With full Ultegra groupset and pretty decent Mavic wheels, its value is hard to beat, especially when combined with the top-notch frame, that is more than a match for similarly priced carbon frames.
Reasons to buy
+

Outstanding value

+

Superb Ultegra groupset

+

Comfortable frame

+

Decent wheels
You can trust Cycling Weekly. Our team of experts put in hard miles testing cycling tech and will always share honest, unbiased advice to help you choose. Find out more about how we test.
The B'Twin Ultra 720 AF is part of a new wave of aluminium frames that are threatening to dethrone carbon as the frame material of choice, especially at this price-point of around a grand. And not only does the B'Twin come with a great aluminium frame, but the spec is absolutely exceptional too.
Buy now: B'Twin Ultra 720 AF road bike at Decathlon for £1,050
In fact this bike is so good that it was crowned best value bike in the 2016 Cycling Weekly Bike of the Year awards.
>>> Best cheap road bikes: ridden and rated
I'm going to break with bike review convention and start by discussing the groupset, as, without wishing to disrespect the frame, this is undoubtedly the star of the B'Twin Ultra 720 AF. The bike comes equipped with full mechanical Shimano Ultegra, including the brakes, which are direct-mount, and, quite extraordinarily, the cassette, something which most brands would have compromised on by fitting a 105 cassette on a bike of this price point.
It's hard to put into words just how good Ultegra is, and since moving up to 11-speed a couple of years ago is able to match Dura-Ace in pretty much every area except weight. As you'd hope, the shifting is the highlight. The shifting action is light and the shifting itself fast and crisp, but you still get good feedback through the lever to make sure that you can really feel each shift. In fact, the shifting is so good that over the thousands of miles I've put in on various test bikes with the groupset, I'm struggling to think of more than one or two miss shifts.
>>> Road bike groupsets: a complete buyer's guide
The B'Twin Ultra 720 AF comes equipped with direct-mount brakes (meaning that the brake calipers are attached to the frame using two bolts rather than the normal one). As you'd expect from Ultegra, performance is very good. Braking power and modulation are both good, remaining consistent through wet and dry conditions, and although I would have preferred, from a maintenance point of view, for the rear brake to be positioned on the seatstays rather than underneath the bottom bracket, but it's thankfully nowhere near as fiddly as the brakes on other bikes.
The gearing is also spot-on. B'twin has given the Ultra 720 AF a compact 50/34t chainset combined with an 11-28t cassette at the back. For 99 per cent of your riding this is going to be ideal, with the 28 tooth sprocket providing a welcome granny gear for crawling up steep gradients. Ok, for really fast decents a bigger big ring could come in handy, but this is a very minor issue that's really a matter of personal preference.
>>> Are you using your bike's gears efficiently?
Overall to see a full Ultegra groupset on a bike of this price is quite simply outstanding, and the only other bikes that I can think of that can match the B'Twin Ultra 720 AF in terms of price and spec are the Rose Pro SL 3000 and the Canyon Endurace AL 7.0.
Watch our pick of the most exciting road bikes of 2016
So, 900 quid groupset on a £1,050 bike... where's the cost cutting? The normal place for bike brands to look when trying to save a bit of money with the wheels, but this isn't entirely the case with the B'Twin Ultra 720 AF.
>>> Buyer's guide to road bike wheels
In fact the Mavic Cosmic Elite wheels are actually a half decent pair of hoops that are a good match for the level of the bike overall. At a shade under 1800g for the pair, they're a little on the heavy side, which means slightly sluggish acceleration especially when riding uphill, but their sturdy enough to stand up to the battering of British roads, and the medium depth 30mm rim gives a little bit of help when riding at speed on the flat, probably cancelling out the extra weight.
What's the catch then? Outstanding groupset, well-matched wheels. Surely the frame's made of plasticince? Right...?
>>> Carbon beware: are aluminium frames making a comeback?
Wrong. The aluminium frame of the B'Twin Ultra 720 AF is really very hard to fault. Over a number of long weekend rides taking in some small lanes in, well, less than perfect condition, the frame proved exceptionally comfortable. The back end combines with the carbon seatpost to soak up the worst of the vibrations from rough roads, and the same is true at the front where the carbon fork is comfortable enough to make sure that you're not left with sore wrists and forearms after a few hours in the saddle.
Power transfer is also pretty good. Ok, seeing as I came to this bike after testing some super-stiff (and much, much more expensive) carbon road bikes, it could certainly be improved, but for the money and against carbon bikes of a similar price, this bike compared pretty well. So put the power down for a full gas sprint and you'll certainly be rewarded.
>>> How to get into cycling for less than £500
The one big downside of aluminium compared to carbon is the weight penalty. The B'Twin Ultra 720 AF doesn't buck this trend, with the 1400g frame and 550g fork meaning that the 56cm model that I had in for test hit the Cycling Weekly scales at a slightly hefty 8.63kg without pedals.
Buy now: B'Twin Ultra 720 AF road bike at Decathlon for £1,050
However, it's testament to the quality of the frame that when you take the bike off the scales and actually take it out onto the road, this extra weight isn't too noticeable. Going uphill, the B'Twin performs just as well as many other bikes that would dwarf it in terms of cost, with only thing really holding it up being the weight of those wheels. But considering the bargain you're getting with the rest of the bike, it hopefully won't be long before you can afford an upgrade.
Thank you for reading 20 articles this month* Join now for unlimited access
Enjoy your first month for just £1 / $1 / €1
*Read 5 free articles per month without a subscription
Join now for unlimited access
Try first month for just £1 / $1 / €1