Best single speed and fixed gear bikes 2023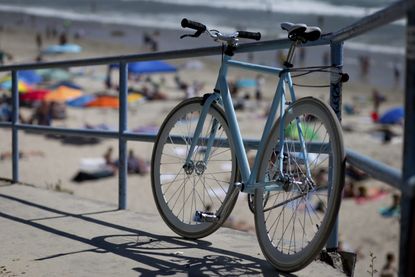 (Image credit: ullstein bild via Getty Images)
Get The Leadout Newsletter
The latest race content, interviews, features, reviews and expert buying guides, direct to your inbox!
Thank you for signing up to The Pick. You will receive a verification email shortly.
There was a problem. Please refresh the page and try again.
A single speed bike does exactly what it says on the can: it's a bike with just one gear. It still has a front and a back brake like any other bike but just fewer gears. And by fewer we mean just one solitary gear.
Riding at its most simplified form is riding a bike with just one gear. That's what the first Tour de France riders did in 1903 and what people still do today whether they are riding to work on a single speed bike or blitzing round a velodrome on a fixed gear bike.
Our guide will clarify what it means to ride a fixie or single speed and offer the best single speed and fixed gear bikes on the market.
Best single speed bikes
You can trust Cycling Weekly. Our team of experts put in hard miles testing cycling tech and will always share honest, unbiased advice to help you choose. Find out more about how we test.
Not usually built for racing, these bikes sometimes house mudguard (fenders in the US) and pannier mounts making them ideal commuting bikes.
The lack of cassette, derailleur and cables means that the need for maintenance and cleaning is low. Turning one gear also helps you to learn to use your cadence to moderate your effort and speed - something that's easy to forget when always riding a geared bike. For these reasons, some riders choose a single speed as a winter bike.
Some single speed bikes come with a 'flip flop' hub - that means the hub is double-sided. Swapping between the two allows the rider to choose between a freewheeled single speed, and a fixed gear (explained below).
With each product is a 'Buy Now' or 'Best Deal' link. If you click on this then we may receive a small amount of money from the retailer when you purchase the item. This doesn't affect the amount you pay
Best for practicality, elegance and price
Reasons to buy
+
Timeless looks
+
Quality frame
+
Lovely ride feel
+
Low price
Reasons to avoid
-
Flat bar might not suit faster riders
From the classic geometry to the powder-coated steel frame, the Steed Thoroughbred has a timeless, honest beauty about it.
The frame includes bosses for two bottle cages, mudguards and a rear rack. It's a unisex frame which caters for heights from 5ft 0in to 6ft 5in across three sizes.
There are four colours to choose from and it comes as standard with a 44-tooth chainring paired with an 18-tooth rear sprocket, which is a fair choice for a bike meant for general town riding.
The Steed feels sturdy, planted and above all reliable. The 'feel of steel' needs no introduction to the majority of experienced riders. However, if this is to be your first steel-framed venture then we can assure you that the ride quality is both compliant and responsive.
It comes with everything the city-dwelling commuter needs straight out of the box and if you want to make spec changes such as swapping in drop handlebars/alternative rear sprocket etc then that can all be easily done.
A truly beautiful, comfortable and versatile frame which could last you a lifetime - and indeed it comes with a lifetime guarantee.
Read more: Steed Thoroughbred full review
State Bicycle Core-Line singlespeed bike
Reasons to buy
+
Reasonable price
+
Looks nice
Reasons to avoid
-
Can be tricky to get hold of
-
Might need modifications for hills
There are three bikes in the Core-Line range, Rigby, Wulf (Matte Black) and Pigeon (high gloss 'asphalt' grey), all of which keep the same steel frame and flip-flop hub for either freewheel or fixed geared riding.
The range was developed to break down barriers to bike ownership, and has been built with a price point in mind. Standing out is the pretty big 44/16t gearing, which works out at nearly 73inch, so you might want to consider a bigger sprocket and longer chain if your rides contain hills.
That said, the range has a lot of fans and almost a cult-like following, which can make it tricky to get hold of at times, and with a five-year manufacturer warranty, it's an impressive and attractive bike offering.
Retrospec Mantra Fixed-Gear / Single-Speed Bike
Reasons to buy
+
Good value for money
+
Durable
+
Ability to switch between single-speed and fixed
Reasons to avoid
-
Might not suit more advanced riders
As an entry-level bike, Retrospec's Mantra offers plenty of value for money. It features a durable steel frame with horizontal track dropouts complete with built-in chain tensioners. The frame also includes mounts for mudguards/fenders, a rear rack and two bottle cages, making it a commute-worthy option.
Elsewhere, this flat-bar bike comes with a flip-flop hub so you can switch between single-speed and fixed if you wish. As stock it comes with a 46t chainring and a 16t freewheel sprocket. Other specifications include caliper rim brakes and 28mm Kenda commuter tires. The Mantra comes in a range of colors include matte black and a matte olive drab.
FabricBike Light singlespeed bike
Reasons to buy
+
Good for long distances
+
Lightweight
Reasons to avoid
-
Not ideal for city riding
Coming with a flip-flop hub, the FabricBike Light allows you to choose between at 16T single speed or fixed gear. The aluminum frameset has been designed to combine both aerodynamics and comfort with deep section 43mm wheels a 25c Kenda tires.
The lightweight aspect comes from its claimed frameset weight of just 2.45kg / 5.04lbs, and a total bike weight of just 9.45kg / 20.83lbs for a size medium, and is a few pounds lighter than other options on the market.
The bullhorn handlebars are a great option for getting low and aero, as well as having something to pull on for the climbs. On a route with frequent turns, though, these handlebars are less good. Thus, the FabricLight is ideal for longer distances, when you want to cover ground swiftly, but probably not one for inner-city riding.
Available in four colors, including a polished and clear lacquer version.
Creme Vinyl Uno single speed bike
Reasons to avoid
-
Might need a bigger sprocket and longer chain
The Dutch brand has been designing city bikes for just over ten years, with the Vinyl Uno one of its single speed offerings.
A steel frame and fork is paired with rim brakes, a riser flat bar and a 46/17T flip flop gear. As with the State Bicycle Core-Line bike above, this is pretty big, so worth adding a bigger sprocket and longer chain to the shopping basket if you're planning to ride somewhere with a few hills.
Fuji Feather 2020 single speed bike
Reasons to buy
+
Looks great
+
Comfortable to ride
A lovely looking bike from Fuji, the Feather is available in black, as above, or white, with eye-catching hot pink decals, and a bike perfect for those pining for a blend of retro and modern. The Chromoly steel frame and fork means the bike should be hardy but also comfortable to ride.
With removable cable guides and a flip flop hub fitted with a 16T cog and freewheel at the rear you could even take it to the track for a fixed wheel spin, or keep it single speed with brakes for the road.
The dropped keirin-style handlebars and geometry make this a great option for nimble city riding, but with no fender mounts, it's probably best for dry days only.
Octane One Kode Commuter single speed bike
Reasons to avoid
-
Might need gear changing at times
The steel frame and fork comes with plenty of bottle, fender and pannier mounts making it a great option for daily riding in all weather.
The mechanical disc brakes are a great addition to this single speed, which also comes with a flipflop 14t hub, enabling you to ride fixed gear too. With rugged 40c Kenda Kwik tires and the ability to switch to a drivetrain (purchased separately), it's a pretty versatile offering.
A good all-rounder, but you might want to swap the gearing if you're planning on more than just flat rides.
Genesis Day One 10 single speed bike
Reasons to buy
+
Great all-rounder
+
Durable
Aimed at the urban commuter, the Genesis Day One 10 is a great all-rounder with its mechanical disk brakes, 35c tires, full-length mudguards, and mounts for panniers.
The 42T chainring and 17T sprocket single speed (67-inch) is a great gear for balancing speed and climbs, meaning even if you don't live and commute to the flattest areas, you should be able to ride rather than walk the climbs.
With added reflective decals, the Cromoly (steel) frame and fork should offer great durability, making this a perfect long term workhorse.
Genesis Flyer
Reasons to buy
+
Great for undulating and flatter riding
+
Low maintenance
Sharing the same tubing spec and geometry as the Genesis Equilibrium, the Flyer is aimed at all-season riding, with the benefits of a cadence-friendly 42/17t combo and a flip-flop hub for both freewheel and fixed riding, so great for both undulating and flatter riding.
The Cromoly (Steel) frame and carbon fork set come with ProMax rim brakes and custom extra-long Chromplastic mudguards to provide plenty of protection in wet weather. A great low-maintenance, ride-ready straight out of the box option.
Best fixed gear bikes
A fixed gear bike, or fixie, is exactly like a single speed bike in that it has only one gear. So what makes a fixed gear bike different? As the name suggests, the drive train is 'fixed' meaning there is no ability to coast as the cranks turn as the bike moves, regardless of whether you are pedaling or not.
Usually reserved for the velodrome, track and fixed gear bikes have seen a resurgence in urban riding for their mechanical simplicity thanks to a bike courier cult following. They're also used in the growing discipline that is fixed gear crit racing, most popular of which is the Red Hook series.
If you're riding on the road, it is important to remember in most places that it's a legal requirement that you fit a working front break to your machine.
Cinelli Tipo Pista Track fixed gear bike
Reasons to buy
+
Very light
+
Brakes are easily removable
With brakes onboard, the Cinelli Tips Pista track bike allows you to take fixed gear riding out of the velodrome and crit races and onto the streets.
An aluminum frame and carbon fork help keep the bike down to a claimed 7.8kg / 17.37, which is impressively about 3kg / 6.6 lbs lighter than most of the single speed bikes at this price point.
Caliper rim brakes front and rear are easily removable thanks to external cable routing, allowing you to go straight from work to the track without any problems.
Dolan FXE Aluminium Fixie bike
Reasons to buy
+
Lightweight
+
Great for winter riding
Looking for a fixie that will serve you well during the gruesome winter months? Dolan's FXE is the ideal year-round solution to urban mobility with its compatibility for front and rear mudguards.
It has a lightweight aluminum frame weighing 1.78kg / 3.92lbs (54cm frame) and a sloping top tube for added stiffness, paired with a carbon front fork.
The finished build is customizable on Dolan's bike builder, which means you can choose the optimal handlebar width and stem length for a perfect fit. For a personalized touch that will stand out against the sleek black frame and components, you can also choose your favorite Deda handlebar color.
Mango Original single speed
Reasons to avoid
-
Design might not be for everyone
Mango bikes are all about bold, fun colors and this stylish customizable look comes at a reasonable price too. There are eight to nine color options across every single component to allow you to build your perfect bespoke fixie bike.
With a flip flop rear hub, if it turns out fixed riding isn't for you, it is easy to swap to freewheel riding so you can coast along the road. Fitted with 46/18 gearing, accelerating with ease and finding top speed is both possible on this stiff steel-framed fixie. There are also three handlebar options on offer, to suit your riding style: risers, bullhorns and drop bars.
Choosing a gear for your single speed or fixed gear bike
Since you've only got one gear, it's pretty important that it's the right one. Too much resistance, and you'll come to a stop at every hill. Choose too little, and you'll be spinning your legs like a hamster in a ball.
The gear is created by the ratio between the front and rear chainring, measured in inches. The ideal gear varies a lot between riders. For commuters, often something in the region of 65 to 75 inches is about right. Track riders will go for a much higher gear, since the hills they have to climb are the banked corners.
Here's a look at the gear ratios you'd get with various chainring and rear cog combinations. A wider tire will very slightly increase the gear inches and vice versa:
Swipe to scroll horizontally
Singlespeed, fixie and track bike gear inches for a 700c wheel with 25c tire

| | | | | | | | |
| --- | --- | --- | --- | --- | --- | --- | --- |
| Row 0 - Cell 0 | 13 | 14 | 15 | 16 | 17 | 18 | 19 |
| 52 | 106 | 98.2 | 91.8 | 86 | 81 | 76.5 | 72.5 |
| 51 | 104 | 96.3 | 90 | 84.4 | 79.4 | 74.9 | 70.9 |
| 50 | 102 | 94.5 | 88.1 | 82.8 | 77.8 | 73.6 | 69.6 |
| 49 | 99.7 | 92.6 | 86.5 | 81 | 76.2 | 72 | 68.3 |
| 48 | 97.6 | 90.8 | 84.7 | 79.4 | 74.6 | 70.6 | 66.9 |
| 47 | 95.8 | 88.9 | 82.8 | 77.8 | 73 | 69.1 | 65.4 |
| 46 | 93.7 | 86 | 81.2 | 76.2 | 71.7 | 67.7 | 64 |
| 45 | 91.5 | 84.9 | 79.4 | 74.3 | 70.1 | 66.1 | 62.7 |
| 44 | 89.4 | 83.1 | 77.5 | 72.8 | 68.5 | 64.6 | 61.4 |
Things to remember when riding fixed gear
Be sure to practice on a quiet road if it's your first time riding a fixed gear bike or, better yet, take to your local velodrome. They are usually filled with classes for beginners and have a great sense of community for fixed gear riders.
Both single speed bikes and fixed gear bikes use nuts to secure their wheels. Unlike road bikes and their quick-release skewers, you will need to carry a small wrench of some kind to be able to fix any punctures.
If you're riding on the road, you must have a working front brake
Finally, if you're riding fixed, DON'T forget to pedal. Otherwise you may find your bike doing its best bucking bronco impersonation.
Thank you for reading 20 articles this month* Join now for unlimited access
Enjoy your first month for just £1 / $1 / €1
*Read 5 free articles per month without a subscription
Join now for unlimited access
Try first month for just £1 / $1 / €1