Best track bikes 2023: a complete buyer's guide
The best track bikes need to be aerodynamic, stiff and built to withstand some major forces. We've compiled all you need to know about buying a track bike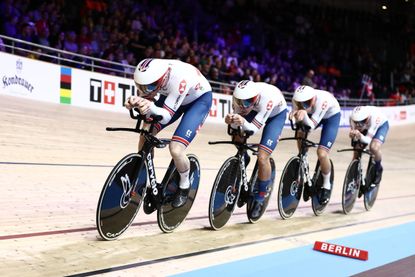 The best track bikes need to be aerodynamic, as thousandths of a second matter at the top level of the sport. They also need to be able to transmit the considerable forces of their powerful riders to the boards efficiently. Their configuration is unique too, with a single fixed gear, bolt-on wheels and narrower hubs and bottom brackets than road-going bikes.
Track cycling has soared in popularity since the big medal haul from British athletes in the 2008 Beijing Olympics and is still a big medal-winner for Team GB. That's led to many folk, both dedicated cyclists and the general public too, realising that track bikes can be a fantastic entry point into a uniquely fast and exciting cycling discipline.
The UK has six indoor velodromes including; London, Newport, Manchester (which is home to British Cycling), Southampton and two relatively new additions in Glasgow and Derby. We also have a number of outdoor velodromes spread between Wales, England and Scotland.
Herne Hill Velodrome in London is one of the most famous as it is one of the oldest cycling tracks in the world and the last remaining venue from the 1948 Olympic games.
Here's our pick of the best track bikes and track bike frames. Look below for our buyer's guide to track bikes.
Video: A beginner's guide to the team pursuit
Our pick of the best track bikes
You can trust Cycling Weekly. Our team of experts put in hard miles testing cycling tech and will always share honest, unbiased advice to help you choose. Find out more about how we test.
Here is our pick of the best bikes and deals on track bikes. It's organised as deals on complete bikes and deals on framesets. Higher spec track bikes are normally bought as framesets, as riders will want to build the bike up to their own exact specification.
Best complete track bikes
Vitus Six
Reasons to buy
+
Inexpensive
+
All-rounder spec
+
Delivered in road-legal configuration
Reasons to avoid
-
A serious track rider may grow out of the bike quite quickly
The aluminium frame and fork geometry have been specifically track tuned, which Vitus says gives the perfect blend of stability, and the ability to react quickly with confidence in tight situations.
The 25mm width wheels are designed to be allrounders, enabling you to mix it up at any track discipline. The bike also comes fitted with Tektro brakes, so it can be ridden as a fixie on road if you aren't planning a trip to the velodrome. Thanks to the flip-flop hub, road riders can also use the bike as a single speed with a freewheel.
But keep to the track configuration and the Vitus Six is a good entry point for riding on the boards.
Reasons to buy
+
Aerodynamic
+
Highly rigid
+
Great looks
BMC's track bike can be hard to find and it's expensive for what's quite a basic spec alloy bike with carbon fork. But its design is tuned for aerodynamic efficiency, so it should give you an edge in sprints. It's kitted out with quality components from Miche too, and comes with quality DT Swiss wheels and Continental rubber.
Reasons to buy
+
Competitive price for a carbon bike
+
Good handling
+
Stylish
+
Stiff frameset
Reasons to avoid
-
Everyone has one, so it won't be unique
Dolan is still probably one of the most popular track bikes at the velodrome and it isn't just down to price. When you hear 'for the money you get a great bike' it can often shout buying on the cheap but we've found that you really are getting a professional level track machine.
The carbon framed Dolan DF4 comes in a range of standard specs, plus you can choose your own component spec to suit your wishes. That includes a choice of saddles and wheel upgrades. There are two cheaper options in the Dolan track bike range, plus a kid's bike for the junior trackie.
Best track bike framesets
Reasons to buy
+
Simple and stylish
+
Direct steering
+
Light
The triple-butted 7005 aluminium frame is teamed with carbon forks for what Moda say is a blend of stiffness and agility.
We last saw the Moda Forte a while back, but found it comfortable, fun and easy to ride, making it a great playmate on the banking of any track.
Now sold as a frameset only, the Forte is a good option if you're looking to build up a mid-level track bike to your own spec.
Fuji Track Elite
Reasons to buy
+
Pro level frameset
+
Super-stiff
+
Wind tunnel tested
Developed in the A2 wind tunnel, the Track Elite was, according to the American company, one of the stiffest frameset it had ever made, and at the time one of the first-ever track platforms to utilise a tapered head tube and fork.
With a top spec carbon frame that has a central beam to stiffen things up, the Track Elite has powered riders to numerous wins on the track. There are plenty of sizes available to suit a range of riders and the race geometry shouldn't slow you down.
Cervelo T4 frameset
Reasons to buy
+
Former Team GB frameset
+
Aero, stiff, no-compromises design
There's no denying the pedigree of the Cevelo T4, with its proven, no pun intended, track record winning countless medals for Team GB at both the London and Rio Olympics, before it switched to the latest Lotus x Hope bike.
It's made from Cervelo's own track-specific frame shape and carbon lay-up to give the bike optimal aerodynamics and extreme stiffness.
The full carbon frameset-only option allows you to meet your own personal requirements, but does require deep pockets as a budget build isn't going to cut it on this beauty.
Read more: Cervelo bikes: guide to the range
Look T20 Speed
Reasons to buy
+
One of the most popular Olympic track bikes
+
More aero, lighter and stiffer than its predecessor
+
Sold with chainset and full adjustable bars
Launched at the beginning of 2020 to coincide with what should have been an Olympic year, the Look T20 is the French national team's weapon of choice for the boards. The frameset carries all the marks of a rapid machine, with claimed 10% weight reduction, 12.5% lateral stiffness and 11% drag reduction and a whopping 27% increase in power transfer over its predecessor.
Look's track bikes have always been a popular choice at the top level of the sport, ridden not just by the French, but by athletes from Russia and other national federations. You'll need deep pockets - or a sponsoring national body - if you plan to ride Look's latest offering though. There's a TT version if pursuits are more your thing.
Read more: New Look track bike promises a full bike length of advantage
Track bike buyer's guide
The track bike is a simple machine. It has one fixed gear, meaning you cannot stop pedalling. Unlike the best single speed and fixed gear bikes for road use, there are no brakes on a track bike. You use the fixed gear to speed up and slow down and that is it. Of course, you have two wheels, a saddle and handlebars, with pursuit bikes having TT-style bars rather than drops.
A good track bike should handle well, giving you confidence when changing direction at high speed, accelerate quickly and be strong enough to withstand the harsh forces track riding involves. But also it needs to be stable at high speed, especially when going for a flat out sprint for the finish line.
Unless you are planning to attack the hour record, comfort isn't really a consideration as time spent on a track bike is relatively short but the bike does need to fit correctly.
Track bike frames
The usual mix of carbon, aluminium and steel are the main purchase options for track bikes. Which to choose depends on your budget. Aluminium is the most common, the cheapest and most robust (in crashes), with many brands offering decent mid-level options for those budding racers.
Carbon is, of course, the most expensive but the advantage here isn't weight, it's aerodynamics and rigidity. Bikes like the BMC Trackmachine and Cervelo's T5 are designed to be as slick as possible whilst maintaining immense stiffness, exactly what you need for racing on the boards. They achieve this by beefing up some of the key areas - principally the head tube and bottom bracket. Companies can do this without penalty, as weight and comfort are not too much of a concern.
Steel is still seen on the track cycling scene, though it's not as common as carbon or aluminium. Eddy Merckx held the Hour Record using a standard steel frame. Although you won't see steel frames at World Championships or the Olympics anymore, you'll see them regularly at training sessions and amateur races.
Track bike specification
Although a simple machine, starting out in track cycling can leave you a little dazzled by the array of components and gear options. With indoor and outdoor velodromes being almost worlds apart to ride and different disciplines favouring a variety of wheel, gear and bar options, the initial outlay might seem expensive but you don't have to buy it all at once. An off the peg bike will come with all that you need to ride.
Gearing
The standard gear on a track bike is between 84 inches and 90 inches (chainring size 47 teeth - sprocket size 15 teeth or 50 tooth chainring - 15 tooth sprocket) which will come with most track bikes out of the shop. The smaller the inches (a common reference to gear sizes taken from the size of the wheel from a penny-farthing) or the smaller the front chainring and the larger the rear sprocket, the easier it'll be to pedal. The opposite for bigger/harder gears; large front chainring, smaller rear sprocket or higher inch count.
To put that into context, Bradley Wiggins would have been riding well over a 110 inch gear at the Olympics in the team pursuit. If you want to get into racing, be prepared to try different ratios, training specifically on pedalling efficiently or just riding different tracks, as they can be different lengths and steepness for both indoor or outdoor velodromes.
Check out our gear table below.
Tubular or clincher
As with road bikes, you still have the option of tubular or clincher tyres. Tubular tyres are more common as puncturing is far less likely on the track. These are harder to change when they do wear out, due to being glued or taped to the rim, and are more pricey. You'll see a performance benefit though, and you'll be able to run much higher tyre pressures than clincher tyres. The least amount of rolling resistance is key on the track, rather than grip or compliance.
Clincher tyres of course still have their place. It's easier to change tubes and they're generally cheaper than tubular tyres. Whether they'll work for you will depend on the type of track riding you want to do and if you want to race. Clinchers are a good option for riding outdoor tracks, while tubulars are better for indoors and for more performance and racing orientated riders.
Chainset
Unless you are Sir Chris Hoy or a team pursuit rider, the chances are a standard, middle of the road chainset will do. What you are looking for is stiffness and longevity of wear. The thing to remember here that a top end Shimano or Campagnolo chainset won't feel any real different from a half the price Miche Primato Advanced chainset for example.
The main thing to look out for here is bolt circle diameter or BCD (the measurement between the chainring bolts on your chainring and chainset usually measured in millimeters), if you want to be able to swap out your chainring to change your gear ratio. It doesn't really matter what size you have, the most important thing to remember is that you need to match the chainset's spider arms with the chainring BCD size and positioning otherwise it will not fit.
The BCD should be written on both crank and chainring. If not you'll simply have to measure it to get the size. Match this with a track chainring and you'll have no issues.
Crank length is also something to consider. Traditionally you'll ride between 165mm cranks and 170mm, as track cycling is more about maintaining high cadences than big leverage. Any longer and you'll likely hit the banking when pedalling, while if it's too small it won't be very efficient.
Buy a Miche Primato Advanced chainset now from Chain Reaction Cycles
Handlebars
For beginners, a standard drop handlebar is all you need. If you want to do pursuit or do individual timed events it'll be worth investing in a set of aero tri bars. Without any brake or gear cables to worry about, changing between is very simple.
Track bike wheels
Like the frame, you can purchase standard aluminium track bike wheels at a reasonable price.
Box rim spoked wheels, either clincher or tubular, can be found for less than £200. These will be fine for everyday riding on the track. If you're after top spec kit though, you can go down the expensive carbon route and buy into a disc rear wheel and either a deep section carbon or five spoke front wheel.
Unlike the rest of a track bike, wheels are one element where weight will penalise you. With many of the track disciplines needing sudden acceleration, rolling mass needs to be kept to a minimum. If you're looking for performance improvements, it's likely that investing in a set of fancy wheels will be more of a game changer than buying a new bike will ever be.
For most bunch racing events, it's generally accepted that the best rapid wheelset option is a five spoke front wheel and a disc at the back. The aerodynamic effectiveness, weight saving and reduced rolling resistance all add up to be something special when you need that extra zip.
Fixie yeah!
If you're thinking of pottering about town on your fixed-wheeled bike, it's not too difficult to transform your racing beast to a road legal bike simply with the addition of a front brake. If this is your intention though, first check that your bike of choice can accept a front brake, as not all race forks will have a front brake mount hole.
Some track bikes will be sold with front and rear brakes as part of the package.
We would also suggest opting for a much smaller gear than standard, ideally no bigger than 72in (eg. 45x17). This should make riding up inclines, away from lights, junctions and general manoeuvres in traffic much easier. Of course at night you will also need to apply the usual Highway Code rules on lights and reflectors.
Symon Lewis joined Cycling Weekly as an Editorial Assistant in 2010, he went on to become a Tech Writer in 2014 before being promoted to Tech Editor in 2015 before taking on a role managing Video and Tech in 2019. Lewis discovered cycling via Herne Hill Velodrome, where he was renowned for his prolific performances, and spent two years as a coach at the South London velodrome.