Giant Defy Advanced SL 2 review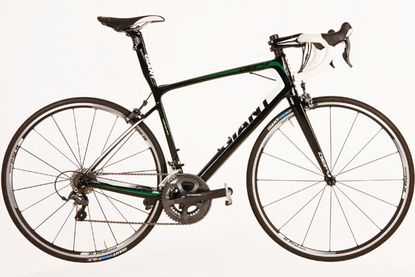 Given that the Defy range is attempting to define the ?endurance sport' category, we've got to say that it has made a remarkably good ?fist of it. The handling is quick-steering and responsive, yet offers stability and an impressive level of comfort that your backside will thank you for.Giant may not be the grooviest brand on the planet, but it makes some outstanding bikes. Put other brands' flashy ads and slick marketing to one side, perhaps, and sort yourself a test ride - you'll discover a friendly, nimble Giant.
Reasons to buy
+

Comfortable

+

Good finishing kit
You can trust Cycling Weekly. Our team of experts put in hard miles testing cycling tech and will always share honest, unbiased advice to help you choose. Find out more about how we test.
Get The Leadout Newsletter
The latest race content, interviews, features, reviews and expert buying guides, direct to your inbox!
Thank you for signing up to The Pick. You will receive a verification email shortly.
There was a problem. Please refresh the page and try again.
Having developed its skills over almost 50 years, Giant now has an impressive line-up of bikes for every taste, user and pocket depth. This Defy Advanced SL 2 is its top-of-the-range 'endurance sport' bike.
Endurance sport? Well, this is a comfortable race bike or a comfortable bike you could race on. Or both. There are four frame options in the Defy range, from aluminium to this, the Advanced SL with integrated seatmast.
>>> Giant Bikes: which model is right for you?
In fact, when it comes to carbon frames, Giant is happy to point out that it produces its own carbon fibre from actual carbon fibres. The firm sources fibre from Japanese company Toray and manufactures its own weave in the production of its top-spec frames like this one. How many bike brands can say that?
"Some companies are good at making money and good at making adverts, but they don't make their own carbon fibre," said one Giant employee, his tone betraying a mix of irritation and pride.
The compact rear triangle looks intimidatingly stiff, and the whole bike looks like a hybrid of thick'n'thin, a mash-up of the delicate and the functional. This isn't meant as a criticism. In a world where design form trumps real-world functionality, this is a good sign. So how is it that a small rear triangle, comprised of square chainstays and more finely drawn seatstays, feels so comfortable, even though the seatstays merge into one piece as they join the seat tube in a monostay design? Traditionally, this configuration has not resulted in rear-end comfort.
By using a smaller rear triangle, the tubes - chainstays and seatstays - can be designed and built with more 'give', adding comfort without sacrificing stiffness. If you think about making a triangle using other materials - thin plastic strips, say - then it's obvious that a triangle with longer sides will flex and twist more easily than a smaller triangle made from the same materials. The trick, or skill, is in designing those tubes.
No sacrifice
If the rear triangle tubes aren't as chunky as on many other bikes, the area around the 'Powercore' bottom bracket more than makes up for it. The chunky head tube blends with an aero taper into the top tube. The seatpost is integrated, emerging from the seat tube with a flattened aero-bladed design, though the seat tube itself looks round and small - all it needs to be.
The front end of the bike has flat-bladed forks and a head tube that looks like the pillar of a leg of an oil platform. The impression is of a bike designed and made after taking advice from two different sets of experts - the team who designed the front end and the guys who were responsible for the back. Overall, there's a commendable sense of function being chosen over form.
So much for the materials and the design inspiration, but how does it ride? This medium-sized Shimano Ultegra 10-speed build weighed 7.4kg on our scales. And, as anyone with a basic grasp of physics understands, a light bike with a light wheelset will accelerate and climb very nicely, thank you.
But a bike that is 'great at climbing' might not be so 'great at descending', which is the yin to the climbing yang. There's not much fun in dancing up a hill on your ultra-light, super-rigid bike only to tense up like a frozen Arctic explorer on the descents, skittering over tarmac ripples, is there?
The handling feels like a race bike, which is to say that it is very responsive to rider input. Considering there's not a lot of weight either in the frame or the (tubeless-compatible) wheels, this isn't a surprise. The wheelbase is unremarkable (99.5cm) and the steering geometry is designed to respond quickly.
Add these three factors together and all you need to do is look at the inside of a corner and the bike heads that way, guided by a shift of your body weight and minimal pressure on the bars.
The combination of top tube length, stem and steering geometry adds up to a reassuring front end - you feel more connected to the front wheel, thanks in part to the weight distribution. And a bike that fits is a bike that inspires confidence in every area. Whether you are on the drops putting your back into it, scything down a descent, or feeling your way down a damp lane off some hill you've never ridden before, this bike feels good.
Luxury feel
The finishing kit deserves credit for generating this feelgood factor. The Giant brand P-SLR1 wheelset and especially the tyres - dual compound, front and rear specific - add enormously to the feel and handling.
The saddle is a plush Italian-made Fizik Aliante, and even the bar tape feels thick, sort of like fresh shag-pile carpet for your mitts. The Contact SLR stem is double Yorkie-bar thick, square-edged and not easy to fit a (Garmin) bike computer to without recourse to several zip-ties. Neither generates tingling fingers from road buzz. Also worth praise is the Giant RideSense ANT+ speed and cadence sensor integrated ?into the offside chainstay - ?it picked up data from either a Garmin 705 or SRM Power Meter without dramas.
You might think that 'racing' geometry and an integrated carbon seatpost connected to a mono-seatstay will equate to extreme rigidity. So it's a shock that this is easily one of the more comfortable bikes I've ridden. This is testimony to the skill of its carbon-fibre manufacture, Giant claims.
Things that are rubbish about this bike amount to one: the wheel release system is infuriating. Essentially, the wheels are fixed by spring-loaded wing nuts. Yup, that's right, Tullio Campagnolo might have invented an industry standard quick-release skewer system in 1927, but the boffins at Giant thought it would be a hoot to reverse the process. According to a Giant spokesman: "For most people who don't race, the absence of a quick release system makes no difference." Which is true, but it still feels like step back or the work of health and safety fixated lawyers.
Thank you for reading 20 articles this month* Join now for unlimited access
Enjoy your first month for just £1 / $1 / €1
*Read 5 free articles per month without a subscription
Join now for unlimited access
Try first month for just £1 / $1 / €1
Get The Leadout Newsletter
The latest race content, interviews, features, reviews and expert buying guides, direct to your inbox!