Liv launches Langma climbing bike for Team Sunweb to debut at the Giro Rosa
CW had the chance to test the bike out in its natural habitat and spoke to Team Sunweb riders about the new climber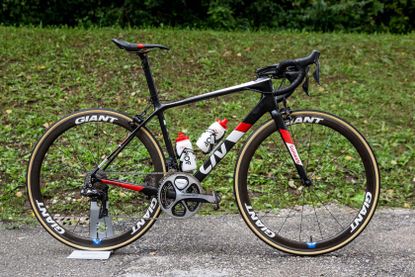 The highest profile women's race of the year - the Giro Rosa - is upon us, and Liv sponsored riders on Team Sunweb will take to the mountains of Italy on the brand's new race ready climbing bike: Langma.
Liv has already made a name for itself with its endurance based Avail and the aerodynamic Envie road bikes. What was missing from their stable was a weight weenie. Enter: the Langma.
The top end Langma Advanced SL 0 features advanced grade composite frame material, and has a claimed frame and fork weight of 1.155 kg with a built weight of 6.05kg in a size small. Team riders will have their frames bolstered to 6.8kg in line with UCI rules.
The bike, Liv says, puts racing first. It was designed to be a 'weapon for conquering the steepest climbs, powering through flats and attacking technical descents'.
Global product marketing specialist at Liv Erin Lamb told us: "If I were to call it a race bike, or a climbing bike - I'd say it was a race bike first."
UK pricing is still TBC, but as a guideline Liv tell us to expect prices between £1299 to £7499. The bikes won't be available until September.
Liv Langma Geometry
Liv was founded on the principles of creating female specific bikes for women. Indeed, founder Bonnie Tu looks most offended when I refer to 'unisex bikes' at all, saying "those bikes are made for men, they're not unisex."
In creating the Langma, Liv started by using global anatomical data to place a female rider into a racing position using computer engineering. Then they asked their pro riders at Team Sunweb for feedback.
The outcome is a stack of 525 and a reach of 378 in the size small with a 90mm stem.
Sunweb rider Lucinda Brand has been sponsored by both Giant and Liv for five years - riding Giant's TCR and being involved in the testing process of the Langma. She tells me: "The Langma ride quality is different to the TCR.
"On the TCR, the position for our saddle was really weird - we had to push it right forward. So your knee is in the wrong place over the pedal. Not everyone could get the right position on that bike. This bike is made more for a woman, so you can play with the position more."
Brand's saddle height measures at 72cm, and she's got an 80mm stem fitted to her bike.
On an aesthetic note, Liv has opted for a 'compact road' frame with what they themselves call a 'dramatically sloping' downtube. That's not something that current fashions would place on a thoroughbred racer.
Liv says this aids manoeuvrability. Asked further, engineer Sophia Shih told me: "The sloping top tube reduces standover height... but we also tested both a straight tube and a sloping tube in the wind tunnel - and we found the sloping version was faster."
Stiffness to weight on the Liv Langma
The low weight has been achieved primarily through the use of Liv/Giant's advanced grade composite frame material, which has been whittled down so it's only chunky in key areas - Liv call it 'tuned stiffness'.
At the Advanced SL level, Liv has applied 'continuous fibre technology': the front triangle is designed with fewer, larger sections of composite - as a result there are fewer junctions and therefore weight is saved.
They've also used their own fusion process to graft the top tube to the seat tube. The joining areas are hand woven and re-moulded under heat - creating a stronger junction and only requiring one piece.
At Advanced level, where slightly lower grade carbon is used, 'modified monocoque construction' means that the front triangle is assembled as one piece before being joined to the rear - eliminating some weight compared to a standard process.
'Tuned stiffness' and balancing light weight and power transfer was kept at front of mind; "we calculate the weight and best stiffness via a computer, to ensure we can reach our goals. We have not produced the most stiff frame of the world... we want to combine a racing bike with tuned stiffness that will bring you ultimate efficiency," " says engineer Shih.
Brand tells us: "You often lose that with a lightweight bike. I tried to sprint on it, to see if the bottom bracket moved [was flexing] - I tried racing it at a club race. I felt that it was stiff - it felt like my bike straight away."
British rider Molly Weaver added: "I'm excited, I've been waiting for this bike for a long time.. to have a climbing bike in this race, a hilly one, does give you a physical advantage as well as a mental one."
As well as keeping high stress areas stiff, Liv has parachuted in the Overdrive 2 steerer - which appears across Liv and Giant bikes and provides front end stiffness via the use of oversized headset bearings; and the Powercore bottom bracket which features an oversized shell and asymmetric chainstays for stiffness through the pedal stroke.
Aerodynamic features of the Liv Langma
Despite the number one focus being on the weight of the bike, aerodynamic features have also been added.
Firstly the downtube is narrow and parabolic in shape, before tapering to the Powercore bottom bracket where a need for wattage transfer takes over.
Aerodynamics become most important at the front and, and there Liv has incorporated their new Contact SLR Flux stem, which aims to redirect airflow, giving way to a 1.75 per cent decrease in drag as well as optimising stiffness to weight.
Specification: discs, levers and never-seen-before graphics
Whilst many brands have gone all out for discs this year, the 2018 Langma line up from Liv includes 10 bikes, two of which feature disc brakes.
Whilst the brand is keen on discs, and founder Bonnie Tu opts to ride with rotor stoppers, they believe racers are still keen on rim brakes.
The Langma SL 0 and Langma Advanced SL models feature Giant's SLR 0 Composite WheelSystem with tubeless Gavia Race 0 tyres - and rim brakes.
The Advanced Pro and Advanced models both feature Giant SLR WheelSystem, and come with rim or disc brakes. All the bikes are designed with clearance for tyres up to 28c.
>>> Best road bike wheels
Liv has specced the bikes with primarily Shimano groupsets, with SRAM Red eTap at the top end - but they're still not happy with what's currently available to them.
In fact, they showed us their petition, requesting the major groupset brands design shifter and brake levers that are more ergonomic for smaller hands. Whilst most can be wound in to reduce the space between bar and lever, they say women with smaller hands are still not catered for and need more.
The Langma's tagline is 'fly to the summit' - and the bikes feature some never used before computer generated graphics that allow Liv to transfer graduated colour to the frames.
Shih says the inspiration comes from "space and the stars" - which is, admittedly, probably about as high as you can go.
First ride impressions of the Liv Langma
I had the opportunity to ride the Langma twice, in both cases up some notable climbs of 7km and 10km long. Without shadow of a doubt, the bike is light and incredibly smooth.
On clocking the sloping down tube, I'd made an immediate assumption that the bike would be an endurance focused machine - but the geometry showed me up.
Once aboard the position was much racier than expected. However, I did leave just one spacer below the stem, which left me wondering if there was room for more aggressive riders.
Compliance is on point. We spent hours in the saddle and I didn't really suffer any fatigue induced aches - nor feel any unwanted vibrations through the bars or saddle. Indeed I noticed the stark difference even more when I swung my leg over my own bike back home.
'Light' and 'smooth': tick. But these are generally not adjectives that cycling journalists apply alongside 'stiff'. And my initial impression was not of a skitty, ready to punch race machine: more one of a fairly aggressive set up that could be ridden all day without discomfort.
For me it wasn't dancing with a desire to sprint out of every corner. Riding with my peers, we took it to task sprinting to every town sign on the way home - and I didn't feel it was the quickest off the mark. But the lightweight frame would help me over the hills on the way to a finish line, and I can see a lot of women enjoying climbing to the summit on the platform in years to come.
We'll be bringing you UK pricing and a long term test as soon as we can.
The Liv Langma 2018 line up
Langma Advanced SL 0
Advanced Grade SL composite, integrated seatpost
Advanced Grade SL composite Overdrive 2 steerer
Giant SLR 0 composite WheelSystem
SRAM Red e-Tap with power cranks (50x34, 11-28)
Contaxt SLR Flux Stem
Variant seat post
Ride Sense - inbuilt Ant+ cadence sensor
Langma Advanced SL
Advanced Grade SL composite, integrated seatpost
Advanced Grade SL composite Overdrive 2 steerer
Giant SLR 0 composite WheelSystem
Shimano Ultegra Di2 (50x34, 11-30)
Ride Sense - inbuilt Ant+ cadence sensor
Langma Advanced Pro 0
Advanced Grade composite, integrated seatpost
Advanced Grade SL composite Overdrive 2 steerer
Giant SLR1 Wheel System
Shimano Ultegra (50x34, 11-30)
Langma Advanced Pro 1
Advanced Grade composite, integrated seatpost
Advanced Grade SL composite Overdrive 2 steerer
Giant SLR1 Wheel System
Shimano 105 (50x34, 11-30)
Langma Advanced Pro 1 Disc
Advanced Grade composite, integrated seatpost
Advanced Grade SL composite Overdrive 2 steerer
Giant SLR1 Wheel System, 12mm thru axle
Shimano Ultegra (50x34, 11-30)
Langma Advanced 0
Advanced Grade composite, composite steerer
Giant PPR2 wheels
Shimano Ultegra Di2
Langma Advanced 1
Advanced Grade composite, composite steerer
Giant PPR2 wheels
Shimano Ultegra
Langma Advanced 2
Advanced Grade composite, composite steerer
Giant PPR2 wheels
Shimano 105
Langma Advanced 3
Advanced Grade composite, composite steerer
Giant PPR2 wheels
Shimano Tiagra
Langma Advanced Disc
Advanced Grade composite, composite steerer
Giant PPR2 wheels, 12mm thrue axle
Shimano Ultegra
All models have:
Contaxt SLR Flux Stem
Variant seat post
Tubeless Gavia Race 0 Tyres (25c)
Liv Contact SL Saddle
Thank you for reading 20 articles this month* Join now for unlimited access
Enjoy your first month for just £1 / $1 / €1
*Read 5 free articles per month without a subscription
Join now for unlimited access
Try first month for just £1 / $1 / €1