BMC bikes range: which model is right for you?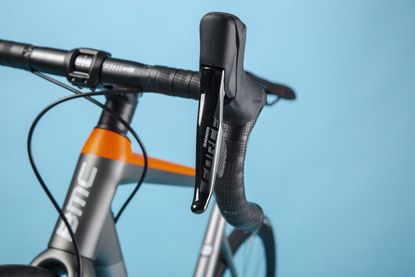 BMC is a Swiss-based bike company whose acronymic title (Bicycle Manufacturing Company) certainly fits into the 'does what it says on the tin' category.
Founded by Bob Bigelow in 1986, BMC was initially a wholesale distributor for the Raleigh bicycles range- but in 2001 it shifted to focus on building bikes under the BMC name after Bigelow lost his distributor's license.
The brand has always focused on the performance bicycle market, initially supplying bikes to the Swiss professional team. Team patron Andy Rihs took over the company in 2000, building a production facility in Grenchen, Switzerland.
There, the Impec road bike was born, and the centre - still home to the company's design and engineering teams - is now called theImpec Advanced R&D Lab.
The brand manufactures bikes for all terrains - from road to muddy mountains, tough our guide will focus on the former.
Up until the end of the 2018 season, it was the title sponsor for BMC Racing. In 2019, the squad merged withCCC-Sprandi Polkowice to form CCC Team. Throughout the 2020 season, BMC provided the bikes for the NTT team.
Buying a BMC bike in the UK
You can trust Cycling Weekly. Our team of experts put in hard miles testing cycling tech and will always share honest, unbiased advice to help you choose. Find out more about how we test.
BMC's naming system takes a little getting used to. The top of the range frames are indicated by an 01 after their name. The lower grade frames don't get a number, or are followed by AL to indicate that the material is aluminium rather than carbon. The spec level is shown by written numbers, so 'one' would be the top spec, whereas 'three' would be on the lower end.
Being a performance orientated brand, BMC prides itself on its engineering and frame technology. The bikes generally come in at higher prices for the same spec when compared with built bikes from other brands.
These bikes are a good choice if you're more interested in picking up a top end frame and upgrading components as you go, or basically if you're more bothered by the frame than the logo on the shifters and brakes.
It's also notable that BMC does not produce any women's specific options: neither women's frames nor unisex frames with women's specific components like narrower handlebars and women's saddles - so many female shoppers would need to shell out for additional components from day one.
Until recently, the bikes were available exclusively via Evans Cycles stores in the UK. However, they've now pulled out of the high street retailer, placing their bikes within a network of independent bike shops, with stocklists provided on the BMC website.
With each product below is a 'Buy Now' or 'Best Deal' link. If you click on this then we may receive a small amount of money from the retailer when you purchase the item. This doesn't affect the amount you pay.
Useful links for road bike shoppers…
Swipe to scroll horizontally
| | |
| --- | --- |
| Brands/topics | Model overviews and reviews |
| BMC bikes | BMC bike reviews |
| Boardman | Boardman bike reviews |
| Cannondale | Bike reviews,SuperSix Evo,CAAD12,Synapse |
| Canyon bikes | Canyon bike reviews |
| Carrera bikes | Carerra bike reviews |
| Cervelo bikes | Cervelo bike reviews |
| Cube bikes | Cube bike reviews |
| Focus bikes | Focus bike reviews |
| Genesis bikes | Genesis bike reviews |
| Giant bikes | Giant bike reviews,Giant Defy,Giant Propel,Giant TCR |
| Pinarello bikes | Pinarello bike reviews |
| Raleigh bikes | Raleigh bike reviews |
| Ribble bikes | Ribble bike reviews |
| Scott bikes | Scott bike reviews |
| Specialized | Bike reviews,Allez,Tarmac,Diverge |
| Trek bikes | Bike reviews,Domane,Emonda,Madone |
| Price points | Bikes under £500,under £1000,under £1500,under £2000 |
| Road bike styles | Aero road bikes,Endurance road bikes,Women's road bikes,Commuting bikes,Touring bikes,Singlespeed bikes,Track bikes,Time trial bikes |
| Other bike styles | Adventure and gravel bikes,Cyclocross bikes,Electric bikes,Hybrid bikes |
BMC bike range
The Road Racer
Reasons to buy
+
Excellent handling
+
Lightweight
+
Bottle cage design
The Teammachine is the thoroughbred race bike in the BMC stable.The geometry is long and low, and all the frames have been developed using computer generated 'ACE+' (Accelerated Composites Evolution Technology). This basically means computer generated testing to reach the optimum quality - in this case maximum stiffness, aerodynamics, and compliance, but with minimum weight. BMC claims it tested 34,000 frame variations using the computer testing before arriving at the final design.
Teammachine bikes are broken down into SLR01, SLR, ALR DISC and ALR families. Only the ALR comes with rim brakes.The SLR01 is the top end creation, using ultra-lightweight carbon and has many aerodynamic features. The fork profile and seat post are both designed to cut through the air with minimum resistance, while the integrated cockpit hides all the cables inside the handlebars. Unlike other brands, this frame has been designed to be aero even with bottles mounted.
The SLR is the next rung down, and shares the same tube design and cockpit, though the chassis uses a slightly lower grade carbon. Each of these is available at a range of different price points depending upon spec.
The ALR model, available with or without disc brakes, is constructed from triple-butted alloy, resulting in tubes that are shaped in three different thicknesses to ensure weight is saved where possible whilst maintaining stiffness elsewhere.The fork is carbon, and a D-shaped carbon seatpost aims to dampen buzz often transferred via aluminium.
The Endurance Rider
Reasons to buy
+
Stiff frame for good power transfer
+
Quality, robust Mavic wheels with wide tyres
+
Option to fit mudguards
The BMC Roadmachine is a long term favourite atCycling Weekly,and the 2019 Roadmachine 02 Three was selected for our annual Editor Choice awards.
All models - the Roadmachine 01, Roadmachine and Roadmachine X - have been created for from the ground up to suit their disc brake stoppers.A taller stack, and longer wheelbase when compared with the Teammachine combine to create a more relaxed geometry. BMC's 'Tuned Compliance Concept' is in play here, and a smooth ride is the aim of the game.
The top end Roadmachine 01 uses the lightest weight carbon BMC can offer and comes with a fully integrated cockpit.One step lower, the Roadmachine shares the same frame design, with slightly lower grade carbon used and less integration that the most advanced moniker.
Both carbon models use 28c tyres, which will feel quick enough on the road but dampen out a lot of imperfections in the tarmac.The Roadmachine X is a real all rounder, with 32c WTB Exposure tyres specced and a SRAM Apex 1x groupset.
Time Triallists and Triathletes
Reasons to buy
+
Clean Aesthetics
+
All day comfort
+
Rider Adjustability
+
Raw Speed
Reasons to avoid
-
Narrow tyre clearance
-
Price
The Timemachine has been specifically created for triathletes, following study of multi-sport athletes and their movements. This said, aero testing and optimisation means it still slices quickly through the air for time trial riders.
>>> Best time trial and triathlon bikes
There's two streams of time trial bike - the Timemachine 01, (which has disc brakes and higher grade carbon fibre) and the Timemachine (which has rim brakes and lower grade carbon fibre).Both the Timemachine 01 and the Timemachine boast what BMC calls 'P2PxSubA Technology'. P2P, for 'position to perform' means that the fit is highly adjustable to help riders get into the best position. SubA refers to the optimised tube profiles.
The Timemachine 01 comes with a unique looking V-Cockpit with a hinge fork which creates an optimised fit even for riders who find they go faster with a higher stack, and keeps the frontal profile streamlined. Those who don't want to opt for the higher front end can choose a frameset, and fit a 'flat cockpit' which will allow them to get to new levels of low.
>>> Tour de France bikes: Tejay van Garderen's BMC Timemachine
The whole system is also designed to be easily disconnected when it comes to travel. The seat post can move to allow two positions, too - so the bike can be UCI legal if required.
If it all sounds a bit too much, and you want to keep the design a little bit less integrated (easier to work on and adjust) the rim brake Timemachine may be the better option. This utilises many of the aero tube shapes found on the Timemachine 01, but comes with a standard stem and base bar combination.
For those looking for straight-line speed with drop bars, there's the Timemachine road bike. A flat road specialist, this carbon frame comes with the 'P2P' seat post seen on the time trial bike, plus integrated rear brake and DTi internal cable routing.
Designed to be stiff and suited to sprinters and short course time trial or triathlon riders, the geometry is aggressive for a long and low aerodynamic position.
For The Boards
Reasons to buy
+
Aerodynamic
+
Highly rigid
+
Great looks
Like the Timemachine, the Trackmachine (made for riding the boards) comes in two guises: the Trackmachine 01 and AL.The Trackmachine silhouette was designed specifically for the Swiss national track team, using aero testing and incorporating a 'p2p' (position to perform) cockpit with plenty of adjustability. The top end Trackmachine 01 carries a carbon frame and comes with a hinge fork which allows the rider to find the perfect position.
>>> Best track bikes: a buyer's guide
Not content with up-front adjustability alone, BMC incorporates a seatpost which allows for a range of layback adjustments - there's four main attachment points, along with the normal forward and backward attachments. It sounds complicated, but we actually found it all pretty easy to use.
At the entry level, there's the Trackmachine AL. This uses an aluminium frame - popular for those seeking a training and racing bike for its reliability and robustness.
The URS is something a little different for BMC. Taking its name from the word 'unrestricted', this is a gravel grinding bike for mixed terrain.
All models from the URS one to URS three feature a premium carbon frame, plus a 1x groupset - ranging from SRAM Red eTap AXS at the top end to SRAM Apex 1.A defining feature is the micro travel technology, with a 10mm suspension system embedded at the seat stay bridge, designed to offer more control in challenging conditions.
There's space for tyres up to 45mm, and some great nods to the intended lifestyle, such as integrated frame bag mounts on the top tube and an integrated cockpit to keep the cables neat.The geometry is still considered 'ready to race', but a slack 70º head angle and long wheelbase make for stability.
The Hybrid For All Styles
Reasons to buy
+
Surprisingly fast
+
Good looking
The Alpenchallenge is BMC's hybrid bike, perfect for town and city commuting, though it's certainly not an entry level option.
The 01 is the top end option, and comes with a belt drive for easy maintenance (and a reduced chance go greasy marks on trousers) and hidden mudguard mounts - or built in mudguards in the case of the top end Alpenchallenge 01 One.All models come with disc brakes, for quick stops regardless of weather conditions, and hydroformed aluminium frames. Tyre width varies, from 28mm to 40mm - if you plan to go off-road on your commutes, you're best off going for a bike built with wider rubber.
During our last review, we noted the bike wasn't quite as suited to off-road terrain as some hybrids, but on the road we found itbut "refined, controllable, and very fast." The Alpenchallenge now features several electric versions. The battery is mounted on the seattube, which BMC says placed it in the ideal position for the most natural ride feel.
There are 'sport', 'cross' and 'city' variants of the Alpenchallenge AMP - with components designed to suit quick road-going riders, those that want to go off-road and city commuters after mudguards and rack mounts respectively.
BMC bikes technologies
The aforementioned Impec lab is located in Switzerland, with the Jura mountain range on one side and the Swiss Alps on the other. It houses BMC's engineers, machinery, carbon development resources and performance evaluation instruments. Since 2007, BMC has been producing carbon framesets from scratch inside the facility, and its the birthplace of many of the brand's concept bikes.
All leading bike brands have their own proprietary technologies, many of which are then applied to a selection of frames - in varying guises depending upon the intended rider. Here's the low-down on BMC's key tech...
Vmax
Vmax is BMC's aero technology.
The equation is fairly simple. Vmax is the maximum rate at which someone is able to move or operate. It's achieved via a combination of 'p2p' (position to perform) adjustable cockpits to help them achieve the best position possible, and SubA integrated aerodynamics. In short: provide adjustability to find a good position and aero shapes for fast riding.
ICS: integrated cockpit system
This ties in easily with the above equation. BMC aims to cut down on drag with an entirely integrated cockpit, tying in the ICStem and ICFork. Ease of use is taken into account, with the ICFork's service friendly cable routing system and ICStem's cable clamp, cable cover and integrated mounting system lending a hand.
DTi cable routing
All BMC road frames feature this tech, which allows cable routing to be swapped between mechanical and electronic drivetrains. Every cable or housing entry and exit port has an adjustable system fitted.
ACE+ – Accelerated Composites Evolution Technology
Weight, stiffness, aerodynamics and vertical compliance: finding the correct balance between the four is key to optimum ride quality. BMC adjusts geometry, carbon lay up and examines frame cross sections to try to do just that - using computer generated testing. It reports to have tested 34,000 frames in this way over the course of just one year. The result is frame constructions which it feels hits the target.
TCC - Tune Compliance Concept
These technologies are created to counter the cobbles of spring Classics like Paris-Roubaix - but amateur riders might be pleased to know they can enjoy the same tech on home roads, built into the Roadmachine and Teammachine bikes.
The goal is to balance stiffness with vertical compliance, and methods include the use ofthin, low seat stays, offset dropouts, carbon fork tips, and a re-designed seatpost. The brand ties in what it calls 'Angle Compliance Technology' to add bends and angles to the frame triangles, creating flex and compliance without damaging stiffness.
Thank you for reading 20 articles this month* Join now for unlimited access
Enjoy your first month for just £1 / $1 / €1
*Read 5 free articles per month without a subscription
Join now for unlimited access
Try first month for just £1 / $1 / €1