Focus road bikes: which model is right for you?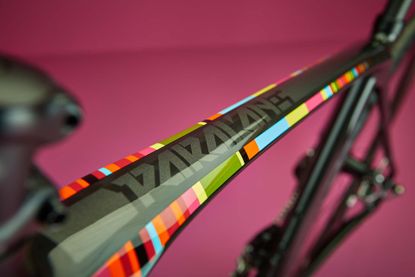 (Image credit: Benjamin Hahn Fotografie)
Focus bikes was founded in 1992, headed up by cyclocross World Champion Mike Kluge.
The German brand produced six mountain bikes in 1994, having partnered with Derby Cycle Werke. It moved on to manufacture touring and road racing bikes, branching into carbon fibre come 2006.
The business is based in Cloppenburg, Germany, but has subsidiaries in the United States and Italy.
Useful links for road bike shoppers…
Swipe to scroll horizontally
| | |
| --- | --- |
| Brands/topics | Model overviews and reviews |
| BMC bikes | BMC bike reviews |
| Boardman | Boardman bike reviews |
| Cannondale | Bike reviews,SuperSix Evo,CAAD12,Synapse |
| Canyon bikes | Canyon bike reviews |
| Carrera bikes | Carerra bike reviews |
| Cervelo bikes | Cervelo bike reviews |
| Cube bikes | Cube bike reviews |
| Focus bikes | Focus bike reviews |
| Genesis bikes | Genesis bike reviews |
| Giant bikes | Giant bike reviews,Giant Defy,Giant Propel,Giant TCR |
| Pinarello | Pinarello bike reviews |
| Raleigh bikes | Raleigh bike reviews |
| Ribble bikes | Ribble bike reviews |
| Scott bikes | Scott bike reviews |
| Specialized | Bike reviews,Allez,Tarmac,Diverge |
| Trek bikes | Bike reviews,Domane,Emonda,Madone |
| Price points | Bikes under £500,under £1000,under £1500,under £2000 |
| Road bike styles | Aero road bikes,Endurance road bikes,Women's road bikes,Commuting bikes,Touring bikes,Singlespeed bikes,Track bikes,Time trial bikes |
| Other bike styles | Adventure and gravel bikes,Cyclocross bikes,Electric bikes,Hybrid bikes |
Like any major bike brand, Focus has a stable full of bikes created to suit certain styles of riding - from the road race driven Izalco Max to the all-day-endurance roller Paralane.
All carbon frames come with a six year warranty, which is a 'nice to know' and Focus boasts a couple of patented technologies which feature in a number of bikes across the range.
We've outlined what to expect from each of the key road bikes in the range....
Reasons to buy
+
Lightweight despite the discs
+
Balanced, precise handling
+
Assured braking
+
Stiff bottom braket
+
Very comfortable
The Focus Izaclo series is the brand's top race bikes. The frames have been designed with rounded leading edges and a flat trailing edge, so as to achieve the winning combination of low aerodynamic drag and low frame weight of just 890g.Stiffness has not been forgotten - 'Stable Stiffness Per Size' (SSPS) is in play - and thus the frame material is adjusted across the size range to create the ideal ratio of weight-to-stiffness.
All models are disc brake specific and feature 'RAT' (Rapid Axle Technology), a thru-axle system which combines stability with lateral stiffness and allows for quick wheel changes.
The range tops out with the Izalco Max Disc 9.9, which has a Dura-Ace Di2 electronic groupset. The bottom rung of this range is the Izalco Max Disc 9.6 that is equipped with Ultegra Di2.
Focus Izalco Max Disc 8 series
This aims to take a speedy, racing chassis to the masses. At a more affordable price point, the model is also constructed from carbon, albeit in a slightly heavier layup, tipping the scales at 1040g.
A conventional bar and stem are employed at this level, meaning that the brake and shifter cables are exposed at the front end, reducing the aerodynamic efficiency. However, this does make the bike easier to work on and also makes cockpit adjustments more straightforward, so this is not necessarily a negative.
As in the Izalco Max Disc 9 series, a BB86 bottom bracket is employed here. This is a Pressfit model and the wider bottom bracket shell of this system is stiffer and makes for a more responsive power transfer. It is also lighter than using threaded alloy cups.
>>> Bike gears: shifting explained for beginners
The Focus Paralane is an endurance road bike designed for all-day rides, on tarmac as well as gravel. Skinny seatstays across the range contribute to comfort and the tyres are a plump 30c.To demonstrate their commitment to staying comfortable in all weathers, Focus specs the Paralane with disc brakes only and every order comes with a pair of mudguards designed for easy fitting to the frame.
Cable routing is kept internal, and RAT (rapid axle technology) is used to combine stability and lateral stiffness on a floating axle which makes wheel changes quick.
As per the other models, the Pressfit 86 bottom bracket is repeated, as is the Stable Stiffness Per Size (SSPS) approach which sees each frame - stiffness and weight in particular - designed around the appropriate size. For those seeking an extra boost, there is an also a Focus Paralane2electric, with a 250Wh battery mounted on the downtube.
Reasons to buy
+
Light
+
Confident handling
+
RAT thru-axles give quick wheel changes
Reasons to avoid
-
A bit stiff off road
-
Not tubeless ready tyres
Being a brand founded by a cyclocross world champion, Focus obviously has quite a well rounded CV when it comes to 'cross.The Mares cyclocross bike is not an 'all road' adventurer - it's a cyclocross race bike through and through, with a geo designed for one hour, all out efforts.
There are carbon and aluminium options in the stable, and the choice between SRAM 1x chainsets and a 2x Shimano setup. All models come with disc brakes and the 'RAT' tech seen elsewhere, which means the fork is strong enough to cope with braking forces and wheel changes are easy.
The carbon frames come with a PF30 bottom bracket for SRAM's wider axles, whilst the aluminium version is treated to a standard BSA threaded bottom bracket for easy serviceability.
For those looking for a flat bar bike which can handle roads as well as cracked paths and parks, then Focus has a selection of electric hybrid bikes.
The Focus Planet2 is an e-bike for city streets - you'll find pannier racks and mudguards for everyday practicality. The top end Focus Planet2 5.9 comes with integrated lights and a 625Wh battery.
Other models include the Planet2 5.8, which comes with a step-through frame, and the Planet2 5.7 which is the cheapest in the range with a smaller battery at 500Wh and less powerful integrated lights.
Thank you for reading 20 articles this month* Join now for unlimited access
Enjoy your first month for just £1 / $1 / €1
*Read 5 free articles per month without a subscription
Join now for unlimited access
Try first month for just £1 / $1 / €1