Pinarello bikes range: know your Dogma F12 from your Pinarello Prince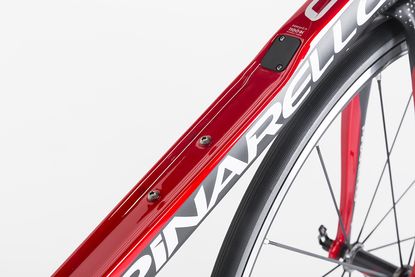 The Pinarello bikes range contains some of the most sought after bikes in the 21st century, being ridden to multiple Grand Tour successes by Team Sky/Ineos.
Interestingly, Pinarello are a relative newcomer to the Italian bike parade, having been launched in 1952 by Giovanni Pinarello, the father of the current CEO, Fausto Pinarello.
In 2010 it entered into a sponsorship agreement with Team Sky, when the Pinarello Dogma became the team's chosen ride. The partnership has continued into Sky's new age as Team Ineos and now as Team Ineos Grenadiers.
>>>Team Ineos and Pinarello unveil new Grenadiers Dogma F12 for Tour de France
The most recent milestone in Pinarello's history book was the sale of a majority stake in the company to L Catterton, a US based private equity group associated with LVMH Moët Hennessy Louis Vuitton SE, in December 2016.
The purchase did not affect Fausto's CEO-ship, and he remains at the top of the tree at the Pinarello factory, based as ever inTreviso, Italy.
Useful links for road bike shoppers…
Swipe to scroll horizontally
| | |
| --- | --- |
| Brands/topics | Model overviews and reviews |
| BMC bikes | BMC bike reviews |
| Boardman | Boardman bike reviews |
| Cannondale | Bike reviews,SuperSix Evo,CAAD12,Synapse |
| Canyon bikes | Canyon bike reviews |
| Carrera bikes | Carerra bike reviews |
| Cervelo bikes | Cervelo bike reviews |
| Cube bikes | Cube bike reviews |
| Focus bikes | Focus bike reviews |
| Genesis bikes | Genesis bike reviews |
| Giant bikes | Giant bike reviews,Giant Defy,Giant Propel,Giant TCR |
| Pinarello | Pinarello bike reviews |
| Raleigh bikes | Raleigh bike reviews |
| Ribble bikes | Ribble bike reviews |
| Scott bikes | Scott bike reviews |
| Specialized | Bike reviews,Allez,Tarmac,Diverge |
| Trek bikes | Bike reviews,Domane,Emonda,Madone |
| Price points | Bikes under £500,under £1000,under £1500,under £2000 |
| Road bike styles | Aero road bikes,Endurance road bikes,Women's road bikes,Commuting bikes,Touring bikes,Singlespeed bikes,Track bikes,Time trial bikes |
| Other bike styles | Adventure and gravel bikes,Cyclocross bikes,Electric bikes,Hybrid bikes |
Pinarello road bikes
You can trust Cycling Weekly. Our team of experts put in hard miles testing cycling tech and will always share honest, unbiased advice to help you choose. Find out more about how we test.
Pinarello likes to keep its model runs limited, focusing on a capsule collection suited to a range of rider needs.
Its CEO told us: "We don't want to make a bike for a sprinter, a bike for the climber. You don't have to have a bike for every ride – it's all marketing. We find the best combination."
However, in recent years the range has begun to grow, with new additions designed for mixed terrain such as the Gan GRS.
With each product is a 'Best Deal' link. If you click on this then we may receive a small amount of money from the retailer when you purchase the item. This doesn't affect the amount you pay.
The staple Pinarello Dogma is currently in F12 iteration- which is one generation up from the previous F10.Team Sky/Ineos riders requested that the geometry stayed largely the same, and the geo on the previous Dogma F8 was largely the same as the much loved Dogma 65.1.
Notable improvements from the F10 include greater stiffness and an aero improvement said to yield about 8 watts at 40kph. This comes largely from an all-new 'Talon Ultra' handlebar produced by in-house brand Most. A split spacer design means that aerodynamics don't come at the sacrifice of serviceability, either.
All of the Dogma frames enjoy Pinarello's 'FlatBack' tube shapes, which are shaped to be aerodynamic and stiff, and the kinked Onda fork which provides compliance and aerodynamics.There are rim and disc brake models, with the former sporting a new direct-mount system and the disc model enjoying a reworked fork. The tyre clearance has been up to 28c, adding to versatility.
For those seeking ultimate in climbing performance, there's the Dogma F12X-Light, which uses a new carbon lay up to drop the weight. You can buy this with rim or disc brakes.
Pinarello Dogma K and FS models
The 'basic K' is now in its Pinarello Dogma K10 iteration. The Dogma K models enjoy a more relaxed geometry, matched with the compliance the Dogma is famous for and 28mm tyres which make for a capable all day bike.
Designed specifically with cobbles in mind and ideal for endurance rides on rutted roads is the Dogma K10S Disk - which has a special party trick in the shape of the eDDS 2.0 rear suspension. The newest model can be locked out via connection with a Garmin Edge computer and can also adjust itself depending upon the road surface.
One step up in terms of comfort creation is the Pinarello Dogma FS. Those with any background in mountain biking will see where the Italian brand is going here: the FS comes with full suspension, via metal coils at the front and rear. Even more sophisticated, these self-adjust depending on terrain.
Reasons to buy
+
Aerodynamic
+
Comfortable
+
Clearance for up to 28mm tyres
Reasons to avoid
-
Budget wheels
-
Slightly undergeared for steep climbs
Around two decades ago, the Pinarello Prince was the brand's most premium option. The model disappeared for several years, before remerging in 2018. In its reincarnated form, the Pinarello Prince is a more price conscious race bike, using T700 and T900 carbon as opposed to the T1100 used for the Dogma family.
The marginally heavier frame material is also said to be a little more resilient - and it's hardly heavy, with frame weights varying from 940g for the Prince FX to 960g for the Prince Disk. Riders still enjoy an asymmetric frame, internal cable routing, FlatBack Profile and the max tyre width is 28mm.
The entry level bike is the standard Prince with a T700 frame and Shimano Ultegra build, available with either rim or disc brakes. The Prince FX with the same groupset is more expensive as it uses the higher grade T900 carbon.
Reasons to buy
+
Super-smooth ride
+
Has the famous Dogma shape
+
Easy geometry
Reasons to avoid
-
Expensive for a 105 bike
-
Low-spec wheels
Introduced in 2016, the Gan aims to provide riders with the luxury of a Dogma, on a more comfortable platform designed for endurance riding. The geo is more relaxed, and there are also 'EasyFit' versions which widen the size range available with additional options and come with shorter top tubes and shorter stack.
The Gan frame still features the asymmetry seen on the F12 frames, but it's less extreme, and the carbon is not quite as rigid - resulting in a more comfortable ride with a reduction in stiffness.The Gan models - rim and disc versions - use T600 carbon and have a max tyre width of 25c.
Then, there's the Gan K Disk. This comes with Pinarello's 'Flex Stays', designed to increase comfort. The model can also accommodate tyres up to 28mm which will allow for more comfort and greater grip. The carbon remains the same, at T600.
Pinarello has several more road bike offerings which tend to receive a few less column inches.
The Razha - available with rim or disc brakes - is Pinarello's entry level race bike, using T600 carbon and boasting the brand's asymmetrical frame plus internal cable routing. The max tyre width is 28mm - a big improvement from the previous 23mm cut off.
The Angliru, by comparison, also uses T600 carbon but provides a more relaxed geometry. It's also available with rim or disc brakes, with clearance for 28c tyres. Taking its name from the brutal, iconic Spanish climb, expectedly it's a good fit for climbers.
The Nytro arrived on the scene in 2017, and with its 13kg weight and road-like aesthetic, made headlines immediately.
With a frame inspired by the Dogma F10, it can offer up to 400 watts of additional power. There's four settings: no support (0 watts), breeze (125 watts), river (250 watts), and rocket (400 watts). The whole drive system weighs in at 4.7kg, and the battery is integrated into the downtube.
The Nytro also comes in a gravel version, wearing 42c tyres. The model call also accommodate 650b wheels, with 2.1" tyres. There is also a popular e-bike version of this model.
The Grevil takes Pinarello into the new gravel road craze, but the brand hasn't put aside speed - the model's tagline is "full gas, everywhere".You can choose between the Grevil+, and standard Grevil - the former uses T1100 carbon whilst the later uses T700.
The key feature is of course its 'ride anywhere' appeal, mostly assisted by 650b wheels shod with 42mm tyres. The brakes are flat mount, with 12mm thru axles and the brand's 'Rad System' in use. This means that the brake caliper is positioned in the chainstays, to allow for a thinner and more compliant seat stay.
There are nods to aerodynamics and speed, in the aero seat post and gravel dedicated Onda fork plus flat back profiles. The asymmetric frame seen elsewhere in the range is built into this chassis, too.
Pinarello Crossista
When it comes to cyclocross, Pinarello's key offering is the Crossista. There's two options - the Crossista+ and the standard Crossista. Like the Grevil, the key difference is the carbon grade, and the model shares the same carry-over from the Dogma F10, including the Onda fork and Flatback aero tube profiles.
Tyre clearance sits at 42mm, and the FlexStays provide compliance for rough terrain. The asymmetry used elsewhere extends to the top tube, making shouldering the bike easier and more comfortable.
>>>Pinarello launches cyclocross and gravel bikes
The Bolide is Pinarello's time trial model. You can still get the standard Bolide frameset, which was last updated in 2016, with a drop in weight and improved aerodynamics.
The Bolide takes some learnings from the Boldie HR track bike which powered Sir Bradley Wiggins' 2015 hour record of 54.526 km. Notable features include a cut out down tube, allowing water bottles to sit flat against the frame, more curved top tube and aero dropouts.
However, the newer version is the Bolide TR and TR+, these models were introduced in 2018 and have been optimised for triathletes, with disc brakes, clearance for 28c rubber and carbon fibre integrated storage boxes.
Pinarello bikes history
The company's founder was Giovanni Pinarello, the eighth of 12 brothers born in the north eastern Italian town of Catena di Villorba in 1922, only five miles from Pinarello's current headquarters in Treviso. Pinarello started making bicycles in a local factory at the age of 15, but gave that up to embark on a seven year professional riding career from 1946 to 1952.
Despite a handful of race wins, Pinarello's professional career is perhaps best remembered for his "win" of the Maglia Nera (or black jersey) in the 1951Giro d'Italia, a jersey that was given to the rider that finished last in the general classification.
In 1952, Pinarello was again promised a place in the Giro d'Italia, but at the last minute was required to give his place up to a new rider on his team. In compensation, the team gave him 100,000 lire in compensation, money that he put towards setting up a small workshop.
Over the next couple of decades the company slowly began to grow, sponsoring its first professional team in 1960, winning the first Tour de l'Avenir in 1961 with Guido de Rosso, and finally taking its first Giro d'Italia in 1975 with Fausto Bertoglio and the Jolly Ceramica team.
Pinarello would have to wait until 1988 to win its first Tour de France (courtesy of Pedro Delgado), by which time Giovanni Pinarello was beginning to hand over control of the company to his son, Fausto, who still holds the reins today.
1988 was also that the Pinarello first teamed up with Team Reynolds, which would later become Banesto, Caisse d'Epargne, and finally Movistar, a partnership that would last a staggering 26 years until Movistar switched ontoCanyonbikes in 2014.
The 1990s was a successful decade in the pro ranks, with Pinarello winning every Tour de France between 1991 and 1997 courtesy of Miguel Indurain, Bjarne Riis, and Jan Ullrich alongside many other victories.
The tie up with Team Sky/Ineos in 2010 reaped even more rewards, with Sir Bradley Wiggins collecting a Tour de France win and Hour Record aboard a Pinarello as well as Chris Froome's four Tour wins, plus additional victories via Geraint Thomas and Egan Bernal aboard the same brand.