Pinarello Dogma K8-S review
Co-engineered with Jaguar, the Pinarello Dogma K8-S is the weapon Team Sky used to tackle the cobbles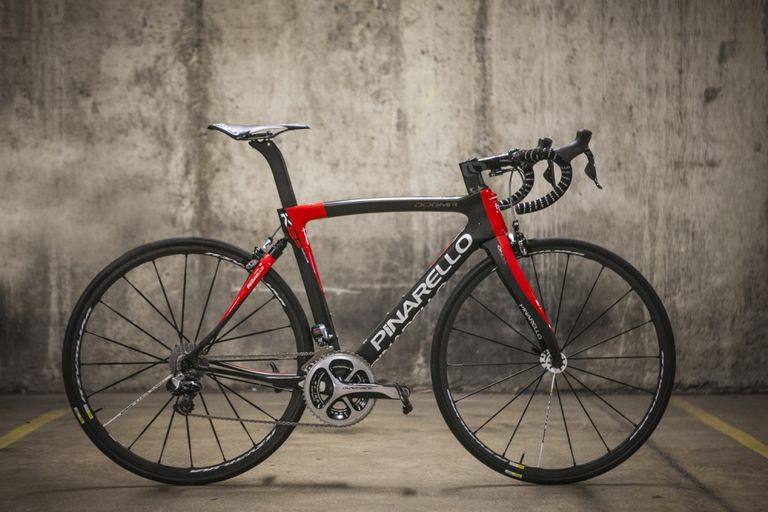 (Image credit: mike prior)
You're unlikely to find a ride equal to this. The frame is as light and stiff as anyone could ask for, while the elastomer provides cushioning and traction that you won't get on any other aero road frame. From crits to long days in the saddle, this bike will do it all and as such will suit those who enjoy big-distance challenge events as well as the racers out there. All great, of course, but there's one more thing that stands out, and makes the K8-S even more praise-worthy. It is one of the most practical bikes I have ever worked on. Aero bikes, like TT machines, are renowned for fiddly bolts tucked away in hard-to-get-at places, making maintenance a nightmare. Not with the Dogma. Every bolt is easily accessible and adjustments are easy. How many top of the range bikes can you say that about? This was a design brief and they've nailed it
For
+

Traction

+

Comfort

+

Braking

+

Maintenance
Against
-

Headset seal problematic

-

Compact chainset

-

Seatpin bolts susceptible to rust
Ever since man first wobbled down an unmade road on a velocipede, bike and equipment manufacturers have been trying to make the two-wheeled form of transport more comfortable.
Saddles with springs, shaped tubing and of course the pneumatic tyre have all been introduced and, to varying extents, stuck around.
Modern adaptations are a little more sophisticated, as are the roads we ride on, but the aim is still to improve the comfort of our ride.
Pinarello has gone about solving the problem by adding an elastomer suspension damper to the top of the seatstays that bolts to the back of the seat tube. When it was launched in 2015 it was, unsurprisingly, during Team Sky's Spring Classics campaign; a cobble-busting aero bike for the Tour of Flanders and Paris-Roubaix.
While most of us will never tackle the Arenberg Forest (at least not on a £9k bike we'd bought ourselves), is there a need for such technology in our day-to-day riding? We'll come back to that.
Frame
Away from the elastomer suspension, this is a standard Pinarello Dogma F8 frame, with all its aerodynamic profiling and top-quality Japanese Torayca carbon.
Design-wise it is largely the brainchild of Dimitris Katsanis, coupled with carbon engineering from Jaguar and Pinarello's bike-building know-how.
But it's the suspension that really shines. The elastomer (basically a piece of rubber encased in that pod) gives 10mm of travel.
By flattening and widening the chainstays (called Flexstays here) just behind the bottom bracket, the movement in the damper is soaked up to avoid any damaging stresses being placed on the tube junctions (especially at the bottom bracket).
The Flexstays' width helps maintain the frame's rigidity.
Specification
Shimano Di2 is to be expected on a bike of this price and, as you probably know, works superbly.
A direct-mount rear brake is used, as the damper takes away the mounting space for caliper brakes.
Elsewhere Pinarello has specced its Most bars, stem and own-brand seatpost, all of which do the job without being overly fussy.
The Mavic Ksyrium Elite wheels are light and stiff with superb braking (even in the wet) thanks to the Exalith textured braking surface.
>>> Are wider tyres really faster?
These came with matching Mavic Yksion Pro 25mm tyres that rolled nicely, gripped well and didn't wear out too quickly.
Ride
The damper, coupled with 25mm tyres, gives a very smooth ride. It's not like a full-sus mtb where you can feel the bike moving beneath you, but enough to give you the sensation that the road surface is better than it is.
>>> Do riders need a special bike to win Paris-Roubaix? Mathew Hayman didn't
I still felt the bumps and the potholes but the edge was taken off enough to help my lower back feel less battered and bruised than usual following a five-hour ride.
Video - Geraint Thomas Pinarello Dogma K8-S
Comfort, however, isn't the main gain with the damper. Traction is. Take this bike on a rough or gravelly road and the suspension keeps the rear tyre firmly on the ground. This improves grip by minimising those split seconds when the rear wheel is unweighted. It means you can keep pedalling without any loss of force.
>>> 13 ways to make your ride to work more like Paris-Roubaix
This traction also helps when descending through rough corners. On a normal, stiff carbon frame you might feel the back wheel just skipping out very slightly.
The Pinarello K8-S soaks these vibrations up, improving grip massively. It was genuinely surprising just how much better planted this bike felt when cornering.
Value
Of course, a 'value' bike this isn't; you can get two very good bikes for this price. You do, though, have to remember you are getting the very latest in technology, the best groupset on the market and a fantastic bike.
For the type of terrain you are faced with every day in the UK, something like the Pinarello K8-S does make sense, especially against its thoroughbred counterpart, the F8.
Thank you for reading 5 articles this month* Join now for unlimited access
Enjoy your first month for just £1 / $1 / €1
*Read 5 free articles per month without a subscription
Join now for unlimited access
Try first month for just £1 / $1 / €1
Editor of Cycling Weekly magazine, Simon has been working at the title since 2001. He fell in love with cycling when channel surfing in 1989 and happening across the greatest ever edition of the Tour de France. He's been a Greg LeMond fan ever since. He started racing in 1995 when moving to university in North Wales gave him more time to train and some amazing roads to train on. He raced domestically for several years, riding everything from Surrey leagues to time trials, track and even a few Premier Calendars. In 2000 he spent one season racing in Belgium with the Kingsnorth International Wheelers.
Since working for Cycling Weekly he has written product reviews, fitness features, pro interviews, race coverage and news. He has covered the Tour de France more times than he can remember along with two Olympic Games and many other international and UK domestic races. He can still be seen at his club's evening races through the summer but he still hasn't completed the CW5000 challenge!
SIMON IS CURRENTLY RIDING
Road bike: Pinarello K8S with Shimano Dura Ace
TT bike: Specialized Venge road bike with FFWD wheels and Easton Attack TT bars
Gravel bike: N/A
Training bike: Rourke custom hand made with Reynolds 853 steel