Are direct-mount brakes the future?
Calliper rim brakes are very good, road disc brakes are gaining in popularity, so is there room for direct-mount brakes?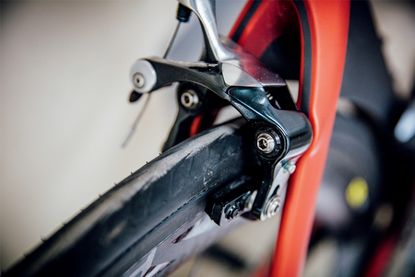 Every bike manufacturer worth its salt has launched an 'aero' road bike in the last few years. Typically that means a frame with svelte, kammtailed tubes, a rear wheel cutout, internal cabling, and 'direct-mount' or 'post-mount' brakes that are attached directly to either side of the fork or stay via two posts. This last ingredient certainly looks aesthetically pleasing, but do direct-mount brakes actually provide any practical benefit?
Specialized's David Alexander says they require extra considerations by frame designers: "The design criteria for post-mount brakes, needing the two posts on there, does change the style of how you would create a frame. And of course you have to consider where you'd want to stick them on the frame.
>>> How to use your brakes properly
"For the rear brake it would sometimes be pretty difficult to put them on the seatstays, which is why you find so many post-mounted rear brakes under the chainstays," he says.
"On a bike that doesn't need to do a lot of braking that position under the chainstays is OK. But when there have been investigations into the most performance-orientated position of brakes on a frame, it's been found that underneath the chainstays is pretty much the worst place for a rear brake.
>>> Disc brakes in the WorldTour: are they necessary on road bikes?
He adds: "Fitting a rear brake underneath the chainstays has the effect of the wheel trying to rip the rear brake off the mounts. At least if you put the brakes at the top of the seatstays, the wheel is only trying to push the brakes into the seatstays, which is impossible."
Aero possibility
What about aero benefit? "That area around the bottom bracket has been looked at by our team in the wind tunnel and it's actually not as dirty an area for air flow as first thought," Alexander says.
"The chainrings and cranks are moving, but they're either side of the chainstays. So it might be beneficial to have a really clean area down there, but that's disrupted by putting a brake there.
>>> Should you slam your stem: yes or no?
"The only way post-mount brakes could really have an aero advantage would be if they were 100 per cent integrated and fitted in line with your fork blades or stays. You'd need to completely hide them and almost make them part of the frame."
>>> How to get into road cycling for less than £500
Some bike makers have taken almost a proprietary route to post-mount brakes, such as Fuji, which lobbied Shimano to make seatstay-positioned direct-mount brakes for its new Transonic aero bike.
"I know some of the people at Shimano — I used to race with one of their product guys — and he agreed with me about this, so Shimano started the development of a seatstay direct-mount brake," Steven Fairchild, Fuji Bikes global product manager says.
Stronger and stiffer
"What they did was to take the front direct-mount brake, turn it around, put a stronger spring in it, and then put it through their testing and stress analysis.
"Looking at the way these brakes mount directly to the frame removes redundant material on the brake and it's a more efficient system. It's stiffer and since it fits closer to the frame it's more aerodynamic. Shimano hasn't come out with any performance figures, but I'd say they must be stronger and stiffer than regular calliper brakes."
>>> Are electronic groupsets necessary?
However, Fairchild isn't convinced by chainstay-mounted brake systems. "I don't think that's a very good place to mount a brake on a road bike. It does make the bike look cleaner, but I'm a form over function guy, and from a functional standpoint the chainstay-mounted brake just doesn't make a lot of sense."
Our take
Direct-mount brakes might be a great idea, but they're coming at a time when a lot of their claimed benefits will be trumped by disc brakes. To make the most of direct-mount brakes, manufacturers have to radically alter frame designs. Fuji has done this successfully with the Transonic.
>>> Over a million disc brake bikes recalled after safety fears
However, we think many brands that fit direct-mount brakes at the chainstay are doing it for trend or marketing reasons. It's a trend that may well disappear as road discs become more prevalent.
How much faster is an aero road bike?
Are they the future? The experts' views
Yes: Steven Fairchild, Fuji Bikes global product manager
"Direct-mount brakes are fractionally more aerodynamic because they sit closer to the frame, and they are more efficient because they help to get rid of redundant material in the frame design. Shimano hasn't come out with any performance figures, but I'd say they must be stronger and stiffer than regular calliper brakes, too. Does that translate into an obvious benefit for the rider? I really can't say, but logically they have to be stronger and stiff."
No: David Alexander, Specialized Bicycle Components University, Body Geometry FIT expert
"Post-mount brakes may be fractionally better than existing calliper brakes in terms of power, but they're not really any better for all-weather ability, they're not really much better from an aero standpoint; and they're not really much better in terms of power modulation. We do have post-mount brakes on a couple of our bikes and as a brand we certainly would never say no to any type of braking system, but we think road disc is the way forward."
Thank you for reading 10 articles this month* Join now for unlimited access
Enjoy your first month for just £1 / $1 / €1
*Read 5 free articles per month without a subscription
Join now for unlimited access
Try first month for just £1 / $1 / €1