Pinarello Nytro: New e-bike inspired by top-end road models launched by Italian brand
New electric bike weighs in at 13kg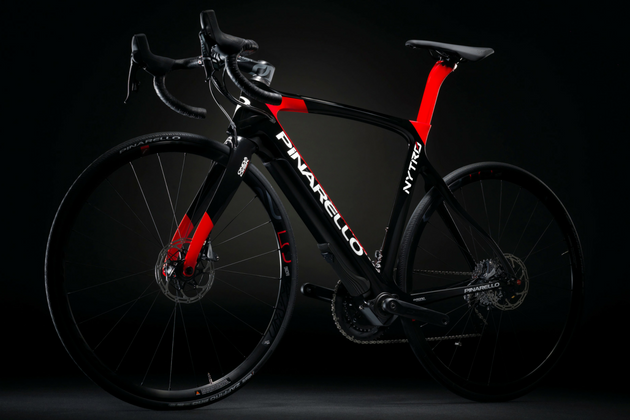 Pinarello has revealed its new road bike equipped with an electric motor, the Pinarello Nytro, which it hopes will enable people to continue to enjoy riding a "real Pinarello" whatever the circumstances.
The new Pinarello Nytro is promised to "maintain the ride feel" of the prestigious Italian brand's top-end bikes, with a geometry that has been inspired by the Pinarello Dogma F10, and a claimed weight of 13kg - not bad compared to many other similar machines.
Unlike many other electric bikes which use motors from the likes of Bosch and Yamaha, the Pinarello Nytro uses a Fazua Evation motor which fits into the down tube, to help to minimise the amount of bulk around the bottom bracket, and weighs around 4.7kg (including the battery).
>>> What is it really like to ride a bike with a hidden motor? (video)
The motor has four different levels of assistance, which changes the power output depending on how much you need, and come with some great names: no support (0 watts), breeze (125 watts), river (250 watts), and rocket (400 watts). Unfortunately, that assistance will only help you up to 25kmh, at which point the motor will cut out to comply with EU regulations.
Watch: What's it like to ride an e-bike?
The assistance level is shown with a small LED display attached to the handlebars, which is also used to display the battery status, with Pinarello saying that a full charge will see you through 1,400m of ascent (although this varies depending on the conditions).
The frame itself features many of the same technologies as Pinarello's top-end models, being made of T700 carbon-fibre in an asymmetric design and a down tube with a aerodynamic profile that has been modified to accommodate that motor.
Elsewhere the bike will come with Shimano disc brakes, 160mm front and rear, a 100x12mm thru-axle at the front and a 142x12mm one at the rear, and SRAM Force groupset combined with an FSA chainset.
Depending on the choice of wheels, all that will come in at around €6,000 (£5,330), although you won't be able to get your hands on one for a little while, as production will only start in full in January.