What is it really like to ride a bike with a hidden motor? (video)
We wanted to find out what it is like to ride a bike with a hidden motor. Road bikes with hidden motors have become big news this year but could you actually cheat with one?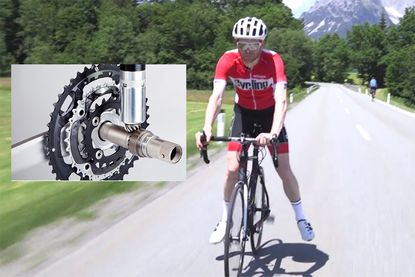 Get The Leadout Newsletter
The latest race content, interviews, features, reviews and expert buying guides, direct to your inbox!
Thank you for signing up to The Pick. You will receive a verification email shortly.
There was a problem. Please refresh the page and try again.
Ever since the first case of motorised doping was reported in 2016, we have had lots of questions and based on comments on social media, it would appear you do too.
In a bid to find out more I decided to put a bike with the same Vivax assist motor found in the motorised doping case to the test to see how feasible it would be to use and how well it performs. First, here is some information about the bike.
The Bike
The bike we have here is a prototype Vivax Assist Passione CF Disc. The bike is carbon fibre and the huge saddle pack on the back is actually a 9 Amp battery.
This is good for 90 minutes of assisted cycling or 1000m of ascent. Alternatively, there is also water bottle battery available that is a little more discrete.
Although the bike weighs a pretty hefty 11.6kg, this is a disc brake version, with the non disc version being about a kilogram lighter. The motor is turned on via a small button on the handle bars. The motor cuts out if you apply the brakes or stop pedalling.
The makers tell me that the motor gives 100 watts of assistance when you pedal at 90 rpm cadence.
Question one
Does the motor keep spinning if you fall off?
There is a famous Youtube clip where Ryder Hesjedal's bike is seen to be spinning on the floor after he crashed on stage seven of the Vuelta a España.
The clip sparked claims that the bike was fitted with a motor. We wanted to see what would happen if you fell off a bike with a Vivax motor. Do the wheels keep spinning?
The result is that the motor stops when you stop pedalling on this system. While on the floor, I was able to get the motor spinning again, but it is impossible for the rear wheel to be driven by the motor without the cranks turning.
In the case of the Hesjedal clip, the cranks are clearly not turning, indicating that if a motor were used, it was not the Vivax system.
Question two
How much assistance do you get on the flat?
The power is quite noticeable, but less powerful than Kalkhoff e-bikes we have used. The motor cuts out at 25kph too, meaning that if you often ride faster than this on the flat, you won't get much assistance.
You can derestrict the motor, but this invalidates the warranty on what is an expensive purchase.
>>> Read how I cheated on Strava and got Hors Catagorie KOM!
Question three
How noisy is it?
The noise is significant. You can hear it on the video and it sounds very similar to radio controlled car.
It was loud enough that the driver of our filming car, could hear it over the wind and engine noise.
This means that were you using such a system, it is likely that riders near you or break away companions, would also be able to hear it.
>>> The electromagnetic hidden motor bike that can go 100kph
However, during the final climb of a Grand Tour stage, it is possible that the crowd and helicopter noise, could drown out the motor.
Question four
How much assistance does it give you on a climb?
The key thing here is that to get the full 100 watts of assistance, you need to turn the cranks at 90rpm. Drop below 90rpm and the assistance drops off dramatically.
The climb I tested this on was the first 1.3km of the Kitzbuheler Horn in Austria, a stretch which averages 12 per cent in gradient.
The result was that I was unable to take the KOM and match the pace of a pro rider on Strava despite knocking out 370W of my own power for five minutes.
On climbs over 10 per cent it can be hard to maintain 90rpm cadence meaning that you are not getting the full 100 watts of assistance. Something I found difficult.
On steep gradients I, like many riders, like to get out of the saddle, but in doing so my cadence drops to around 65rpm. At this cadence I was getting very little assistance to offset the weight of the bike. This could however be improved by easier gears, such as 32t cassette.
As soon as the motor cuts out, you are just left with a really heavy bike.
Verdict
Having ridden the Vivax system, I think that is highly unlikely that professionals would use it to cheat in road races. It's noisy, heavy and being cadence specific, it is not especially easy to use.
In addition, any frame with this kind of motor requires a bolt cut through the seat tube, to stop the motor spinning in the frame, something which is easy to spot.
However, bikes with motors are not just for cheats and baddies. Although the likes of Dick Dastardly would surely want one, they are a great leveller, if you are getting older or are not as fast as your riding companions.
They make beautifully scenery like this accessible to riders that might otherwise struggle. For example I could ride in the Alps, with my dad and that can surely only be a good thing.
Thank you for reading 20 articles this month* Join now for unlimited access
Enjoy your first month for just £1 / $1 / €1
*Read 5 free articles per month without a subscription
Join now for unlimited access
Try first month for just £1 / $1 / €1
Get The Leadout Newsletter
The latest race content, interviews, features, reviews and expert buying guides, direct to your inbox!
Oliver Bridgewood - no, Doctor Oliver Bridgewood - is a PhD Chemist who discovered a love of cycling. He enjoys racing time trials, hill climbs, road races and criteriums. During his time at Cycling Weekly, he worked predominantly within the tech team, also utilising his science background to produce insightful fitness articles, before moving to an entirely video-focused role heading up the Cycling Weekly YouTube channel, where his feature-length documentary 'Project 49' was his crowning glory.