This electromagnetic 'hidden motor' bike can go 100kph
High-end carbon fibre specialist Lightweight has succeeded in hiding an electromagnetic wheel based motor system inside a light and rigid carbon frame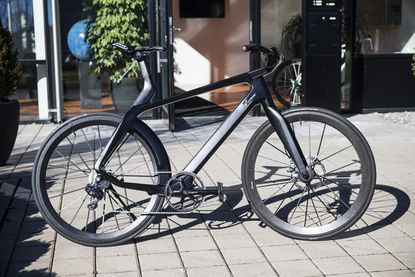 Get The Leadout Newsletter
The latest race content, interviews, features, reviews and expert buying guides, direct to your inbox!
Thank you for signing up to The Pick. You will receive a verification email shortly.
There was a problem. Please refresh the page and try again.
We previously reported on some alleged 'electromagnetic wheels' reported to cost 200,000 Euros each. The wheels were described as an inclusive system that when fitted to your bike would give you "50-60 watts".
In wake of the recent scandal at the under 23 women's Cyclocross World Championships, in which a motor was found in a competitor's bike, electromagnetic wheels were also touted as the future of mechanical doping. There was no attempt to explain how the system worked and such a system just contained within a wheel seemed highly implausible.
>>> Everything you need to know about the mechanical doping scandal
However, Lightweight has a new bike, which incorporates a hidden electromagnetic wheel and does work. We visited Lightweight in Friedrichshafen, where the company was able to show us a working prototype of a new e-bike that cleverly uses technology from Maglev trains. The system is not just a special wheel; it also requires a specially designed frame and hidden battery. Lightweight is calling the technology "Maglev Transrapid technology."
>>> I cheated on Strava with an e-bike and got an amazing KOM
The new bike is different from all other e-bikes currently on the market in that it doesn't have a traditional hub or bottom bracket based motor. The electromagnetic wheel is surprisingly powerful and is claimed to generate an impressive 500 watts of assistance.
>>> Are electromagnetic wheels the leading form of mechanical doping?
Lightweight's CEO Errhard Wisler passionately explained "E-bikes are seen as bikes for old and retired people, but young people think they are ugly and not cool. My idea was to make a sexy bike, make it light (it's 11kg) and make it fast."
How does it work?
The system works by way of a special modified Lightweight Meilenstein rear wheel, with 200 magnets embedded in the wheel rim. The seat tube is also modified, so that overlaps the rear wheel like an integrated mud guard. This overlapping flange contains six inductive coils.
>>> Chris Froome describes how his bikes have been searched for motors
Motion of the wheel magnets passing through the coils, induces a current which can then be used to charge a battery contained in the downtube. Power from this battery can be released into the coil to spin the wheel. The claimed assistance is 500 watts.
>>> Willier threaten legal action over motorised bike
What's more, by reversing the polarity the coil can be used to act as an electromagnetic brake, while simultaneously storing energy to be used later. Similar the KERS system in Formular 1 cars, when you descend or brake, the energy is stored in special batteries, so that it can be released later.
The claimed 500 watts of assistance can result in speeds of 100kph, although Lightweight is keen to stress that this has to be restricted to 45 kph to be inline with EU law. According to Wissler, "we can limit the speed with a chip electronically."
>>> Buyer's guide to road bike wheels (Videos)
The system has several key advantages and is cutting edge technology. Firstly, with far fewer moving parts, the motor has potential to be much more reliable than exsisting products. Secondly the overall system weight can be much less.
"At the moment the bike is 12kg in the working prototype, but the final product will be considerably lighter as aluminium parts are replaced with carbon" explained Wisller."
With other e-bikes weighing as much as 27kg, Lightweight Engineer Thomas Leschick, explained that the low weight "gives the bike incredible acceleration."
Wissler also described how a particular engineering challenge with this kind of system is the air gap, between the wheel magnets and inductive coil in the frame. Wissler suggested that if the air gap could be closed to "1mm we could increase the efficiency of the bike to over 1000W, but at the moment it is hard, because of wheel rub."
Watch: Fabian Cancellara's Trek Madone
Mechanical Doping Applications
Although this system is designed for an e-bike the question arises. Could this system be integrated or hidden into a conventional road bike for those wanting to cheat? If this system uses six coils to generate 500W, would it be possible to hide a single large coil in the chainstays and bottom bracket area? Wissler responded "this is do-able, but if you pull out the wheel you will see something on this system."
Wissler is referring to the coils, which are partially visible in the prototype. However, Lightweight did explain, "carbon is a material that doesn't shield electromagnetic flux." Based upon this fact, it is not inconceivable to imagine the coils being completely hidden.
We asked Leschik what he thought of the previous electromagnetic wheel doping claims, to which he responded "I saw the piece in the news paper with the sketches of the wheels that were €200,000 claiming to give 50-60 watts. It suggested that you just replace the wheel with nothing needed on your existing bike. It's not possible. It wouldn't work."
A 100kph, 11kg, stealthy e-bike that has the most ingenious motor you have ever seen; how much I hear you ask. Well, Lightweight have yet to announce a price, but considering a pair of standard Meilenstein wheels will set you back £3699 you can safely assume that if you have to ask....
For more information on the German company, head over to Lightweight.
Thank you for reading 20 articles this month* Join now for unlimited access
Enjoy your first month for just £1 / $1 / €1
*Read 5 free articles per month without a subscription
Join now for unlimited access
Try first month for just £1 / $1 / €1
Get The Leadout Newsletter
The latest race content, interviews, features, reviews and expert buying guides, direct to your inbox!
Oliver Bridgewood - no, Doctor Oliver Bridgewood - is a PhD Chemist who discovered a love of cycling. He enjoys racing time trials, hill climbs, road races and criteriums. During his time at Cycling Weekly, he worked predominantly within the tech team, also utilising his science background to produce insightful fitness articles, before moving to an entirely video-focused role heading up the Cycling Weekly YouTube channel, where his feature-length documentary 'Project 49' was his crowning glory.