Chris Froome: 'My bikes have been checked for hidden motors a dozen times'
British Tour de France champion Chris Froome backs more checks for concealed electric motors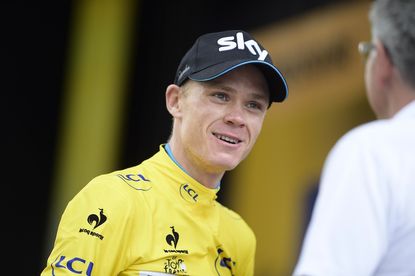 (Image credit: Yuzuru SUNADA)
Tour de France champion Chris Froome has said that his bikes have been dismantled and checked for concealed electric motors on at least a dozen occasions, and he backs more checks for 'mechanical doping' in future.
Talking ahead of the Herald Sun Tour in Australia this week, the 30-year-old British Team Sky rider gave his take on the news that a bike had been discovered to contain a hidden motor at the Cyclocross World Championships in Belgium at the weekend.
"For the last few years now, there have been rumours about motors being concealed within the bikes," said Froome.
"Over the last couple of seasons, my bike has been checked and dismantled at least a dozen times."
Froome's bike was one of those examined during the 2015 Tour, which he went on to win.
>>> Everything you need to know about the motorised doping scandal
Cycle sport's governing body, the Union Cycliste Internationale (UCI), has taken the rumours of hidden motors seriously since they surfaced in 2010. It was via a newly-introduced electromagnetic field detector to back up visual checks that the electric motor was discovered in under-23 racer Femke Van den Driessche's bike in Belgium.
"They [the UCI] are taking the threat seriously and, hopefully, this will mean they only increase the number of checks they do on the WorldTour level," said Froome.
"At the moment, we only have rumours to go on," he said.
"All I can hope is the authorities take this matter really seriously and implement more and more random controls - throughout cycling.
>>> Owner of electric bike seized during Cyclocross World Championships revealed
"That's the only way forward; the same way that the authorities have approached doping."
Now that the UCI has found a concealed motor in a bike at a top-level competition, proving that the technology not only exists but is in use, the level of checks are likely to increase.
At a press conference held after the discovery of the concealed motor in Belgium, UCI president Brian Cookson said: "Technological fraud is unacceptable. We want the minority who may consider cheating to know that, increasingly there is no place to hide, and sooner or later they will pay for the damage they're causing to our sport."
Under UCI rules, Van den Driessche now faces a minimum six month suspension and a fine ranging from 20,000 to 200,000 Swiss Francs (£13,700 to £137,000) despite a Belgian man claiming that the bike belonged to him.
Thank you for reading 5 articles this month* Join now for unlimited access
Enjoy your first month for just £1 / $1 / €1
*Read 5 free articles per month without a subscription
Join now for unlimited access
Try first month for just £1 / $1 / €1