Chris Froome welcomes latest bike checks in fight against mechanical doping
UCI officials checked six riders' bikes - including Froome's - for motors after stage 18 of the Tour de France.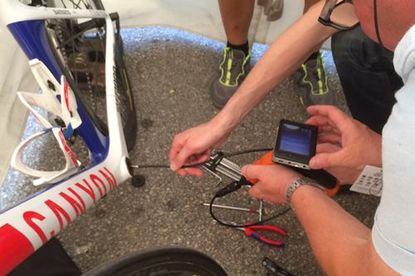 Chris Froome welcomed the latest round of bike checks that took place in the fight against mechanical doping at the Tour de France on Thursday.
Froome's Pinarello Dogma F8 was one of six bikes examined by UCI officials after the Tour's 18th stage that finished in Saint Jean de Maurienne. This was at least the third round of checks carried out during this year's Tour thus far; it is believed that no suspicious items were found in the hunt for hidden motors.
"I'm happy that they're doing the checks," said Froome. "They're probably needed given all the rumours out there."
Stage winner Romain Bardet and runner-up Pierre Rolland, green jersey leader Peter Sagan, Nairo Quintana and Joaquim Rodriguez also had their bikes examined by technical staff from the sport's governing body.
Bottom brackets were removed from each, and a camera was used to check for signs of hidden electric aids.
"I think most of the suspicion is on social media but they don't come from nowhere, the technology exists," added Froome.
Thank you for reading 20 articles this month* Join now for unlimited access
Enjoy your first month for just £1 / $1 / €1
*Read 5 free articles per month without a subscription
Join now for unlimited access
Try first month for just £1 / $1 / €1